Friends of Tibet Foundation, a Charitable Trust (Regn No: 126/IV/2021) is the philanthropic wing of Friends of Tibet, a non-profit organisation founded in 1999. The primary objective of the Foundation is to support the conservation and promotion of Tibet's tangible and intangible heritage including healing traditions. Friends of Tibet Foundation is also engaged in conducting research on the unique heritage, legacy and history of Tibet and publishing varied research papers with the collaboration of scholars, academicians, scientists, holistic health educationists and sociologists.
⋯
Tsepon WD Shakabpa Passport (1947)
Friends of Tibet Foundation + Office of His Holiness the XIV Dalai Lama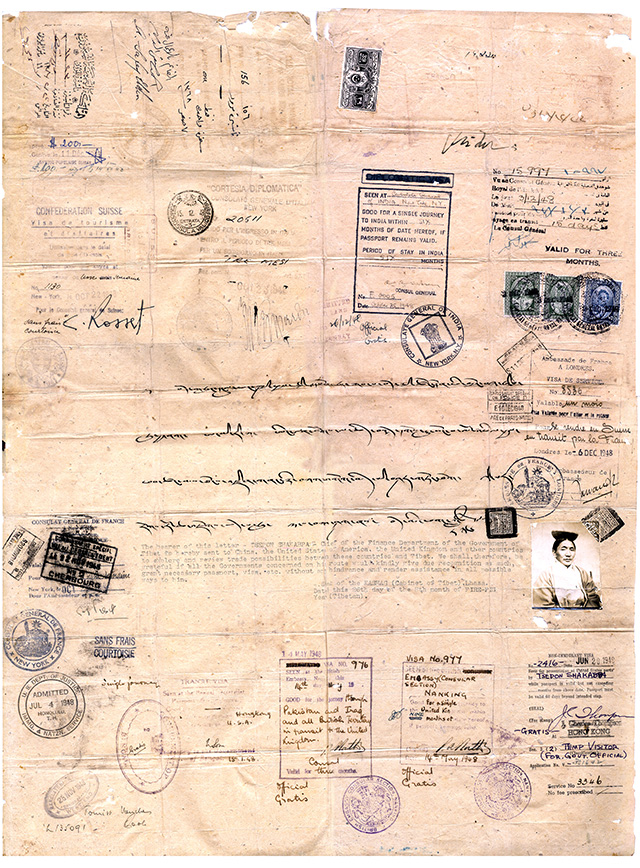 THE historic 'Shakabpa Passport' was issued by the then Government of Independent Tibet in 1947 to the Finance Secretary Tsepon Wangchuk Dedhen Shakabpa who was leading a trade delegation to China, the United States and Britain. On this passport, visa and transit visa were issued by countries like the United States, Britain, India, France, Italy, Switzerland, Saudi Arabia and Egypt. However, this document got lost from the Tibetan community in 1992 and there were rumours that it had been sold to antique dealers and reached into the hands of Chinese government officials. After 13 years of mystery and search, Friends of Tibet Foundation located the historic passport with an antique dealer in Nepal and purchased the document for an undisclosed amount to be presented to His Holiness the XIV Dalai Lama in the year 2004. Today this document remains to stand as an important proof of the independent status of Tibet legally recognised by other countries before China's invasion of Tibet in 1949.
---
A Brief History of the 1947 Tsepon WD Shakabpa Passport: The Tibetan government issued its own passports to travelers entering its borders or (the few) Tibetans who traveled abroad. Before WWII, the term passports covered visas and travel documents in general. The earliest record of a Tibetan passport issued to a foreign traveler is in 1688 to an Armenian merchant, Johannes. The Tibetan government gave its approval for the first-ever Everest expedition (1921). Charles Bell, the visiting British diplomat in Lhasa wrote "I received from the Tibetan Government a passport in official form, which granted permission for the climbing of Mount Everest." The subsequent Everest expeditions of 1922, 1924 and 1936 also received passports from the Tibetan government. Passports were sometimes issued for scientific undertakings: the Schaeffer expedition of 1939, Tucci's expedition of 1949 and the plant hunter Frank Kingdon Ward in 1924.
President Roosevelt's two envoys to Tibet in 1942 were presented their passports at Yatung. The Americans Lowell Thomas Jr and Sr visited Tibet in 1949, and were issued "Tibetan Passports" at Dhomo. "When the Dalai Lama's passport was spread out before us, I could not help thinking that many Western explorers who had failed to reach Lhasa would have highly prized a document like this." The first modern Tibetan passport with personal information, photograph and space for visas and endorsements was issued in 1948 to members of the Tibetan trade mission. It was modeled on the international one-page fold-out model of 1915. Britain, USA and seven other countries issued visas and transit visas for this document. ◼
⋯
Documents/Websites:
1) Tsepon WD Shakabpa Passport: Wikipedia (English)

↧
2) Tsepon WD Shakabpa Passport: Koudaiwiki (Chinese)

↧
3) Tibet & The United States: XVIII IPSA World Congress (The Foreign Service Journal, January 1968)

↧
4) "Indepdendent Tibet: The Facts" (Jamyang Norbu; 2011)

↧
5) Friends of Tibet Press Statement announcing the recovery of Shakabpa Passport (March 31, 2004)

↧
6) Statement from Tsepon Shakabpa Family (April 04, 2004)

↧
7) The Last Passport of Tibet: Once Lost, Now an NFT: www.anaam.one
Reports:
1) "Crumpled Passport Proves Tibet Independent Claim" (Times Online UK; June 23, 2007)

↧
2) "Tibetans to Buy Their 'Lone' Tibetan Passport" (DNA, January 6, 2006)

↧
3) "Lost Symbol of Tibetan Freedom Recovered in Nepal" (Agence France-Presse)

↧
4) "First Tibetan Passport Found After 12 Years" (Hindustan Times, April 2, 2004)

↧
5) "Friends of Tibet Finds the First Passport in Nepal" (Tibet Times, April 2004)

↧
6) "Tibet Passport Used by Shakabpa Found" (Tibbet Desh, June 2004)

↧
7) "Independent Tibet's First Passport Recovered" (Dainik Jagran, April 2, 2004)

↧
8) "First Tibet Passport in Nepal" (Divya Himachal; April 2, 2004)

↧
9) "With 'The Last Passport' NFT, the Historic Shakabpa Passport Enters the World of Digital Eternity" (Friends of Tibet Research, February 25, 2022)
⋯

---

Friends of Tibet Foundation, PO Box 16674, Mumbai 400050, India.
Email: foundation@friendsoftibet.org Web: www.friendsoftibet.org/foundation/
Friends of Tibet Foundation, a Charitable Trust (Regn No: 126/IV/2021) is the philanthropic wing of Friends of Tibet, a non-profit organisation founded in 1999. The primary objective of the Foundation is to support the conservation and promotion of Tibet's tangible and intangible heritage including healing traditions. Friends of Tibet Foundation is also engaged in conducting research on the unique heritage, legacy and history of Tibet and publishing varied research papers with the collaboration of scholars, academicians, scientists, holistic health educationists and sociologists.
⋯
Digital Support: Design & People, India + Ibiblio Digital Library & Archive Project, University of North Carolina, USA
⋯