. . . . . . . . . . . . . . . . . . . . . . . . . . Gastronomically Yours, Health
(Appu Jacob John, September 2012)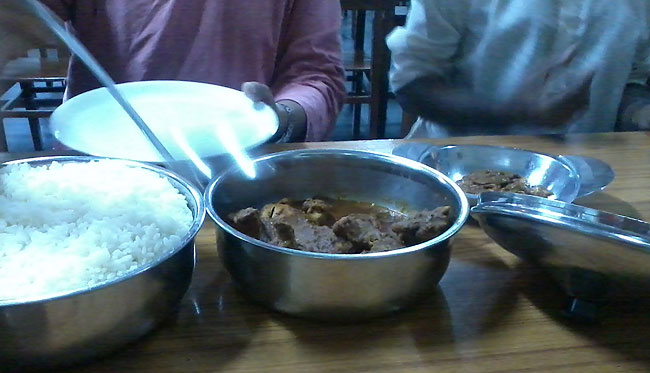 Dear Wellbeing aspirants,
The above picture shows a tasty chicken curry (Nadan Kozhi Curry) prepared in the typical Kerala style. Though it appears dark, it is a teeming meat dish full of tasty gravy charged with spices and the lot. Be it with rice, chappathi, bread or anything — it simply rocks! Yummy!
At the same time the colour black signifies the danger lurking behind it! Almost all medical systems of the world suggest us to take food in a controlled manner. It would be tasty but nasty at the end. Some of the readers might be remembering the recent food adulteration and poisoning cases in hundreds of our hotels across the state.
Hippocrates, the father of modern medicine had once said that "Thy food be thy medicine." Many practitioners have wrongly understood the worth of what he has said. They have turned their careers not for the wellbeing of people but for their own wellbeing. They have pumped in tons of medicine to patients blindly and by believing the doctor the patients devour it at any cost. The real essence of Hippocrates is that one should be healed with the proper usage of food, not the medicine. When you are conscious about your food, it becomes difficult for you to devour unwanted food and you are thus free from all illness to get total wellness.
Tibetan doctors too adhere with this philosophy. Food is not just something that gives you energy. It gives in a nutshell the essential 'jeevaz' to a person. It is not just life, it is the essence of one's own life, the aura which is shed at the time of death. The aura is powerful when you are healthy and changes as you are weak. These are also the essentials of the modern technique of Kirlian Photography also. Hence the way to a healthy life is through a healthy stomach.
The greatest problems observed among the Wellbeing participants by the Tibetan doctors were weak heart, weak stomach and a dull liver — all due to digestion and unhealthy eating habits. Being an interpreter to both doctors and participants, I have often heard them advise participants to cut down oil, chilly, salt, deep-fried items, excess sugary items and cold items. When we are able to cut down these, we will be rewarded with a healthy stomach and in turn a healthy body. Our inability will end up in the total fading out of our healthy, strong aura. Hence health is nothing but the ability to discern for the right kind of food. The chicken curry might be inviting but one should move away from it so that we regulate ourselves and do not eat out to harm our aura.
This was the message of the September Wellbeing Tibetan medical camp organised jointly by Men-Tsee Khang and Friends of Tibet. The staffs at the Ashirbhavan canteen need to be thanked as they remained instrumental in providing the Wellbeing team members with healthy food prepared with two unique ingredients — love and care. This could make each one of us healthy and happy. What is also necessary of all of us is to have good food which develops our aura.
Thank you for being patient enough to read me.
Gastronomically yours,
Health
(Appu Jacob John is a Friends of Tibet Campaigner and a writer based in Kerala, South India. He can be reached at appu.john@friendsoftibet.org)
. . . . . . . . . . . . . . . . . . . . . . . . . .
| Home |

Friends of Tibet is a people's movement to keep alive the issue of Tibet through direct action. Our activities are aimed at ending China's occupation of Tibet and the suffering of the Tibetan people. Friends of Tibet supports the continued struggle of the Tibetan people for independence. Friends of Tibet is also one of the principal organisers of World Tibet Day around the world.