---------------------------------------------------------
Tibet: Present Scenario and Future Outlook: Friends of Tibet (Tamil Nadu) organises a discussion on the 'Present Scenario and Future Outlook' of occupied-Tibet at Benhur Hall, Chennai on March 25, 2014. (Report)
---------------------------------------------------------
Award for Excellence in Social Service: Friends of Tibet Foundation for the Wellbeing receives 'Award for Excellence in Social Service' from Hon Governor of West Bengal HE Shri MK Narayanan on March 15, 2014. (Report)
---------------------------------------------------------
Butter Sculpture Session: Friends of Tibet Foundation for the Wellbeing and Fire In The Belly Cafe organise 'Butter Sculpture Making Session' with Ven Thupten Gedun at Technopark, Trivandrum from Jan 31-Feb 3, 2014. (Report)
---------------------------------------------------------
34th Wellbeing Camp: yEldtho Mathew reports on the 4-day long 34th Wellbeing Medical Camp organised by Friends of Tibet and Men-Tsee-Khang at Kochi from February 6-9, 2014 and 'The Art of Volunteering'. (Report)
---------------------------------------------------------
33rd Wellbeing Camp: The New Indian Express reports on 4-day long 33rd Wellbeing Medical Camp organised by Friends of Tibet and Men-Tsee-Khang at Kochi from January 8-11, 2014. (Report)
---------------------------------------------------------
Tibet Photo Expo, Kochi: Tibet Museum associates with Friends of Tibet (Kerala) to hold "Tibet's Journey into Exile" photo exhibition at St Albert's College, Ernakulam from January 6-7, 2014. (Report)
---------------------------------------------------------
Tibet Photo Expo: Coimbatore, TN: Tibet Museum associates with Friends of Tibet (Coimbatore) to hold "Tibet's Journey into Exile" photo exhibition at Coimbatore, Tamil Nadu from January 3-4, 2014. (Report)
---------------------------------------------------------
Friends of Tibet at Dandi Project: Friends of Tibet Campaigners join Dandi Memorial Project at IIT Bombay as Volunteers in solidarity with the National Project of Ministry of Culture, Govt of India. (Report)
---------------------------------------------------------

---------------------------------------------------------
Sowa Rigpa Talk at IIT Bombay: Friends of Tibet (Mumbai) and IIT Bombay jointly organise "Sowa Rigpa, the Science of Healing" lecture by Dr Dorjee Rapten Neshar of Men-Tsee-Khang on Nov 26, 2013. (Report)
---------------------------------------------------------
Memoir of 30th Wellbeing Camp: Mukta Ojha reports on 3-day long 30th Wellbeing camp and 'Sowa Rigpa' lecture organised by Friends of Tibet and Sylviander House at Alappuzha on September 7, 2013. (Report)
---------------------------------------------------------
29th Wellbeing Camp: 'Future Medicine' features Tibetan Medical System and the 29th Kochi Wellbeing medical camp organised by Friends of Tibet and Men-Tsee-Khang from July 10-13, 2013. (Report)
---------------------------------------------------------
World Tibet Day 2013: Friends of Tibet (Mumbai) joins global observance World Tibet Day and 78th Birthday of His Holiness the Dalai Lama at Bahujan Buddha Vihar, Parel, Mumbai on July 6, 2013. (Report)
---------------------------------------------------------
28th Wellbeing Camp: Two New Indian Express reports on the Tibet talk by Tibetan poet-activist Tenzin Tsundue during the 28th Wellbeing camp, Kochi from May 8-11, 2013 organised by Friends of Tibet. (Report)
---------------------------------------------------------
27th Wellbeing Camp: Appu Jacob John reports on the 27th Wellbeing Tibetan Medical Camp organised by Men-Tsee-Khang and the Friends of Tibet Foundation for the Wellbeing at Kochi, Kerala from April 3-6, 2013. (Report)
---------------------------------------------------------
26th Wellbeing Camp: Nisha Poulose reports on the 26th Wellbeing Tibetan Medical Camp organised by Men-Tsee-Khang and the Friends of Tibet Foundation for the Wellbeing at Kochi, Kerala from February 27-March 2, 2013. (Report)
---------------------------------------------------------
25th Wellbeing Camp: A photo essay from Ashirbhavan, the venue of the Wellbeing Tibetan medical camp organised by Men-Tsee-Khang and Friends of Tibet Foundation for the Wellbeing in Kerala from January 2-5, 2013. (Report)
---------------------------------------------------------

March 15, 2014: Honorable Governor of West Bengal and former National Security Advisor HE Shri MK Narayanan presents 'Award for Excellence in Social Service' to 'Friends of Tibet Foundation for the Wellbeing' for its "outstanding and tireless efforts in addressing and raising awareness about social issues and causes". Shri Eswar Anandan (Left), Campaigner, Friends of Tibet received the award on the behalf of the organisation at a function organised by Daya Charitable Trust on March 15, 2014. Justice Shri Chettur Sankaran Nair and S hri P Sanjumon, Chairman, Daya Charitable Trust (DCT) are also seen. (Photo: DCT)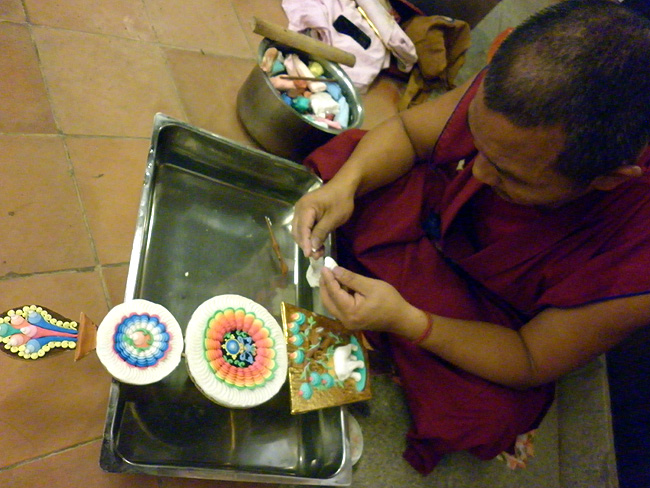 Techopark, Trivandrum: Venerable Thupten Gedun of Gyuto Monastery, Sidbari, Dharamshala at Technopark, Trivandrum. He was in city for a Tibetan Butter Sculpture Making Session at the Fire In The Belly Café at Bhavani Complex of Technopark. Spread over 300 acres with 4 million sq ft of built-up space, Technopark Trivandrum is India's biggest IT park which hosts over 290 IT and ITES companies employing over 42,500 IT professionals. (Photo: Friends of Tibet)
REPORT & PHOTOS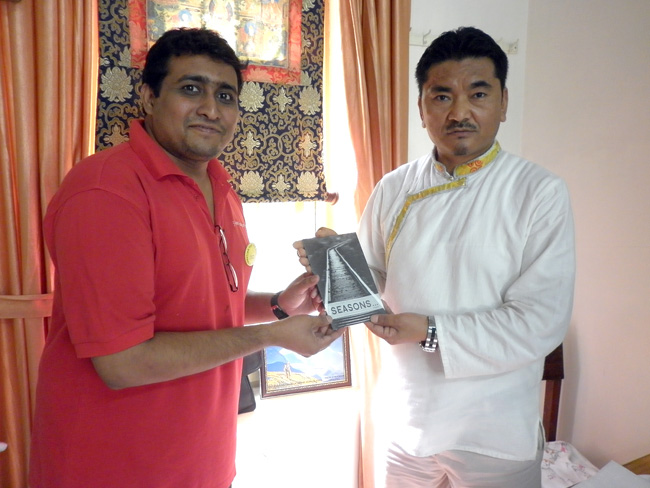 Kochi, Kerala: Eswar Anandan, a Member of Friends of Tibet Foundation for the Wellbeing gives a copy of "Seasons", his recently-published collection of poems in English to Dr Dorjee Rapten Neshar, Chief Medical Officer of Men-Tsee-Khang Bangalore clinic during the Wellbeing Tibetan Camp at Kochi organised jointly by Friends of Tibet and Men-Tsee-Khang from January 8-11, 2014. (Photo: Friends of Tibet)
Coimbatore, Tamil Nadu: Prof Anto Varghese of Friends of Tibet (Coimbatore) and Tashi Phuntsok Barling, Director, Tibet Museum of Department of Information and International Relations, Dharamshala jointly address the media during the exhibition titled "Tibet's Journey into Exile" organised jointly by Tibet Museum and Friends of Tibet. The photo exhibition attracted people and supporters from Coimbatore city from January 3-4, 2014. (Photo: Tibet Museum)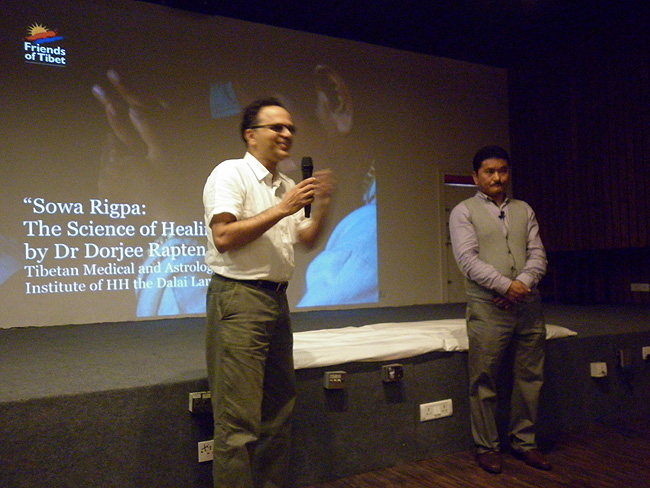 Mumbai, Maharashtra: Prof BK Chakravarthy, Head of Industrial Design Centre of IIT Bombay proposes Vote of Thanks after the "Sowa Rigpa, the Science of Healing" lecture by Dr Dorjee Rapten Neshar, Chief Medical Officer, Men-Tsee-Khang, the Tibetan Medical and Astrological Institute of His Holiness the Dalai Lama at IIT Bombay on November 26, 2013. The event was jointly organised by Friends of Tibet and Industrial Design Centre, IIT Bombay. (Photo: Friends of Tibet)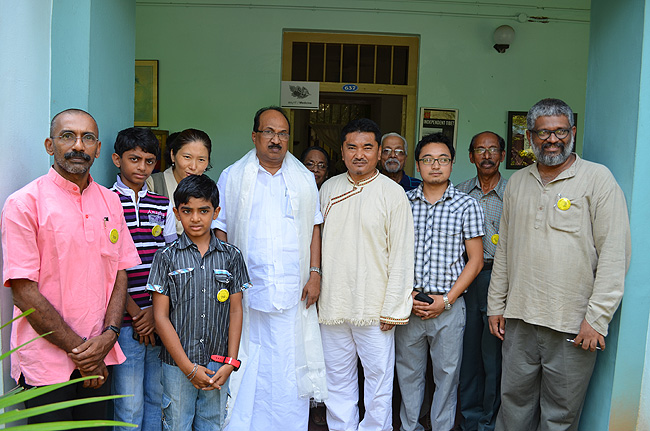 Union Minister for Consumer Affairs, Food and Public Distribution of Government of India, Prof KV Thomas with Friends of Tibet Wellbeing Volunteers and doctors and staffs of Men-Tsee-Khang, the Tibetan Medical and Astrological Institute of His Holiness the Dalai Lama after inaugurating the Wellbeing Mobile Application (http://goo.gl/dVb75) developed by ThoughtShastra Solutions, Mumbai. (Left to Right) Yeldtho Mathew, Kelvin Yeldtho, Elvin Yeldtho, Dr Tenzin Lheundup, Prof KV Thomas, Dr Dorjee Rapten Neshar, Thrivikraman, Nirmala Thrivikraman, Dr Thinley Namgyal, Suresh Babu and Sethu Das. (Photo: Venu B Nair)
---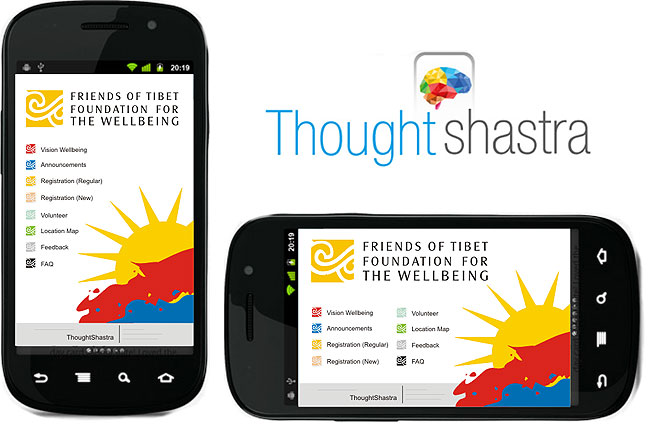 Download Friends of Tibet Wellbeing Mobile App developed by ThoughtShastra from Google Play
Friends of Tibet, PO Box 16674, Bombay 400050, India.
Tel: +91.9400354354 Fax: +91.11.47615142
YouTube: https://www.youtube.com/user/friendsoftibetvideos
twitter: https://www.twitter.com/friendsoftibet
Email: freedom@friendsoftibet.org Web: www.friendsoftibet.org
Friends of Tibet is a people's movement to keep alive the issue of Tibet through direct action.
Our activities are aimed at ending China's occupation of Tibet and the suffering of the Tibetan people.
Friends of Tibet supports the continued struggle of the Tibetan people for independence.
Friends of Tibet is also one of the principal organisers of World Tibet Day around the world.