(Below) Dorjee Lhamo in conversation with Suresh Babu and Yeldtho Mathew of Wellbeing Programme. She runs Bookworm book shop in McLeod Ganj, Dharamshala.
A major feature which impressed me a lot at 'Wellbeing' camp is the adherence to holistic medicine principles by the Tibetan doctors coming out after the rigorous five year integrative medical course of the Medical University founded by His Holiness XIV Dalai Lama, more than 50 years back at Dharmashala, Himachal Pradesh.
Decades back itself I was fully convinced that 'holistic health' is very essential to ensure one's wellbeing and to develop and expand hidden human faculties and potentials as well as to sustain and enhance 'holiness of the self' also. This I find is especially much more relevant in this globalisation era where most people live in a disintegrated state in many respects.
We have to remember that health is not merely a state of being free from any disease symptoms as is believed to be by most people. It is well-recognised by medical fraternity as a whole that fatal diseases like cancer in most cases would take even more than a decade to manifest itself with symptoms. So this belief in symptoms alone becomes more erroneous. Moreover people don't understand that the latent physical, mental and emotional disorders are very dangerous and fatal as it affects all human faculties including physical, mental, emotional, intellectual, spiritual etc.
In this so called educated world, it is observed with great dismay that most people are under shocking ignorance about proper upkeep of their own total health. Even degree holders forget that their ability to work, to think, to live their full life happily and peacefully and to do whatever good to themselves as well as to others entirely depends on the integrative processes of body, mind, spirit and cosmic energy elements. When this integral functioning happens in perfect equilibrium, one could sense wellbeing in its totality, inner happiness, bliss, peace etc all of which constitutes 'holistic health'.
Body, mind and spirit are three main inter-dependent vital aspects of human beings health. Consequently disease condition of the body, whether latent or not adversely affects the state of mind and spirit as well. Similarly when the mind or spirit is not in a wellness state, body will be badly affected also. The progressive atrophy of the physical, mental, intellectual, spiritual, moral, emotional faculties of human being would be in a terrible condition and beyond one's imagination if it is allowed to deteriorate.
Holistic medicine fully recognises that mind, body and spirit play a very crucial role in diagnosing, understanding and treatment of the disease as a whole. Pulse diagnosis methodologies and other scientific investigations resorted by Tibetan Doctors goes down in depth to trace and treat imbalances and distortions from the root of the problem itself. Thus Tibetan medical system with its emphasis on holistic health and on holistic medicine approaches like pulse diagnosis, urine analysis herbo-mineral medicines, study of living styles, behavioral patterns etc aims at providing an invaluable integrative wellbeing state to all its seekers.
Impressed by the unbelievable relief and cures from the diseases especially from fatal and chronic diseases, participants are increasing with each monthly medical camp at Kochi. Ever since it's beginning two years back with 20 patients it has enlarged up to thousands at present. But in true Buddhist fashion, 'Wellbeing' as well as its initiators 'Friends of Tibet' do not maintain a permanent office, infrastructure or other paraphernalia and any asset till this date for the conduct of its regular activities.
Another very admirable thing is that all its progammes, projects etc including the monthly medical camps are being conducted by persons from far and near who assemble at 'Friends of Tibet'/'Wellbeing' activity site, taking leave from their livelihood professions/vocations and do services voluntarily according to their skillsets while contributing financially or otherwise for the smooth conduct of the programme/project.
Friends of Tibet and 'Wellbeing' functions on 'hand to mouth existence' that is, it don't believe in collectiing and accumilating funds for its future activities — yet another self-imposed Buddhist discipline. If the above financial contributions voluntarily offered at any time for any programme is in excess of the actual requirements or expenditure for that particular programme, that excess contributions are not accepted and politely told that it could be offered at the time of the next programme, project, medical camp etc. As such Friends of Tibet and "Wellbeing" don't have a bank account — a most ideal way to run service oriented voluntary organisations!
Similarly a one-time volunteer will not be requested or compelled to join a second time for the continuing programme in a later period or for an entirely new project. But one can on his own accord inform his/her readiness to do voluntary services and thus get enlisted for the ensuing project/programme/activity etc. Of course prior intimations of the conduct of such programmes will be sent to the enlisted volunteers. It is to be gladly noted here that there would be always more than enough persons each time expressing their willingness in advance to volunteer for the Friends of Tibet and Wellbeing programmes including the monthly medical camps. Even as far as places like Dharmashala in Himachal Pradesh we had volunteers for the October 2012 medical camp. They are Mrs. Dorjee Lhamo and her son Legdup Tsering who owns 'Bookworm' the famous book shop in McLeod Ganj, doing wonderfully their assigned jobs of directing patients to doctors throughout the camp days.
Since Dr Tenzin Norbu is on leave for his preparation to take up an assignment abroad, two new Tibetan doctors took charge in this month's Kochi camp. Dr Tenzin Lheundup had completed her 5 year Tibetan medical university course in the year 2006 and has been working in different parts of India and abroad on varied assignments including as Research coordinator for special projects, workshops etc dealing in fatal and chronic diseases like cancer, diabetes etc.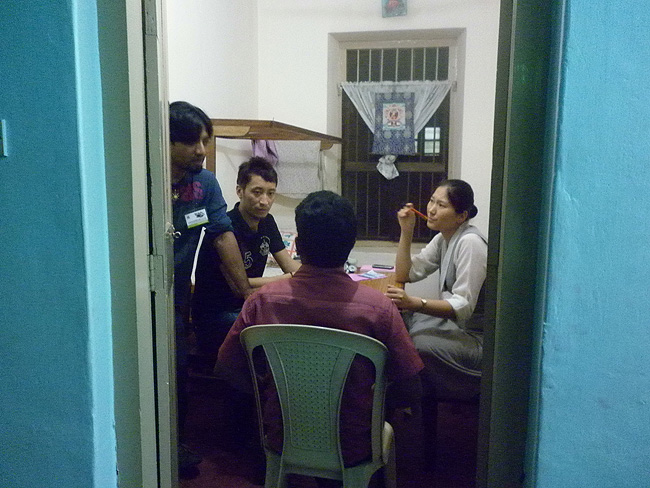 (Above) Dr Passang Tsering Triunkha and Dr Tenzin Lheundup during consultation. Nirmal Antony, Musician and a Wellbeing Programme Coordinator helps the doctors with translation.
(Below) Abba Mohan (55), a professional photographer who met with an accident in 2003 is also a victim of wrong treatment. He in conversation with Wellbeing Volunteers at Ashirbhavan.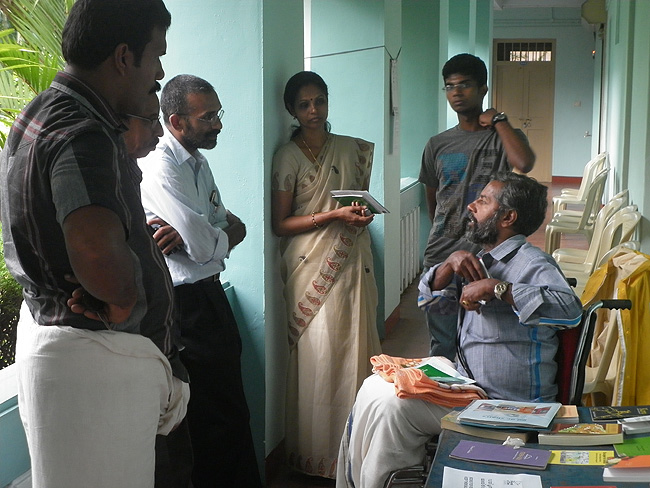 Dr Passang Tsering Triunkha had escaped from Chinese occupied Tibet in his early childhood along with his uncles. His parents are still in Tibet itself. He had completed his schooling and medical studies in Dharmashala. After obtaining his medical degree in last year he is currently attached to the Bangalore clinic of Men-Tsee-Khang.
Some of the participants expressed that they could really feel the sanctity and dignity of Tibetan medical system at the October 2012 Wellbeing camp. Right from their Buddhist morning prayers before doctors consultations actually begins and through the unconditional love, humility, and empathy bestowed on the patients by doctors as well as each member of the Tibetan support team and by our far away volunteers Mrs Dorjee Lhomo and other volunteers who had imbibed the Buddhist compassion, tolerence, discipline etc in its true spirit.
Quiet happy with the inexplicable relief and cures from their severe ailments, the participants were earlier not really concerned much to know about Tibetan healing practices or their medicines. But in the last few camps we have seen some of these participants coming forward and asking us about pulse diagnosis, holistic medicine etc. We find all these initiatives as very good signs and attempts on the part of people towards attainment of 'Holistic health'.
Some other participants felt the functioning of the October 2012 camp in a very composed manner and conducted as a well oiled machine. Besides they were also very appreciative about the calm and serene ambiance that prevailed in the camp site and enquired as to how it was all made possible?
We could make it happen with whole hearted involvement of Dr Dorjee la and other dedicated Tibetan doctors and their spirited support team led by Ms Sonam la along with the committed services of our volunteers and the caring facilities provided by Ashirbhavan and especially its Director Rev Msgr Fr Joseph Thannikkottu supported by its Manager Mr Jossy and the sisters and the understanding and the cooperation on the part of our participants whose health recovery is the prime objective and satisfaction to all of us in Wellbeing.
It is often thought by many, I am only one person! How can I make a difference, a change?
Gandhiji said, "If you want to change the world, be that change".
The Great Master Sree Buddha had set a good model to this more than 2500 years back by his own life and empowered us with his unique teachings. Disciples of Sree Buddha all over the world, especially His Holiness Dalai Lama XIV and his followers are reminding us this very often by their words and actions.
Suresh Babu is former director of media establishments, a holistic researcher, author etc. He can be contacted at: suresh.babu@friendsoftibet.org
. . . . . . . . . . . . . . . . . . . . . . . . . .
| Home |

Friends of Tibet is a people's movement to keep alive the issue of Tibet through direct action. Our activities are aimed at ending China's occupation of Tibet and the suffering of the Tibetan people. Friends of Tibet supports the continued struggle of the Tibetan people for independence. Friends of Tibet is also one of the principal organisers of World Tibet Day around the world.