. . . . . . . . . . . . . . . . . . . . . . . . . . Wellbeing Crosses 1000
(Report by Friends of Tibet Kochi, May 9-12, 2012)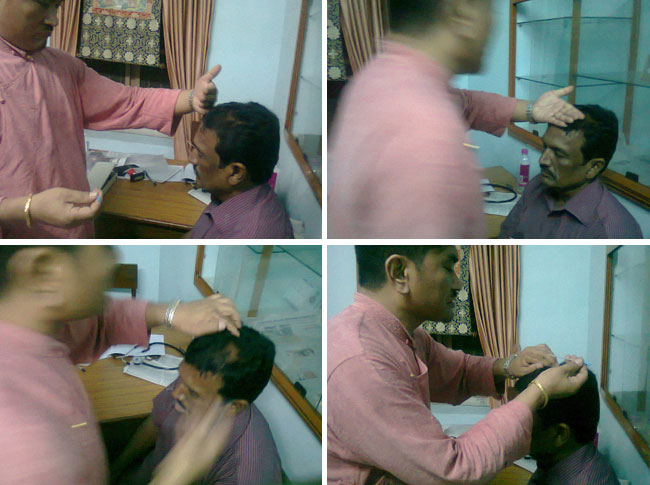 Dr Dorjee Rapten Neshar of Men-Tsee-Khang performs needle therapy on a Wellbeing participant during the 19th Tibetan medical camp in Kochi. In order to restore the balance of the humours, the Tibetan medicine uses five main types of therapy: 1) Dietary adjustment 2) Behavioural change 3) Medicines 4) Other therapies such as bone-settling, golden needle therapy etc 5) Religious rituals, prayers, dream analysis and astrology. (Photo: Friends of Tibet)
The 19th Wellbeing Tibetan camp was conducted jointly by the Men-Tsee-Khang, the Tibetan Medical and Astrological Institute of His Holiness the Dalai Lama and Friends of Tibet from May 9-12, 2012 at Kochi. The registration has crossed 1,000 by this camp with increasing number of participants from different part of India and abroad.
In order to restore the balance of the humours, the Tibetan medicine uses five main types of therapy: 1) Dietary adjustment 2) Behavioural change 3) Medicines 4) Other therapies such as bone-settling, golden needle therapy etc 5) Religious rituals, prayers, dream analysis and astrology. Three basic instruments of pain relief are used by the Tibetan medicine. They are as visualised in the photographs above. These are medical instruments to be used for the relief from pain and are from the age old Tibetan medical practices. The small needles in both gold, steel and alloy shown are familiar to us as used in acupuncture. The correct use of purified gold/silver will aid in the improvement of the general health of the patient. It has been found correct in Ayurveda, Yunani and Siddha too.
Dr Dorjee Rapten Neshar, the chief physician of the camp told that according to Buddhist beliefs, it is better to have pain as it gives a realisation of the transitory nature of life. Hence to suffer is the true representation of the Buddhist belief. One has to undergo the painful experiences of life to understand it fully. But since people are not able to withstand suffering/pain the most researched feature of treatment becomes related to the treatment of suffering/pain. This is true with all branches of medicine.
More about Wellbeing Tibetan Medical Camps: www.friendsoftibet.org/wellbeing/
. . . . . . . . . . . . . . . . . . . . . . . . . .
| Home |

Friends of Tibet is a people's movement to keep alive the issue of Tibet through direct action. Our activities are aimed at ending China's occupation of Tibet and the suffering of the Tibetan people. Friends of Tibet supports the continued struggle of the Tibetan people for independence. Friends of Tibet is also one of the principal organisers of World Tibet Day around the world.