'Tsundue Hums A Tune: We Shall Overcome'
(By Manu Bharat, The New Indian Express | January 04, 2007)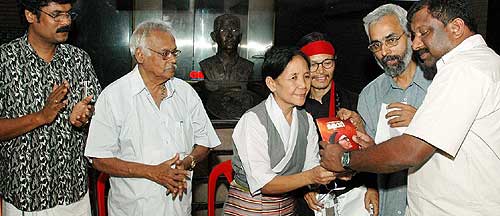 The Malayalam translation of Tenzin Tsundue's 'Kora' was released on January 2, 2007. The book translated into Malayalam by journalist RK Bijuraj was released at a function held at Ila Bookshop. Acha Lhakpa, a senior Tibetan living in Cochin handed over the first copy of the book to MA Shanavas, Editor of Madhyamam Weekly. The function was presided over by CR Neelakandan (Environmentalist), NN Sathyavarthan, (Director, Kerela Press Academy) and six Malayalam poets attended the function.
. . . . . . . . . . . . . . . . . . . . .
Cochin: Tenzin Tsundue was in the news last April during the Chinese Prime Ministers India visit. For, he climbed over the main building of the IISc Bangalore, breaching security, carrying a Tibetan Flag and shouting anti-China slogans. A freedom fighter, poet and Human Rights activist, Tsundue today is the young face of Tibetan liberation. More over he keeps alive the hopes of 1, 30,000 Tibetan refugees in India.
The General Sectary of 'friends of Tibet,' Tsundue's literary skills won him the Outlook-Picador award for 2001. Born in a refugee camp in Manali in Himachal Pradesh, Tsundue had his education from Loyola College, Chennai and Bombay University. He was in Kochi in connection with the release of the Malayalam translation of his book 'Kora'.
"We preserve the notion of a nation in our hearts. We preserve the identity of a separate nation in our souls. Our resistance is from within. Ours is a Non-violent struggle. For Tibetans, Non-violence is a way of life. The same ideology guides us in our paths of struggle.
You have difference of opinion with the Dalai Lama. Will that not dampen the spirit of the freedom struggle? "Though we have a difference of opinion, I respect the Dalai Lama. His demand is for an autonomous status within China. We will not be satisfied this mere autonomy. We want independence and that is our inalienable right. We are not ready to settle for anything less that that.
What is the attitude of the common people in China to Tibetan freedom? "They are not aware of the actual situation. The state, through propaganda, has taught them distorted history. Today, China is a capitalist nation. More than 60 percent of the today?s China is captured from other countries, be that Manchuria, Mongolia, East Turkestan and Tibet.
These acts of aggression are for exploiting the natural resources. The corporate giants in China benefit from this. The laymen of China are unaware of actual facts. "How long will your fight for freedom continue?
"As long as the last Tibetan is alive. Today, our community is in exile. Free Tibet demands sacrifice. India fought for a century to win freedom, may be Tibet will have to fight longer. We are sure we will win one day. Tibet is gaining confidence and China is losing. The single political entity called China is crumbling. The red band around my head is a symbol of my struggle. I will remove it only when my country is free.

---
'Face-to-Face with Tenzin Tsundue' was organised by ILA Bookshop and Fabian Books in association with Friends of Tibet (Cochin) at the ILA Bookshop, Ernakulam on January 2, 2007.