Friends of Tibet Observed Tibetan Uprising Day
(UNI | March 10, 2005)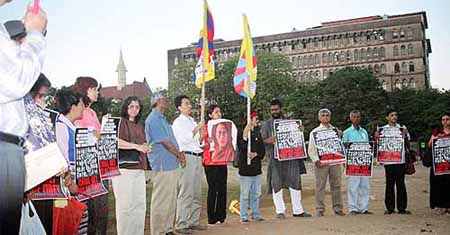 Azad Maidan, Bombay: The Friends of Tibet (India) for an Independent Tibet observed 46th anniversary of Tibetan National Uprising Day in the city today. They held a candle-light vigil to mark the occasion. Carrying photographs of their spiritual leader Dalai Lama, the gathered masses shouted slogans against Chinese occupation of Tibet. CA Kallianpur, National Coordinator of the organisation, which is a support group formed in 1999 to spread awareness about the issue of Tibet among Indians, said it was holding the rally as a show of solidarity with the Tibetan struggle for independence.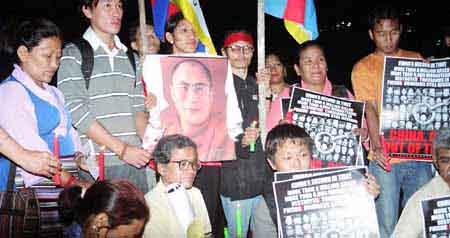 China had invaded Tibet in 1949 with military force and consolidated its occupations on the Roof of World in 1959, when His Holiness the Dalai Lama escaped to India. On this day in 1959, Tibetans had risen in uprising against the Chinese occupation of Tibet and gathered in the streets of their capital Lhasa. But the public uprising was violently suppressed, Mr Kallianpur added.
---
'46th anniversary of Tibetan National Uprising Day' was observed by the Friends of Tibet (INDIA) at Azad Maidan, Bombay on March 10, 2005.