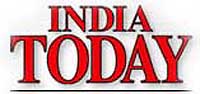 'Breaching the Wall'

(By Saurabh Shukla | India Today | April 28, 2005)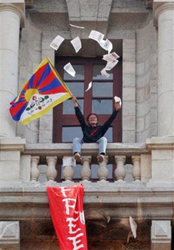 New Delhi: The Dalai Lama may be having second thoughts about taking on China, but that did not stop Tenzin Tsundue from unfurling the banner of protest when Chinese Premier Wen Jiabao visited Bangalore last week. Tsundue, who breached the security cordon and managed to wave a Tibetan flag from atop the Indian Institute of Science (IISc), unfurled a red banner saying 'Free Tibet' even as Wen was interacting with scientists at the institute. He was soon arrested but the incident left some red faces in the Government and Delhi expressed its regrets to the Chinese delegation.
Tsundue, who is general secretary of the Mumbai-based Friends of Tibet, may now face several charges for breaching the security cordon. Security officials say that he may have climbed the building three days in advance as hundreds of student leaders were put under preventive arrest. He not only dodged the security personnel but even sniffer dogs. Interestingly, this was Tsundue's second such protest, the earlier one was staged when Wen's predecessor Zhu Rongji visited India in 2002. He will surely be a marked man the next time a Chinese leader comes to India.
---
Friends of Tibet (INDIA), PO Box 16674, Bombay 400050
Email:
. . . . . . . . . . . . . . . . . . . . . . . . . . . . . . . . . . . . . . . .