'India's 50 Most Stylish People: The ELLE Hotlist!'

(Elle Magazine | July, 2002)
'ELLE' Magazine (July 2002) has published a Hotlist of 'India's 50 Most Stylish Poeple' which includes two Tibetans! And they are Tenzin Tsundue (42) and the Dalai Lama (44). The list is a conglomeration of personalities across the India crossing all boundaries of class and wealth who has made individual impact with style. It included stars from Amitabh Bachan to Aishwarya Rai, politician Omar Abdulla to writer activist Arundhathi Roy, business barons Vijay Mallya, Ratan Tata, other stars like Sachin Tendulkar, Sushmita Sen, Shoba De, Amitava Gosh, Madhuri Dixit, Aamir Khan. Let's see what the editor of the 'Elle' magazine has to say about the selection.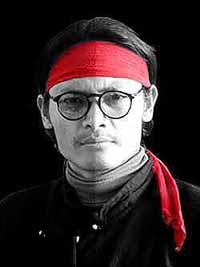 Editors View: "At Elle we have always insisted that fashion is more than following trends blindly. It is an expression of individuality. A free will. Therefore, Hotlist 2002 includes fashion maverick Anshu Arora Sen as well as an impossibly elegant Shoba De. Dr Vijay Mallya and activist Tenzin Tsundue also make it to this roll-call. One is a hugely successful entrepreneur who seem to have it all. The other is a refugee seeking justice for his homeland. Their link? Courage. Mallya blazed a new trail on the business front. Tsundue followed his conviction when he climbed the 14th floor of the Oberoi Hotel in Mumbai to protest against China's treatment of his homeland, Tibet. Each selection is different from the other — and yet united in their uniqueness. How can appearances, designer labels, bank balances and status not pale in front of this distinctiveness?"
---
Friends of Tibet (INDIA), PO Box 16674, Bombay 400050
Email:
. . . . . . . . . . . . . . . . . . . . . . . . . . . . . . . . . . . . . . . .