. . . . . . . . . . . . . . . . . . . . . . . . . . The Secrets of Being Well
(By Appu Jacob John, Kochi, December 5-7, 2011)
The Good Samaritan: Rajsankar Unnikrishnan is a Friends of Tibet member and Wellbeing Volunteer who lives at Ottapalam, a small town in the Palghat District of Kerala, India. Many Friends of Tibet volunteers remember him as a person who came to seek medical help for diabetic neuropathy walking on crutches with help of two others. Today he takes care of more than 50-75 patients from Ottapalam and Palghat through the Wellbeing Programme at Kochi organised jointly by Friends of Tibet and Men-Tsee-Khang. (Photos: Girish Kumar PG)
Being well or rather getting well is a dream for many in our modern society. We go in search of anything for being well. The choices might be different from power and glory to a life of poverty and simplicity. But do they bring in the much needed happiness or well being? One should wait and see.
We are bothered by many thoughts — those of the past, present and the future. Even when everything seems dark we find somewhere a silver lining. On this silver lining we tend to build up our future. Nobody is different. Even I who now says of high flown ideas have built my ego on such a pedestal. The pedestal was so high that I myself found it hard to believe in the stray strands on which I have placed myself. I am a volunteer with the Friends of Tibet Wellbeing Programme. I write reports, coordinate images, does translations moreover was a defender of the Tibetan ideology through the media and is a researcher in Tibetan poetry. What else is needed for wellbeing! It is always happiness!
But am I being well? Don't I still lack something? Isn't life something more than blowing one's trumpet more profoundly than others? This is a realisation which I got when I met somebody in the Wellbeing camps. The meeting was hard to believe. I have heard of this person many times; found him interesting and met him rather one or two times. I never had a chance to speak heart to heart with him since he was always busy coordinating between patients and doctors.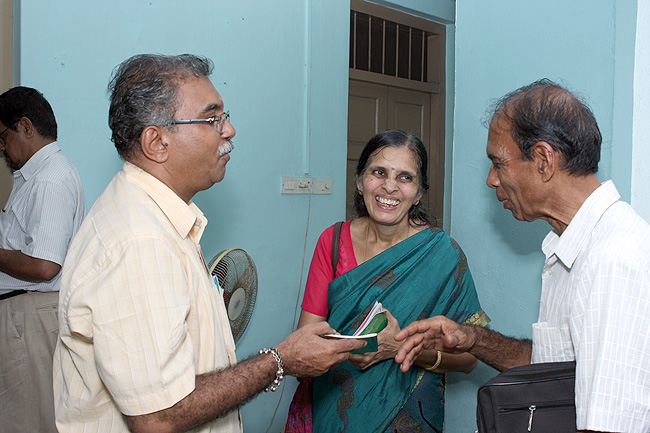 During the Wellbeing camp, Rajsankar's day begins at 3 in the morning. He coordinates between patients from his region and those who are newly registered with the Wellbeing team at Kochi. Many of them travel by train or by hired vehicles to save on travel expenses. They travel for more than three hours by road to reach Kochi to participate in the Wellbeing Camp organised jointly by Men-Tsee-Khang and Friends of Tibet. And it usually takes almost one and half day to consult the doctors for the entire team members from Ottapalam.
The first incident of our meeting was regarding learning Tibetan language. I was sitting like the know all and end all of Tibetan affairs in Kerala. I had a 19th century book with me on Tibetan language. Sethu Das introduced him to me as Rajsankar Unnikrishnan, who owns an optical shop at Ottapalam near Palakkad. Just another Tibet enthusiast! I never gave much importance.
Two or three camps later I found the entire first day registration set apart for participants from Ottapalam. I was confused what could be this! Quite natural I overheard some of the patients saying "If Raju could why can't we?" My confusion doubled. I decided to consult Sethu Das on the matter. He with his usual smile and calm voice said it was "Rajsankar Effect". Seeing my confused face he said: "Why don't you yourself ask him?"
"What is now the thing with the language enthusiast?" I was mulling over this question when I met Rajsankar. I was a bit confused on how to start my conversation with him. Here Sethu Das came to my aid. He said: "Do you remember a patient who had come here a few camps back with diabetic neuropathy walking on crutches with help of two aids?" I had some sort of a vague memory. All I could remember was a burly man who could hardly walk. Dr Dorjee Rapten Neshar himself had come out to care him. His face was blotted up and but now before me I find a healthy middle-aged man with normal complexion walking on his two feet.
Meeting once a month during the Wellbeing Camp at Kochi is a great opportunity for many who do not otherwise meet in their village. Rajsankar makes sure that he meets with all patients individually and welcome them for the camp. A good majority of patients depend on him for communicating with the doctors and also getting the right advise on the intake of medicines. For many they are connected to the doctors through Rajsankar which they consider a blessing.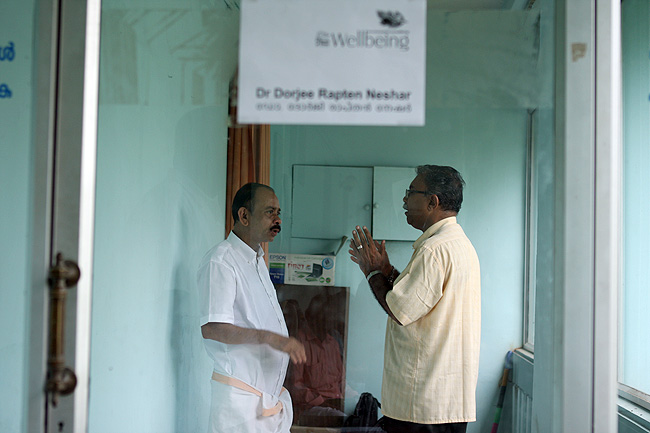 Rajsankar Unnikrishnan had now easily turned out to be 'Rajuettan' for many. Rajuettan slowly started to unfurl his life story. He was in Muscat for many years in the 1980s. He had been there from a very young age working as the private secretary to a European company director. He was 'enjoying' life — drinking often on the rocks, eating one full roasted chicken and living like a European. He had to leave the land and come back to India in 1988. He was married by then and had two children. He started a small optical shop in Ottapalam to earn a living. He had also gone back after the war but could not get a good footing there and had to return.
One day he had suffered a terrible fall while getting on a bus. He was hospitalised. He could neither lie straight nor sit normally. He was treated for the gaps in his vertebral column. No relief was there even heavy doses of pain killers were fed into his body. His eyes still water remembering the intense pain he had to go through. He was discharged from the hospital but the intense use of painkillers and antibiotics had increased his immunity and reduced his mental stability.
The period was of great trouble in Rajuettan's family as his moods changed quite often. Yet the pain was still there. Someone told him about a traditional Ayurvedic vaidya who would find an answer to his need by touching his nadi (veins). Though not totally believing he went to Selam in Tamil Nadu to check his nadi. Rajuettan described that the vaidya was over 90 and both his eyes had gone blind because of extreme cataract. He touched his hand and said that "Your problem is down below but treated above. Haven't you suffered a fall? In the fall your tail bone has been broken! You should get treated for that". Rajuettan was surprised. He immediately went to the hospital where he was treated and asked the doctor to have a detailed scan and examination. This revealed that the coxes had been broken off from spine and had been deeply penetrated into the flesh and it had started disintegrating. He was rushed into the surgery and had it removed.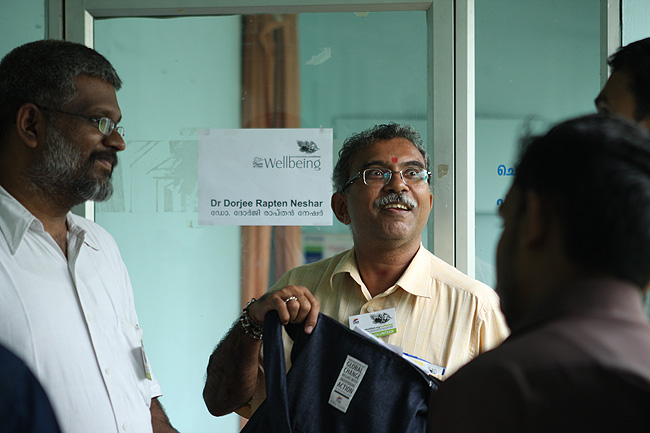 Photograph of Rajsankar with Sethu Das, Sreejith Saseendran, Appu John and other Volunteers planning the rest of the camp and preparing Green Health Books for the newly-registered patients of December 2011. Once at the Wellbeing Camp venue Rajsankar needs to work with other Wellbeing Volunteers. He needs to verify the bookings and reports cancellations. He also needs to ensure that the entire team gets their consultation time with the doctors according to their booking preferences.
One might think that Rajuettan's troubles had been relieved. This was only the beginning of a second stage. He had developed diabetes as a result of the excess drug intake. His nervous system had gone weak as it had been struck by the diabetes. At the same time his immunity doubled. No such simple illness would affect him — also every other tablet too! This was taking its dangerous toll as once again he landed in the hospital. Rajuettan suffered Diabetic Neuropathy and it in turn gave him a cerebral thrombosis. He fell down from a running bus and suffered almost paralysis. He was rushed to a super speciality hospital. He still remembers those days as it took almost six men to carry him to the ambulance.
In the hospital once again Rajuettan was doubtful. He had lost his confidence on the allopathic system. It would never do me good. The doctor told him that since his immunity was great he had to dialyse his blood and inject in immunoglobin; which costs Rs 14,999 for a single bottle; to reset the immunity. This has to be repeated 60 times. Since he had no way, he agreed to the treatment and with the generosity of all he had put in around 28 bottles of the drug. He became doubtful about the treatment and referred with Sree Chitra Tirunal Institute for Medical Sciences, Trivandrum. They too said this was the only treatment that can be given to such a patient.
Rajsankar Unnikrishnan continues to consult Dr Dorjee Rapten Neshar for his diabetic-related issues. And for others he also consults Dr Tenzin Norbu Ganub who recently joined the Wellbeing team at Kochi. Dr Tenzin Norbu is was born in Toe Phadrug, Tibet. At the age of six he escaped to India with his father. He did his schooling in Tibetan Children's Village (TCV) in Dharamshala. After finishing his AISSCE Board Exam in year 1996, Dr Tenzin Norbu joined the Men-Tsee-Khang Tibetan Medical College in 1997. Dr Tenzin Norbu Ganub was first appointed as the Resident Doctor at Navi Mumbai branch clinic of Men-Tsee-Khang and later in Shillong, Meghalaya before he got transferred to Bangalore Branch Clinic.
Depressed and dejected Rajuettan was once again in tantrums. He had lost his interest in life. His plight had been a topic well-discussed in the neighbourhood. Here he met one of his relatives who was a regular visitor to the Wellbeing camps. He told him to visit the camp and personally took initiative to bring him to the venue. It was for this visit that I had seen this big man leaning on two crutches and with the aid of two others walked into the camp. The rest is history. Dr Dorjee Rapten Neshar, the Tibetan doctor gave him medications and Rajuettan asked what all should he abstain from and will this do any good. The doctor replied if you love your family you will do it in a time of six months! Yes, he loved his family and he recovered in just three months treatment. Now we have before us is a healthy gentleman who is able to walk on his own legs.
The gospels speak of an incident where ten lepers were healed by Jesus. Nine left and only one from a lower caste came to thank him. Rajuettan returned to thank his healing. Not by presenting rich presents but by being like Shantideva being the doctor, the nurse and the medicine for the suffering. He opened his eyes for his family, friends and his fraternity and now he is the inspiration for many.
If he can, why can't we? Yes if he can we also can!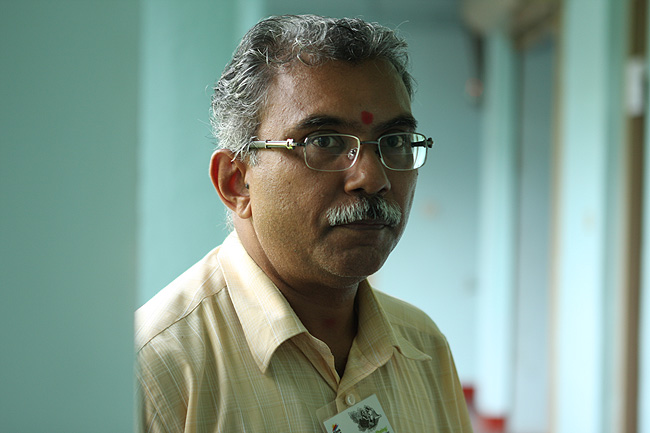 "Sometimes I get a feeling that these medical camps are brought to our city for my own healing. I thank both Men-Tsee-Khang and Friends of Tibet for connecting me to Tibetan Medicines," says Rajsankar Unnikrishnan who always carries a slogan in his pocket — 'Health Through Herbs". (Photos: Girish Kumar PG)
. . . . . . . . . . . . . . . . . . . . . . . . . .
| Home |

Friends of Tibet is a people's movement to keep alive the issue of Tibet through direct action. Our activities are aimed at ending China's occupation of Tibet and the suffering of the Tibetan people. Friends of Tibet supports the continued struggle of the Tibetan people for independence. Friends of Tibet is also one of the principal organisers of World Tibet Day around the world.