. . . . . . . . . . . . . . . . . . . . . . . . . . "Tibetan Medicine Finds a Home in Kerala"
(By Friends of Tibet, Kochi, December 19-22, 2010)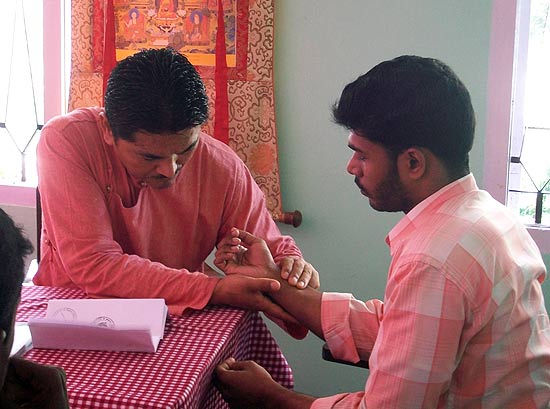 Dr Dorjee Rapten Neshar (CMO, Men-Tsee-Khang) reading the pulse of a patient during the 4th Tibetan Medical Camp at Renewal Centre, Kochi. (Photos: Friends of Tibet)
. . . . . . . . . . . . . . . . . . . . . . . . . .
Kochi: A medical system which was once called "superstitious" by the Chinese authorities was back in demand during the outbreak of Severe Acute Respiratory Syndrome (SARS) in 2003. While Chinese government prevented Tibetans and western tourists coming or going out of Tibet, a large number of wealthiest and powerful Chinese citizens flew to Tibet seeking a Tibetan medical solution to the epidemic. The traditional Tibetan medicines produced by the Tibetan doctors proved to be possible remedies to the epidemic that originated in China and killed hundreds of people across the globe. The Tibetan Medical Factory in the Tibet Autonomous Region (Occupied Tibet) of China continues to produce medicines in spite of severe repression on Tibetan people and the ancient practices.
Back in exile in India, Dr Dorjee Rapten Neshar and Dr Tara Ngawang Lodoe of Men-Tsee-Khang, Tibetan Medical and Astrological Institute of His Holiness the Dalai Lama had no time to relax during the four-day traditional Tibetan medical camp hosted by Friends of Tibet (Kerala) in Kochi from December 19, 2010. A one-day medical camp started in September 2010 during the fist visit of His Holiness the Dalai Lama to Kochi city in the southern city of Kerala has already found hundreds of modern takers in four months. The long queue at the Renewal Centre at Kochi was an indication that Tibetan medicine has finally found a home in Kerala, a state known for its ancient Ayurvedic health practices and traditions.
"We thank Men Tsee Khang and Friends of Tibet for bringing Tibetan medicine to our state. We find the medicines effective and affordable. This is poor man's medicine and an answer to the commercial and expensive medical practices," says CK Paul, 54-year old painter from Cherai, a costal town of Kochi. Though not a qualified doctor, his mother used to knew the medicinal use of herbs and plans that grow around the house and on the streets. "The traditional knowledge and the remedies to our modern-day diseases are slowly disappearing from our society," says Paul.
Tibetan medical system is one of the oldest medical traditions. The tradition is an integral part of the Tibetan culture though the original traditions were uprooted during the infamous Cultural Revolution (1966-76). Today the system is practiced not only in occupied-Tibet, but in India, Bhutan, Inner and Outer Mongolia, Japan, Siberia, China, Russia, Europe and North America.
Next medical camp: January 19-22, 2011 at Asheerbhavan, Kacherippadi, Banerji Road, Kacheripady, Ernakulam, Kochi 682018, Kerala, India.
Registration for January medical camp begins from January 15, 2011. For registration and media enquiries, call Friends of Tibet: +91.9895103483, +91.9995181777, +91.8089443495 or email: kochi@friendsoftibet.org.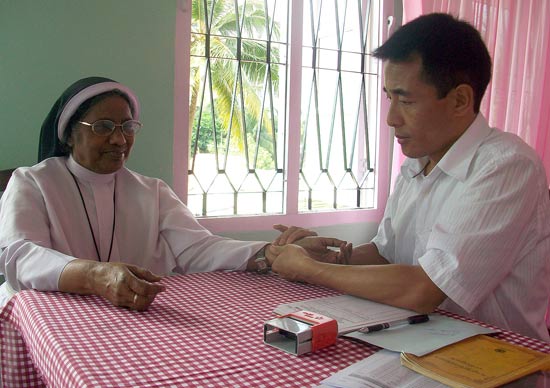 Dr Tara Ngawang Lodoe of Men-Tsee-Khang, Bangalore reading the pulse of a patient during the 4th Tibetan Medical Camp at Renewal Centre, Kochi.
. . . . . . . . . . . . . . . . . . . . . . . . . .
| Home |

Friends of Tibet is a people's movement to keep alive the issue of Tibet through direct action. Our activities are aimed at ending China's occupation of Tibet and the suffering of the Tibetan people. Friends of Tibet supports the continued struggle of the Tibetan people for independence. Friends of Tibet is also one of the principal organisers of World Tibet Day around the world.