The Wellbeing Programme is a philanthropic initiative by Friends of Tibet, a non-profit organisation founded in 1999 to support the cause of Tibet and to create awareness about the issue of Tibet amongst people all over the world. This initiative researched, designed and implemented by Friends of Tibet aims at the restoration, propagation and promotion of the endangered traditions and practices of Tibet.
HOME
Daya: Love, Compassion and Trust
(By Eswar Anandan, March 15, 2014)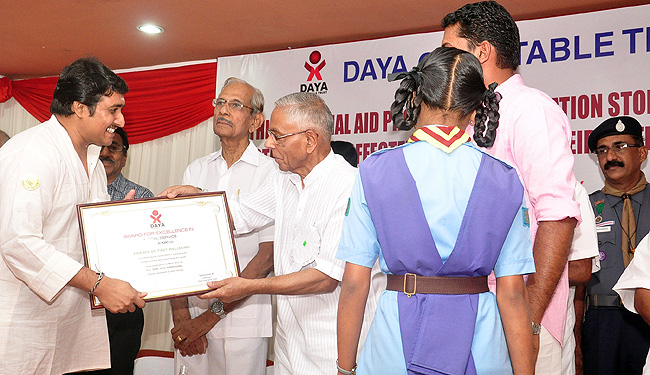 March 15, 2014: Honorable Governor of West Bengal and former National Security Advisor HE Shri MK Narayanan presents 'Award for Excellence in Social Service' to 'Friends of Tibet Foundation for the Wellbeing' for its "outstanding and tireless efforts in addressing and raising awareness about social issues and causes". Shri Eswar Anandan (Left), Campaigner, Friends of Tibet received the award on the behalf of the organisation at a function organised by Daya Charitable Trust on March 15, 2014. Justice Shri Chettur Sankaran Nair and Shri P Sanjumon, Chairman, Daya Charitable Trust (DCT) are also seen. (Photo: DCT)
. . . . . . . . . . . . . . . . . . . . . . . .
March 15, 2014: As I walked towards the stage to receive the 'Award for Excellence in Social Service' on behalf of Friends of Tibet Foundation for the Wellbeing, from HE Shri MK Narayanan, Honorable Governor of West Bengal, India, I looked back upon the seasons of change in my life.
2011: Hearing About Tibetan Medical System
My mother was diagnosed with Cancer in 2009, and in 2011 we learnt about the Men-Tsee-Khang (Tibetan Medical and Astrological Institute of HH the Dalai Lama) Clinic at Bangalore. On calling the clinic we were informed about the Wellbeing camp at Kochi and how we could register. My sister-in-law made the booking and took my mother to the camp. Being a CMMi consultant, what struck me the most was the camp process. All participants were given a time slot each, neatly printed, and they were attended to by a pair of Wellbeing Volunteers. No confusion, no running around. The camp was very peaceful and people-friendly. The ample parking space and green environs of Ashirbhavan at Ernakulam pleasantly surprised me. I could never have imagined such a place existed at the polluted city center. Little did I realise then, that this was the beginning of an enriching and memorable journey...
The Enriching Discussions
During the initial months, since my office was near the camp venue, I would leave my parents at the camp and return later to pick them up. I observed something new — unlike the impatience they normally exhibited towards the wait at other hospitals, my parents enjoyed their time at the Wellbeing camp venue, talking to Volunteers and other 'participants' (not patients) of the programme. My father was very impressed with the accuracy of pulse diagnosis achieved with just a feel of the pulse on one's hand. The harmony and peace on the faces of Volunteers and participants surprised me. Curious to know more, I stayed back and spent more time at the camp, interacting with the Volunteers and slowly understanding the process and about Tibetan Medical System. It is imperative that I mention a bit about the Volunteers who conducted the camp. They were people from different walks of life, excelling in their chosen fields. Interacting with them gave me a larger picture of life and I understood there is more to life than the cubicles of one's office. I became more interested in Wellbeing Camps and the Movement.
The Moment
After three years of battle, my mother won over her pains and sufferings and slept peacefully on Monday, October 29, 2012. This brought the curtain down in our lives — pushing us into darkness and emptiness. In those three years, every moment of our waking life was spent in close proximity to her. Every decision — big or small, was made with her in mind. Suddenly we felt as if we had lost purpose in life and had to start afresh. I had two choices: Sit and brood over the memories, or do something that would make me re-live her memories.
Meaning can't be attached to everything
Often time spent searching
Tuning a mechanical life
Hearing what we want...
Everything happens for a reason
Reasons aplenty; blind we are...

Many a time spent searching love
Often forgetting presence near us...
Thinking I'll always be there
Hearing everything around, but not within
Engaging in mindless activities
Realising later... not enough time spent

Memories of moments spent
Often brings tear...
Thoughts of you
Have always created
Enchanting notes of music
Realising... it's all I have now...

Poetry was an accident, I started writing down my feelings, my inner trembling echo. I wanted to do something.
"For all negative experience, one should convert it to something positive." — Shri Sethu Das
I started exploring life, enjoying the meaning of it, the beauty it brings. This led me to Volunteering for Wellbeing Camps. During one such visits there was a team of documentary filmmakers from Hungary and Philippines who were making a film on 'Sowa Rigpa, the 'Science of Healing'. They asked me to share my experience and I opened up. I wanted the world to know more about my mother and her life, her brave battle. Sharing one's experience is something people shy away from, but I believe it is the best tribute one can give to ourselves and our dear departed ones. It helps in building awareness. And awareness is the first step towards "Wellbeing".
"Normally if you have some illness, if you take medicine you become better. But in case of Cancer, you take chemo or radiation, you become worse. So that's Irony"
Seasons
At one of the camps, I was exposed to the beautifully etched book of poems "Kora" by Tenzin Tsundue, Friends of Tibet Campaigner. It was an inspiration. I was moved. I started reading more about the Tibetan movement for Independence. The feelings of a generation living in a land which is not theirs, and not allowed to enter a land which belongs to them.
"Days of individualism are over. Future is all about what we can achieve collectively." — Shri Sethu Das
During one of my many memorable and cherished meetings with Shri Sethu Das, I informed him of my desire to do something for my Mother's first death anniversary. He encouraged me to publish a book of my poems. He said it would be the best tribute I could give her. 'Seasons', a tribute to my mother, and million others affected by Cancer, was released on October 29, 2013, on her first death anniversary.


Download 'Seasons', Book of Poems by Eswar Anandan

Daya
Around June 2013, I was introduced to one of the Wellbeing Participants, Shri P Sanjumon who ran a charitable institution named Daya. I was intrigued by his service and his personality. Sanjumon, spent most of his days earning a livelihood on the platforms of railway stations. He had seen the sufferings of socially neglected, mentally and physically challenged people who were disowned by their own families, and HIV infected people. He decided to dedicate his life to their wellbeing and he formed the Daya Charitable Trust in 2007. Over a period of time Daya adopted over 150 HIV infected children and mothers.

Wellbeing: More Than A Medical Camp
Over the years, I have observed that the camp has changed for better. Attracting well over 250 participants at every camp and averaging over 60 registrations per camp, Wellbeing camps have encouraged healthy living. Many participants have returned as Volunteers to share their experience and help other participants. At the 35th camp it was heartening to see participants coordinating the camp themselves, co-operating with each other, helping in translations, and encouraging the new participants to live a life beyond medicines. Personally, to me Wellbeing is more than a medical camp; it's an extension of my life, a family which has encouraged me to explore my talents, a family that stood by me when I went through a rough phase in my life, a family that helped me come out of my loss. A family that brought 'Seasons' in my life...

The Award
With a smile on my lips, proudly representing my Friends of Tibet family, I walked to receive the 'Award for Excellence in Social Service' at the hands of HE Shri MK Narayanan, Governor of West Bengal and former National Security Advisor — an honour for our outstanding and tireless efforts in addressing and raising awareness about social issues and causes at an event organised by Daya Charitable Trust.

(This story is written by Eswar Anandan, Campaigner, Friends of Tibet. He can be reached at: eswar.anandan@friendsoftibet.org. The story is edited by Bina Nayak of Design & People.)

. . . . . . . . . . . . . . . . . . . . . . . . . . . . . . . . . . . . . . . . . . . . . . . . . . . . . . . . . . . . . . . . . . . . . . . . . . . . . . .

Friends of Tibet Foundation for the Wellbeing, PO Box 16674, Bombay 400050, India.
Email: wellbeing@friendsoftibet.org Web: www.friendsoftibet.org/wellbeing