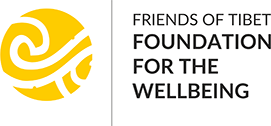 69th Wellbeing Camp (July 10-12, 2019)
Release of the First 'Wellbeing Holistic Guide'
Report: Friends of Tibet Foundation for the Wellbeing
Photography: Devendra Gajanan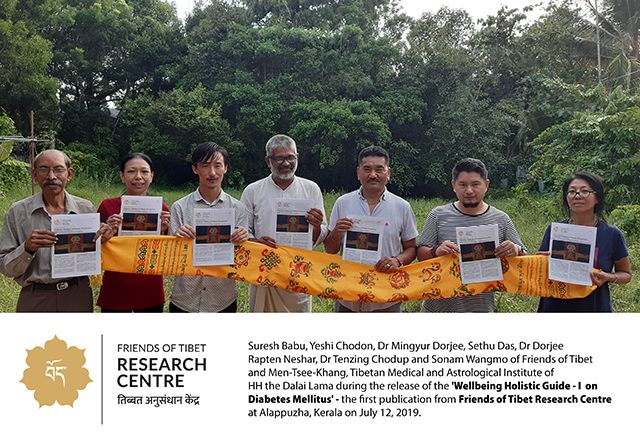 ---
DOWNLOAD: Wellbeing Holistic Guide 1 (Diabetes Mellitus): English | Malayalam
---

Alappuzha, Kerala: The 69th Wellbeing Tibetan Medical Camp was not only a venue for the usual Tibetan medical camps but also a platform to launch an unusual Guide. Titled 'Diabetes Mellitus: A Tibetan Perspective', the first 'Wellbeing Holistic Guide' from the Friends of Tibet Research Centre aims to discuss holistic health; medical issues and crisis concerning the people and societies. The Wellbeing Guide series will be published at regular intervals to deal with diseases of our modern times and to give fresh insights from a Buddhist perspective.

The 'Wellbeing Holistic Guides' is an outcome of a joint-effort by Friends of Tibet Research Centre and Men-Tsee-Khang, Tibetan Medical and Astrological Institute of HH the Dalai Lama. The first Guide on Diabetes Mellitus was released at a simple function held at the 69th Wellbeing Medical Camp venue in Alappuzha, Kerala by Suresh Babu and Sethu Das from the Friends of Tibet Research Centre and Dr Dorjee Rapten Neshar, Dr Tenzin Chodup, Dr Mingyur Dorjee, Sonam Wangmo and Yeshi Chodon of Men-Tsee-Khang.

In continuation of the committed voluntary efforts for the last two decades by Friends of Tibet Campaigners and Volunteers for the furtherance of the aims and objectives of the organisation, we are glad to announce the setting up of 'Friends of Tibet Tibetan Research Centre' at Alappuzha, Kerala. The work at the Centre is fast progressing, initially with the shifting of our hitherto Book Collections and artifacts in a full-fledged 'Reference Library' ambiance. TRC also intend to provide Digital Library Services in the near future so that researchers, students, scholars etc from all over the world would be benefited.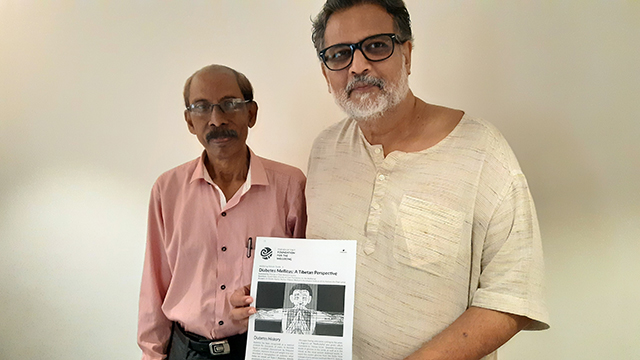 July 17, 2019: Suresh Babu of Friends of Tibet Research Centre gives a copy of the first 'Wellbeing Holistic Guide' on Diabetes Mellitus to Tushar Gandhi, great-grandson of Mahatma Gandhi and Kasturba Gandhi.
Friends of Tibet Foundation for the Wellbeing, PO Box 16674, Mumbai 400050, India.
Email: wellbeing@friendsoftibet.org Web: www.friendsoftibet.org/wellbeing/