Sylvie Bantle, German writer, performer and a close associate of Friends of Tibet and its Wellbeing Programme photo-documents 60th Wellbeing Tibetan Medical Camp organised jointly by Friends of Tibet Foundation for the Wellbeing and Men-Tsee-Khang, Tibetan Medical and Astrological Institute of HH the Dalai Lama from January 10-12, 2018.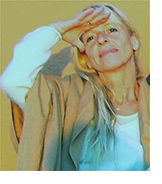 About Sylvie Bantle: She is a German writer, who came to India in 1977 by land. "We don't know why fate pulls us somewhere," she says. Prophetically she had placed a photo of Gandhi above her bed as a 9-year old and later in 1985 found herself learning Kathakali under Guru Gopinath. In search for old cultures she travelled around the world, spent years travelling through Africa, SE-Asia, America and Pacific. But she came to India again and again to finally to write her India experiences in 4 books and an anthology. While travelling with a typewriter, she met Alexander Devasia on a sandy beach in Kerala in 1992 and they found a common ground in each other's interest in art and culture. With his assistance she researched on the folklore community of 'Parayas of Pandalam' and brought out a book and a documentary, 'Searching For The Dancing God' (2006) about the dying dance form — Pakkanarthullal. In 1997 she published her first book 'Happiness of the Fools'. Together, they also made a trilogy of documentary films — Mortuary Joseph, Shanti Bhavan and Chakara — the first one winning an award at the Tokyo Film festival (2000). She conducts public readings combined with film screenings.
Since 2012 Sylvie has settled in Kerala after founding Sylviander House Art Museum near Alappuzha. She is currently campaigning towards bringing down noise pollution levels in Kerala. She feels that even though Kerala has a Noise Pollution Regulation & Control body in place, there is no effective mechanism to measure and keep it in check. She hopes to change this, seamlessly playing the role of the 'Artist as a Crusader'. Sylvie and Alexander conduct regular classes to encourage children to connect with their souls by talking about the spirit of nature and by dancing. "To be connected with yourself will protect the environment and sharpen the sensitivity of all kind of social and political incidents," she says. Back in Germany, she continues her 'Brandloch' project — an artistic performance with readings to overcome the wounds and cultural losses caused by the Third Reich and to develop awareness for the crucial occurrences of present time. In 2014 she published 'Das Brandloch-Projekt'.
Website: www.sylviebantle.info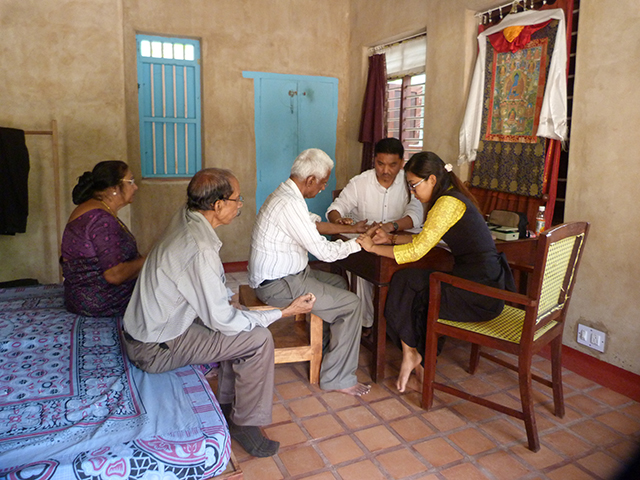 The 60th Wellbeing Tibetan Medical Camp was the first camp of the new year 2018. And this time a young doctor named Tsering Youdon joined the team to assist Dr Dorjee Rapten Neshar for medical consultations. Whenever required, Suresh Babu was translating to make the communication possible between Dr Dorjee and the Wellbeing Participants.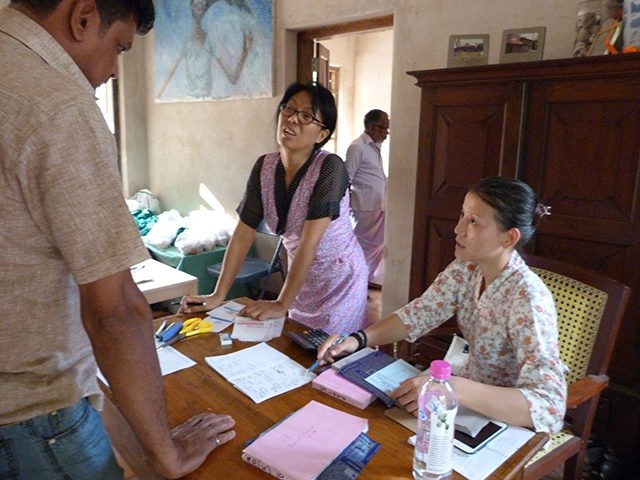 At the camp entrance hall, Sonam Wangmo and Tenzin Nangsel were doing their good work. They received the patients, who often have some questions about the prescriptions, and handed over the medicines. This time Sonam collected and distributed the medicines packed in the Wellbeing Paperbags produced by PaperTrail. Tenzin Nangsel is the cashier.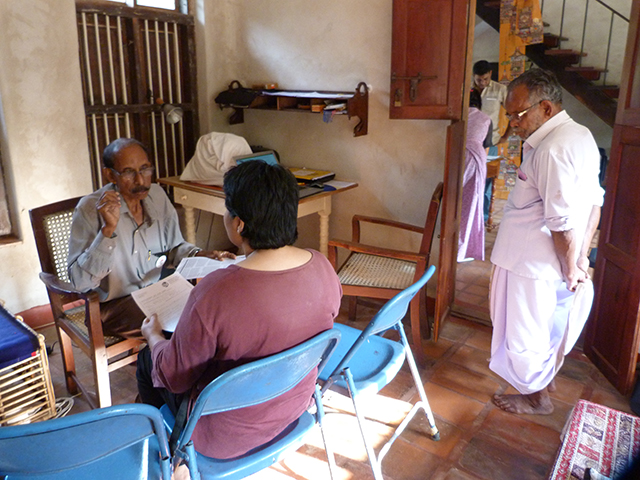 When Suresh Babu was not needed as the translator for the consultations, as always he was very committed to Wellbeing Briefing Sessions for patients meant for a better understanding of the Tibetan Medical System and the healing. These conversations are in Malayalam and sometimes I regret not to understand the language much...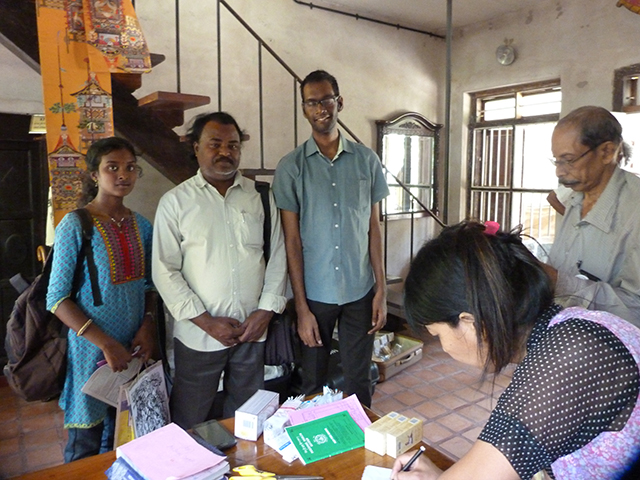 Yazin T Azad, Friends of Tibet Campaigner who always joins one day at the Wellbeing Camp had an interview with KP Ramesh, a Wellbeing Participant and his daughter about their experience with Tibetan medicines.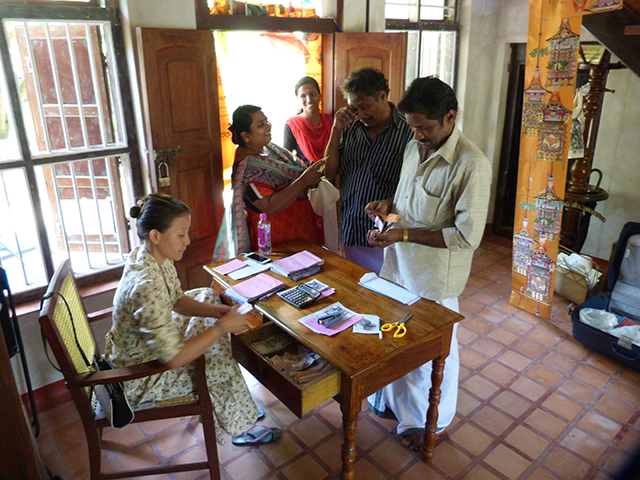 I always enjoy this peaceful atmosphere during these Wellbeing Camps, even though camps are attended by so many patients in 3 days. Thanks to the well-planned programme by Sethu Das and Yeldtho Matthew of Friends of Tibet who ensure that no one feels the rush or any queue to meet with the Tibetan Doctor. Mostly few patients only are waiting on chairs under the cashew nut tree in front of the house, which looks really picturesque while others wait on the terrace to the garden, from where we often can hear the sea nearby.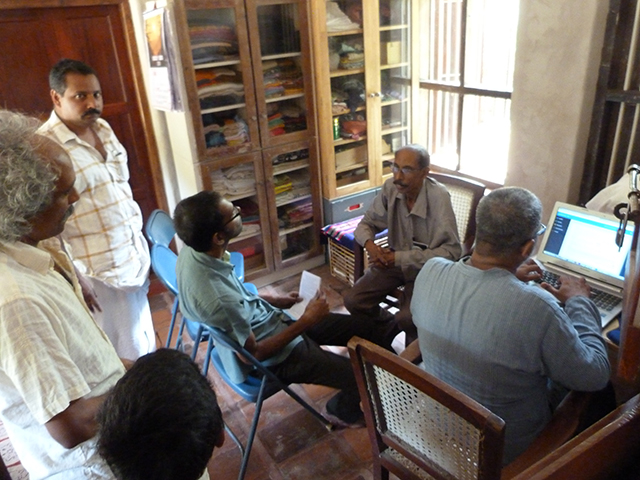 My small stitching room lays between the kitchen and the entrance hall. During the Wellbeing Camp it is transformed into an office and also the Wellbeing Briefing Room for Suresh Babu. Sometimes the room is also being transformed into a meeting spot for discussions on Tibet.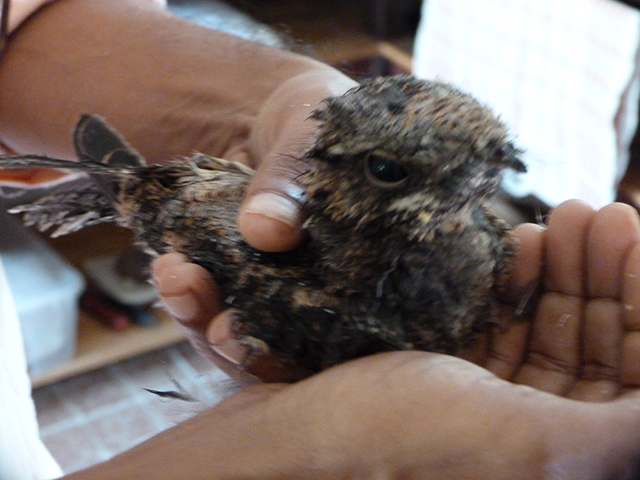 One day something occurred which never happened before. Alexander and I were in the kitchen, having just finished the preparations for lunch, when a strange baby bird flew in, performing an awkward style and landing on the floor, being quite confused. Same with us. We took the bird in our hands carefully and wondered what it was — an eagle chick? While Alexander was holding it, I tried to feed it with a bit mashed potatoes and to give some water with the filler, which was not an easy task. Luckily our cats were not aware of this incident! We informed Jose, one of our helpful neighbours who has some experience and a cage at home. He agreed to care for this poor creature.
Meanwhile, we got to know, that the little bird is fine, eating small fish and growing nicely. But still confused we presume, that it is not an eagle...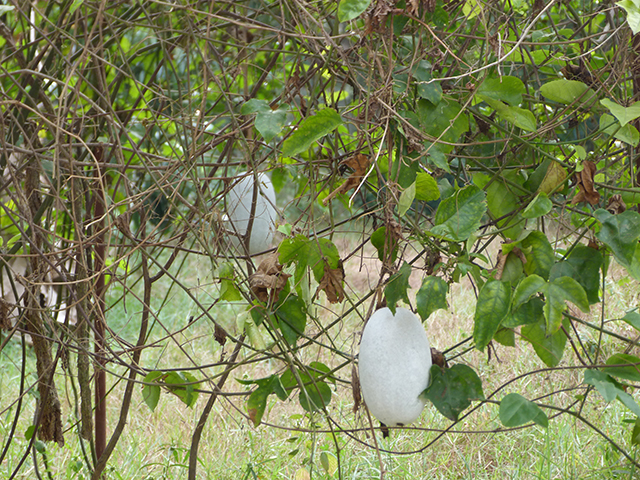 On the structure for passionfruit in our garden now are growing "Neykumbalam" a sort of pumpkin from Kerala with great healing power. It happened naturally, since we put the kitchen waste around the roots of the passionfruit plants... and after sometimes this wonderful vegetable appears...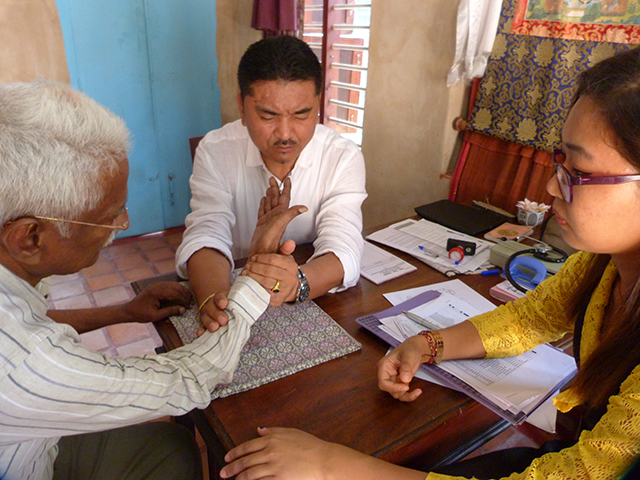 To support the precious work of Dr Dorjee Rapten Neshar, his assistant doctors and the team, we cook healthy vegetarian meals for them — the healing "Neykumbalam" is often part of the menu, freshly plucked near Dr Dorjee's restroom in the garden, a gift from mother nature...

Friends of Tibet Foundation for the Wellbeing, PO Box 16674, Mumbai 400050, India.
Email: wellbeing@friendsoftibet.org Web: www.friendsoftibet.org/wellbeing/