Wellbeing @IIT Bombay!
(By Dr Aparna Rao, August 8-9, 2016)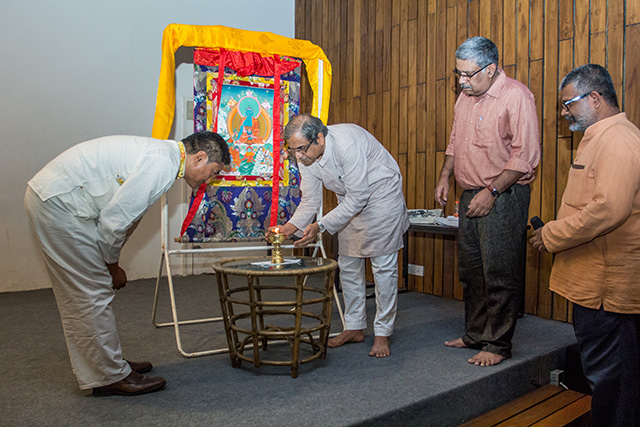 Dr Sudarshan Iyengar, Gandhian and former Vice Chancellor of Gujarat Vidyapith, Ahmedabad inaugurates Friends of Tibet Foundation for the Wellbeing activities in IIT Bombay campus on August 8, 2016. Dr Dorjee Rapten Neshar of Men-Tsee-Khang, Prof GV Sreekumar of IDC and Sethu Das, Founder of Friends of Tibet next to him. (Photo: Sam Santhosh)
IIT Bombay: Friends of Tibet Foundation for the Wellbeing in association with IDC-IIT organised a Medical Camp. The IIT Bombay community welcomed the opportunity to interact with Dr Dorjee Rapten Neshar of Men-Tsee-Khang, the Tibetan Medical and Astrological Institute of HH the Dalai Lama from August 8-9, 2016.
8 August, the inaugural day was an interesting mix of interactions and the screening of the CBC documentary "Blue Buddha: Lost Secrets of Tibetan Medicine" by David Suzuki. The Industrial Design Centre, IITB supported the programme. The screening was well-attended and followed by an extensive question answer round at the end. The auditorium seemed transformed into a haven of peace and wellbeing during the screening.
The Camp was formally inaugurated by Dr Sudarshan Iyengar, Gandhian and former Vice Chancellor of Gujarat Vidyapith, Ahmedabad. Prof Iyengar laid emphasis on the term 'alternative medicine' as used to indicate the difference between allopathic and other forms of medicine. He elaborated upon Buddhist core principles of need based consumption, appropriate habits, lifestyle and mental strength for peace, good health and longevity.
Sethu Das, Founder, Friends of Tibet set the tone with a brief introduction to the background for the Wellbeing Foundation. The emphasis of his talk was on the need for trained Tibetan doctors to reach out to cancer patients in various parts of the country. He narrated a touching story of a famous drama and film artiste who continued calling persistently to ask for a doctor for her mother. Within few months of her first contacting them, they received news of her tragic death due to Cancer. She had been desperately trying to conceal the news from the world and wanted treatment from a Tibetan doctor.
Sethu also shared how the first medical camp was hosted by the Centre for Social & Political Arts (CSPA), Alapuzha, Kerala, launched by his team in February 2015 to support marginalised and victimised people. This camp led to many more such camps in Kerala and other parts of India, with over 2500 people attending. The brief introduction to Wellbeing was followed by the screening of "Vision Wellbeing", a short-film by C-Wing, a Mumbai based design firm.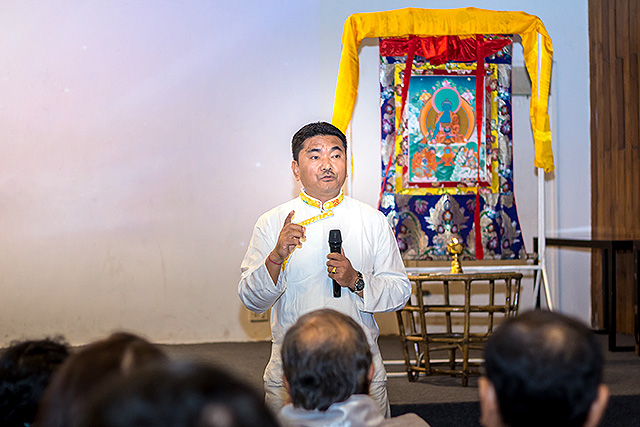 Dr Dorjee Rapten Neshar was born in Kyidong, Tibet. Following the Chinese occupation of Tibet, he escaped to India with his family in 1969. Dr Dorjee received his medical training at the Tibetan Medical College in Dharamshala where he completed intensive study in the Tibetan Medical System. He acquired most of his practical experience into the more profound level of health & healing through late Dr Tenzin Cheodrak, the former Chief Physician to His Holiness the XIV Dalai Lama. (Photo: Sam Santhosh)
Dr Dorjee Rapten Neshar of Men-Tsee-Khang addressed the gathering describing the medicine tree and the core tenets of Buddhism. The focus in Tibetan medicine is not cure or treatment, but healing holistically. Tibetan medicine is one of the most ancient studies that has managed to survive in modern day. He spoke about how a doctor in Tibet would double up as attendant, nurse, psychological support and also priest for rituals. He mentioned how various herbs were now difficult to procure due to the Chinese occupation of Tibet. He mentioned however, that the Himalayan states of Uttarakhand and Himachal Pradesh were replete with herbs and other alternatives. Tibetan doctors are constantly researching these and continue to prepare medicines for the benefit of mankind.
The film 'Blue Buddha' too highlighted Dr Dorjee's words. A Tibetan doctor is documented guiding an old cancer patient through her final days, preparing her for the inevitable end. Tibetan annual ritual festivals of burning two fires to burn away evil and welcome the good is in tune with what psychologists teach about giving up negativity and inviting positivity into life.
Day 2 was the medical camp with Dr Dorjee Rapten Neshaar meeting patients throughout the day. In fact, appointments had to be booked well in advance through the Wellbeing App. In spite of this, there was overbooking. Those who could not be accommodated were directed to the Men-Tsee-Khang clinics in Malad and Navi Mumbai. The camp was targeted for cancer patients but there were many who attended either for other ailments or simply for reassurance. The office space took on the look and feel of an ethnic Tibetan clinic, complete with a large painting of the Health Tree and the Buddha.
As a participant in the entire process, there was a feeling of wanting more… probably Friends of Tibet Foundation for the Wellbeing should consider a longer durations to also allow for an immersive experience through Tibetan music, art, prayer and meditation. After all, healing has to happen at physical, emotional and psychological and spiritual levels.
Like the classic experience of Raj Jaswa, who teaches Entrepreneurship at IITB shared on his FB page. To quote: "We asked a little Buddhist girl why she was turning the prayer wheel? She thought for a while. Then said, "It is like chanting mantra. It fills my mind with all the good deeds of Buddha. I feel like being good and kind too".
Mumbaikars can certainly do with more of this feeling...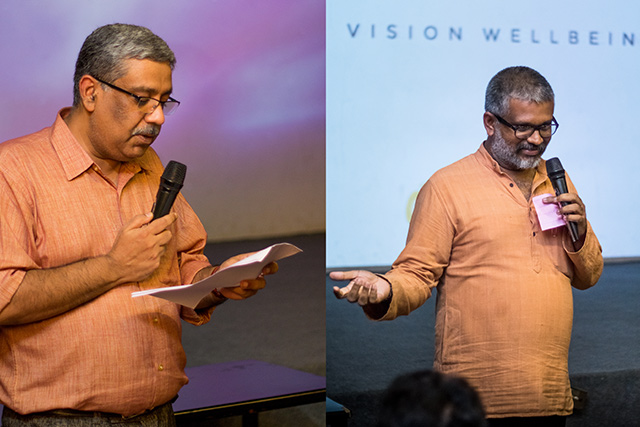 Prof GV Sreekumar (Left) of IDC School of Design, IIT Bombay welcomes the gathering. Sethu Das, Founder of Friends of Tibet introduces activities of Friends of Tibet Foundation for the Wellbeing on August 8, 2016. (Photo: Sam Santosh)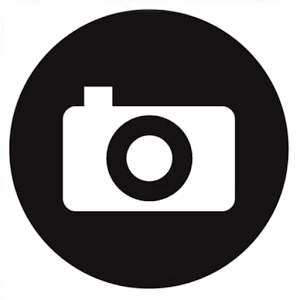 Photo Gallery

Friends of Tibet Foundation for the Wellbeing, PO Box 16674, Mumbai 400050, India.
Email: wellbeing@friendsoftibet.org Web: www.friendsoftibet.org/wellbeing/