"For all the suffering beings in this world
May I be the medicine and the doctor
And be the nurse to serve them until everyone is healed."
Shantideva
⋯
A Brief History of Tibetan Medical System
SOWA-RIGPA (Science of Healing), commonly known as the Tibetan System of Medicine is one of the oldest, living and well-documented medical traditions in the world. Sowa-Rigpa is a centuries-old traditional system encompassing spiritual, medical science and social behavior in the paradigm of holistic health. It is popularly believed that Tibetan Medical System is essentially a teaching of Buddha himself as part of the ways to liberate the human beings from the vicious cycle of suffering.
Tibetan System of Medicine has been originated from Tibet and popularly practised in India, Nepal, Bhutan, Mongolia and Russia. The majority of theory and practice of Sowa-Rigpa is similar to Ayurveda. The first Ayurvedic influence came to Tibet during 3rd century AD but it became popular only after the 7th century with the arrival of Buddhism in Tibet. Thereafter this trend of exportation of Indian medical literature, along with Buddhism and other Indian art and sciences were continued till the early 19th century. India being the birthplace of Buddha and Buddhism has always been a favourite place for Tibetan researchers and scholars for learning Buddhist art, culture and history.
Disease or imbalance is diagnosed mainly through pulse analysis, urinalysis and healthy interrogation and understanding of one's dietary and life style factors. Herbo-mineral formulations in the form of pills, powders, decoctions etc and several supplementary therapies are used to treat illness. Proper diet and lifestyle changes along with healthy mental attitude will be strongly emphasised. The Tibetan medical system is based upon a synthesis of Ayurveda, Unani, Greek, indigenous Tibetan, and Chinese medical systems. The Tibetan Medical System is practiced in Tibet, India, Nepal, Bhutan, Siberia, China and Mongolia, and more recently in parts of Europe and North America. The Tibetan Medical System embraces the traditional Buddhist belief that all illness ultimately results from the "Three Poisons" of the mind: Ignorance, Attachment and Aversion. Therefore, the mind, body and spirit play very crucial role in understanding and the treatment of diseases as a whole. Buddhist philosophy states that everything in the universe is in a constant state of flux — that all phenomenon are characterised by impermanence, and that the only permanent feature is impermanence itself. As Buddha said, "No matter whether perfect beings arise or not, it remains a fact, and a hard necessity of existence, that all creations are transitory." It is this impermanence that causes each and every being to suffer at one stage or another. Suffering is thus not accidental but springs from a specific cause, whether from this life or a previous life. Only through proper learning and the genuine practice of Dharma, one can liberate from the vicious cycle of suffering.
Tibetan Pulse Diagnosis The Tibetan medicines use purely natural herbal recipe that goes down to treat the root of the problem. These medicines are very safe as they are prepared without adulteration and known to have no side effects. In addition to many common ailments, Tibetan Medicines also offers very effective treatment in controlling and even curing major diseases like Asthma, Diabetes, Hypertension, General Cardio-Vascular problems, Nervous Disorders, Gynecological problems, Gastro-Intestinal Disorders, Chronic Cols and Allergic problems, Psychosomatic problems etc. The medicines also help in controlling primary cancer cases. Besides medicines, accessory therapies such as Golden Needle Therapy, Moxa-bustion and Bronze Cupping are being given to support the healing system. ◼
⋯
Men-Tsee-Khang Doctors at Wellbeing Camps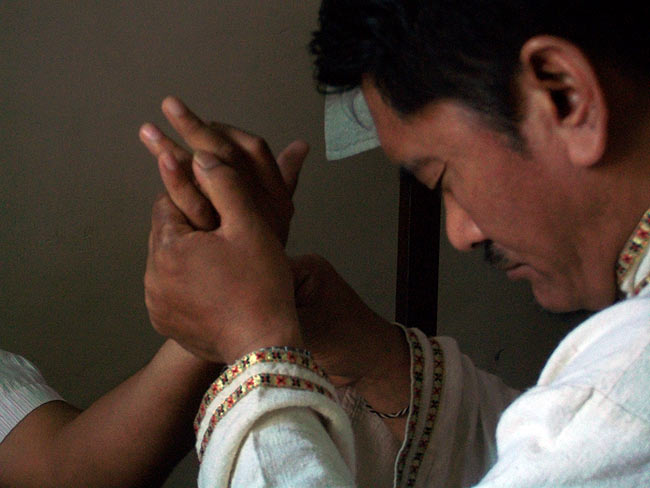 Dr Dorjee Rapten Neshar of Men-Tsee-Khang does a pulse diagnosis with a patient during the 6th Traditional Tibetan Medical Camp conducted jointly by Friends of Tibet and Men-Tsee-Khang at Ashirbhavan, Ernakulam from February 17-20, 2011. Dr Dorjee Rapten Neshar was born in Kyidong, Tibet. Following the Chinese occupation of Tibet, he escaped to India with his family in 1969. Dr Dorjee received his medical training at the Tibetan Medical College in Dharamshala where he completed intensive study in the Tibetan Medical System. He acquired most of his practical experience into the more profound level of health & healing through late Dr Tenzin Cheodrak, the former Chief Physician to His Holiness the XIV Dalai Lama. Over two decades of dedicated service in the practice of Tibetan Medicine, he has attended many national and international conferences; presented papers on Tibetan Medicine and has published articles. As the Chief Medical Officer of Men-Tsee-Khang Bangalore Branch, Dr Dorjee Rapten Neshar and his medical team covers the Tibetan Medicine health services in south Indian cities and towns regularly. He is also the former chairman of the Central Council of Tibetan Medicine. An alumnus of the Tibetan Medical College in Dharamshala, he is trained in medico-spiritual initiations for the more esoteric prac1ce of Tibetan medicine as well. In recognition of his outstanding contribution in the held of Alternative Medicine, Dr Dorjee Rapten was awarded the Gold Medal & Gem of Alternative Medicine in 1995 & 1996 from the Indian Board of Alternative Medicine, Calcutta. He also received the International Award of Excellence, from the American Organisation of Intellectuals Inc., New York, USA. (Photo: Friends of Tibet) ◼

(Left) Dr Tara Ngawang Lodoe was born at Gyaltse in Chinese-occupied Tibet in 1978. He escaped to India in 1989 to study Tibetan Buddhism and Philosophy at the Sera Jhe Monastery. He earned the Kachupa Degree in Tibetan Medicine from the Men-Tsee-Khang, the Tibetan Medical and Astrological Institute of His Holiness the Dalai Lama based in Dharamshala, Himachal Pradesh. Dr Tara Ngawang Lodoe now works with the Bangalore branch of Men-Tsee-Khang. (Photo: Friends of Tibet) ◼
(Right) Dr Lobsang Zoepa does pulse diagnosis during the 50th Anniversary of Men-Tsee-Khang, the Tibetan Medical and Astrological Institute of His Holiness the Dalai Lama in Kochi, Kerala with two-day long exhibition and free medical and astrological consultation on Tibetan Medicine and Astrological Calculation. The 11th Tibetan Medical Camp at Kochi organised jointly by Men-Tsee-Khang and Friends of Tibet Foundation for the Wellbeing was held at Ashirbhavan, Ernakulam from September 5-8, 2011. (Photo: appu.john@friendsoftibet.org) ◼

(Left) Dr Chenga Lhamo is a Tibetan Medical Practitioner from the Men-Tsee-Khang Bangalore branch clinic. Born in Bhutan to a Tibetan parents, Dr Lhamo moved to India to be taken care by the Homes Foundation School, Mussoorie. She graduated from the Tibetan Medical School in 2002 and served the Tibetan Medical Centre in Mumbai and Shillong before moving to Bangalore. (Photo: Keval L Shah) ◼

(Right) Dr Tenzin Norbu Ganub is was born in Chinese-occupied Tibet. At the age of six he escaped to India with his father. He did his schooling in Tibetan Children's Village (TCV) in Dharamshala. After finishing his AISSCE Board Exam in year 1996, Dr Tenzin Norbu joined the Men-Tsee-Khang Tibetan Medical College in 1997. Dr Tenzin Norbu Ganub was first appointed as the Resident Doctor at Navi Mumbai branch clinic of Men-Tsee-Khang and later in Shillong, Meghalaya before he got transferred to Bangalore Branch Clinic. (Photo: Girish Kumar PG) ◼


⋯


Friends of Tibet Foundation for the Wellbeing, PO Box 16674, Mumbai 400050, India.
Tel/WhatsApp: +91.9400354354 +91.9061354354
Email: wellbeing@friendsoftibet.org Web: www.friendsoftibet.org/wellbeing/