#SPREADINGMASKS is one of the latest philanthropic initiatives from 'The Mask Lab,' Mumbai and 'Friends of Tibet Foundation for the Wellbeing'. These organisations have collaborated for the purpose of laying down a foundation for the wellbeing of people, especially the frontline workers of three Indian states — Karnataka, Kerala and Arunachal Pradesh in their struggle to save human lives from the onslaught of the millennium's gravest threat of a virus pandemic originated in Wuhan, China. The pandemic has continued unabated for months together torturing and annihilating millions of lives in India and all over the world.
It may be noted that true to the core spirit and the literal meaning of our philanthropic wing, we have been organising preventive and curative 'foundational wellbeing' programmes for the last two decades through various projects such as conducting regular Wellbeing Medical Camps in Kerala and Mumbai.
Global scientific research establishes the fact that the Covid virus remains in the air for several minutes or more when expelled by someone infected by coughing, talking or breathing. To prevent people around them or passers by, from getting infected with this deadly infectious virus and suppress its transmission, surgical masks have been found to be a key preventive measure. Thus, wearing medical masks is an important requirement to reduce potential risks from an infected person(s) whether they show Covid symptoms or not.
When we look back at the history of face masks, it is a strange coincidence that they came into use around 1910-11, nearly a century ago, when the Manchurian Plague originated in China. The influenza pandemic of 1918-19 turned face masks into a means of protecting medical workers and patients from infectious diseases outside the operating room. During the Spanish flu pandemic, wearing a mask became mandatory for police forces, medical workers and even residents where the decline in deaths from that pandemic was partly attributed to the mandatory mask-wearing policies on the conviction that masks protected the wearer against infections. Those carefully designed, manufactured, tested, reusable masks were an essential part of the medical arsenal and were in use until the 1970s all over the world. However, industrial production, additional research and development, use of reusable masks were largely halted with the transition towards disposable masks which remains even today an essential part of Personal Protective Equipment (PPE), especially to counter the global crisis generated by the highly infectious Wuhan virus.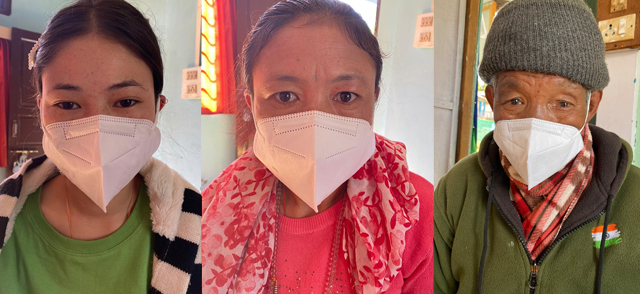 Tibetan refugees in Arunachal Pradesh wearing The Mask Lab facemasks during the #SpreadingMasks initiative of Control Print, Mumbai supported by Friends of Tibet Foundation for the Wellbeing in three Indian states. Friends of Tibet volunteers and Men-Tsee-Khang staff members are distributing free surgical facemasks among health/sanitation workers and volunteers in Arunachal Pradesh, Karnataka and Kerala since September 2020.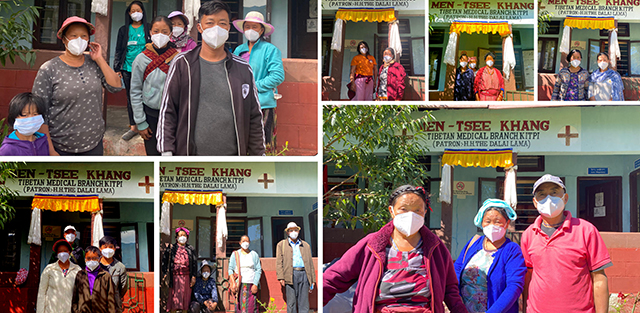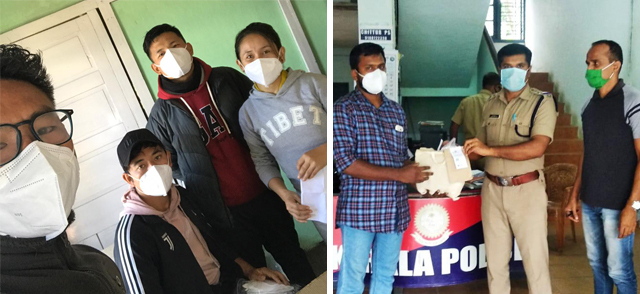 (Left): Dr Tenzin Gelek of Men-Tsee-Khang, Tibetan Medical and Astrological Institute of HH the Dalai Lama with his team members at the Tawang clinic. He's been instrumental in #SpreadingMasks initiative in Arunachal Pradesh. (Right): Sreejith from the Daya Charitable Trust distributes 'The Mask Lab' free surgical facemasks among officers of Chittur Police Station, Kerala representing Control Print and Friends of Tibet Foundation for the Wellbeing.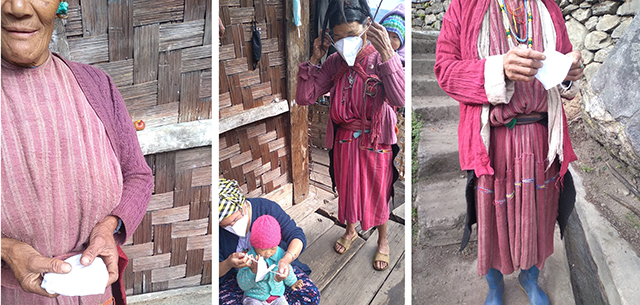 The Maks Lab produced medical quality Made in India N95 facemasks are being distributed in Khet village, near Tawang, Arunachal Pradesh, India by the medical team led by Dr Tenzin Gelek of Men-Tsee-Khang, Tibetan Medical and Astrological Institute of HH the Dalai Lama in December 2020.
---
Surgical masks are capable of protecting people against infectious agents transmitted by droplets which can be saliva or secretions from the upper respiratory tract when the wearer exhales while talking, breathing or coughing. A surgical mask is made of three layers. A filter layer made of a melt-blown polymer, most commonly polypropylene placed between two rows woven fabric layers. The melt-blown material prevents the microbes/virus from exiting the mask. If everyone — infected as well as healthy — wears a mask and respect hygiene and social distancing and other such protocols and safety measures it could be possible to reduce the risk of transmission of any virus to a great extent.
Radio Free Asia (RFA) interview with Dr Tenzin Gelek on the #SpreadingMasks initiative of The Mask Lab and Friends of Tibet Foundation for the Wellbeing (Language: Tibetan; Date: December 14, 2020)
⋯
#SpreadingMasks, a joint campaign of The Mask Lab and Friends of Tibet Foundation for the Wellbeing comes at one of the most critical times in the history of mankind. The free mask distribution initiative is being taken up by the Volunteers of Friends of Tibet and medical professionals of Men-Tsee-Khang, Tibetan Medical and Astrological Institute of HH the Dalai Lama in three states in India — Arunachal Pradesh, Kerala and Karnataka. The campaign is aimed at restoring the Wellbeing of both frontal, medical and non-medical/health workers who are striving hard with selfless, dedicated actions to save the infected persons from the clutches of the deadly virus and thereby also to contain widespread transmission of the COVID-19 which keeps on rising, contaminating and killing people in large numbers.
The Mask Lab, a venture of Control Print, Mumbai produces highly protective superior quality masks

backed by their 29 years of cutting-edge German technology and manufacturing expertise with access to internationally sourced materials and rigid adherence to global safety standards; quality control testing processes and automated packaging processes. Moreover, these masks are manufactured under ASTM 2000 standards in a hygienic environment and as per good manufacturing practices, processes and facilities.
In order to identify and provide these masks to those who really need them — largely the frontline health workers and others, who are fighting the deadly Wuhan virus pandemic — we have devised an orderly, and reliable mask distribution system. Accordingly, Men-Tsee-Khang was given the first preference in this regard. Dr Tenzin Gelek from the Men-Tsee-Khang, Tawang is credited with treating and curing the one and the only Covid patient in the state with Sowa-Rigpa or Tibetan medicine. Taking the initiative of #SpreadingMasks campaign in Arunachal Pradesh, Dr Gelek said "The mask distribution in Tawang starts with our own patients coming to the Men-Tsee-Khang clinic. We give them free masks provided by The Mask Lab and educate them about how important it is to wear masks in these pandemic times." The Men-Tsee-Khang Clinic, Tawang, Arunachal Pradesh has already distributed thousands of free facemasks among their own patients and those who live in the nearby villages where quality masks never reach.
In the meantime, Friends of Tibet Volunteers residing and working from different locations have taken up the initial distributions of the masks to front line health workers such as employees in health clinics, ambulance drivers, police personnel, postal services people, service providers/volunteers and inmates of destitute homes, old age homes, palliative care homes, holistic health promoters and societies, traditional medicine practitioners, women's empowerment groups and others. Both The Mask Lab, Mumbai and Friends of Tibet Foundation for the Wellbeing hope to provide free masks under the well-appreciated #SpreadingMasks campaign to people in all the above mentioned service categories in the days to come.
All Lives Matter! Wear A Mask!


Photo Gallery
*Suresh Babu is one of the Friends of Tibet Foundation Board of Trustees. He can be reached at: suresh.babu@friendsoftibet.org
This close-up view of a sneeze filmed at 2000 frames per second (duration 0.25 sec) shows it's a hot, moist, turbulent gas cloud containing air and mucosalivary droplets that travel as far as 26 feet (7-8 meters). Current social distancing recommendations for the COVID-19 pandemic specify 6 feet of separation. The physics of sneezes and coughs have implications for respiratory pathogen transmission and mask and respirator design. (Video: Lydia Bourouiba / JAMA Network)
⋯
Business India on 'Project Spreading Masks'
Author: Business India Publishing Date: February 22, 2021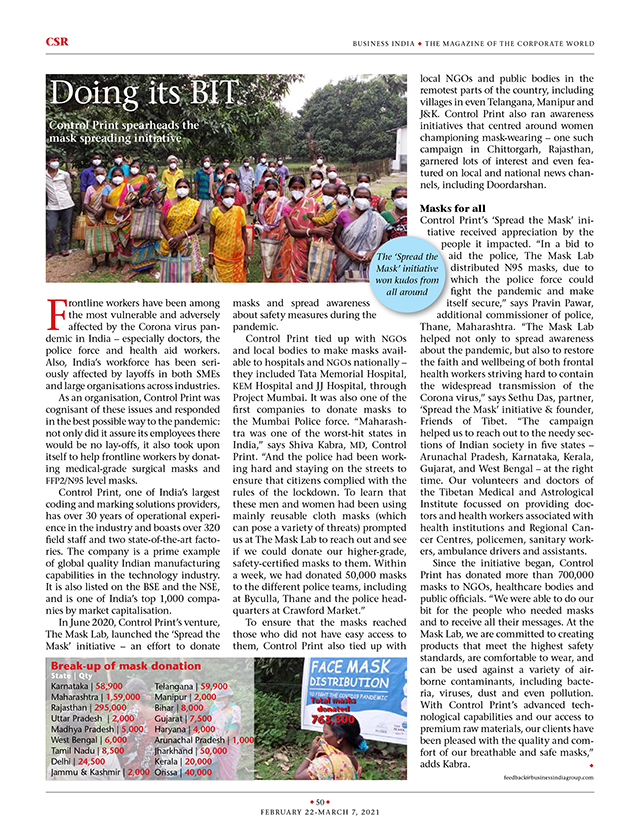 Download Business India report on #SpreadingMasks Campaign (February-March 2021)

Frontline workers have been among the most vulnerable and adversely affected by the Corona virus pandemic in India — especially doctors, the police force and health aid workers. Also, India's workforce has been seriously affected by layoffs in both SMEs and large organisations across industries.
As an organisation, Control Print was cognisant of these issues and responded in the best possible way to the pandemic: not only did it assure its employees there would be no lay-offs, it also took upon itself to help frontline workers by donating medical-grade surgical masks and FFP2/N95 level masks. Control Print, one of India's largest coding and marking solutions providers, has over 30 years of operational experience in the industry and boasts over 320 field staff and two state-of-the-art factories. The company is a prime example of global quality Indian manufacturing capabilities in the technology industry. It is also listed on the BSE and the NSE, and is one of India's top 1,000 companies by market capitalisation.
In June 2020, Control Print's venture, The Mask Lab, launched the 'Spreading Masks' initiative — an effort to donate masks and spread awareness about safety measures during the pandemic. Control Print tied up with NGOs and local bodies to make masks available to hospitals and NGOs nationally — they included Tata Memorial Hospital, KEM Hospital and JJ Hospital, through Project Mumbai. It was also one of the first companies to donate masks to the Mumbai Police force. "Maharashtra was one of the worst-hit states in India," says Shiva Kabra, MD, Control Print. "And the police had been working hard and staying on the streets to ensure that citizens complied with the rules of the lockdown. To learn that these men and women had been using mainly reusable cloth masks (which can pose a variety of threats) prompted us at The Mask Lab to reach out and see if we could donate our higher-grade, safety-certified masks to them. Within a week, we had donated 50,000 masks to the different police teams, including at Byculla, Thane and the police headquarters at Crawford Market."
To ensure that the masks reached those who did not have easy access to them, Control Print also tied up with local NGOs and public bodies in the remotest parts of the country, including villages in even Telangana, Manipur and J&K. Control Print also ran awareness initiatives that centred around women championing mask-wearing — one such campaign in Chittorgarh, Rajasthan, garnered lots of interest and even featured on local and national news channels, including Doordarshan.
Masks for All: Control Print's 'Spread the Mask' initiative received appreciation by the people it impacted. "In a bid to aid the police, The Mask Lab distributed N95 masks, due to which the police force could fight the pandemic and make itself secure," says Pravin Pawar, additional commissioner of police, Thane, Maharashtra. "The Mask Lab helped not only to spread awareness about the pandemic, but also to restore the faith and wellbeing of both frontal health workers striving hard to contain the widespread transmission of the Corona virus," says Sethu Das, partner, 'Spread the Mask' initiative & founder, Friends of Tibet. "The campaign helped us to reach out to the needy sections of Indian society in five states — Arunachal Pradesh, Karnataka, Kerala, Gujarat, and West Bengal — at the right time. Our volunteers and doctors of the Tibetan Medical and Astrological Institute focussed on providing doctors and health workers associated with health institutions and Regional Cancer Centres, policemen, sanitary workers, ambulance drivers and assistants.
---

Friends of Tibet Foundation, PO Box 16674, Mumbai 400050, India.
Email: foundation@friendsoftibet.org Web: www.friendsoftibet.org/foundation
Friends of Tibet Foundation, a Charitable Trust (Regn No: 126/IV/2021) is the philanthropic wing of Friends of Tibet, a non-profit organisation founded in 1999. The primary objective of the Foundation is to support the conservation and promotion of Tibet's tangible and intangible heritage including healing traditions. Friends of Tibet Foundation is also engaged in conducting research on the unique heritage, legacy and history of Tibet and publishing varied research papers with the collaboration of scholars, academicians, scientists, holistic health educationists and sociologists.
⋯
Digital Support: Design & People, India + Ibiblio Digital Library & Archive Project, University of North Carolina, USA
⋯