'World Tibet Day Observed in Kochi'

(Fort Kochi, Kerala | July 06, 2006)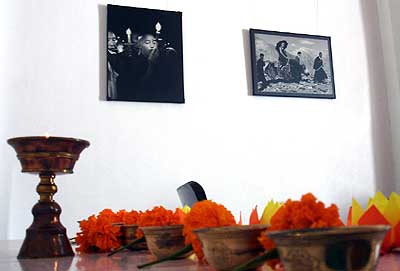 Fort Kochi, Kerala: On the occasion World Tibet Day and the 71st birthday of His Holiness the XIV Dalai Lama on July 6, 2006, Friends of Tibet, Design & People and Kashi organised - 'Conflicts' - a one-day film festival at Kashi Art Café, Burgher Street, Fort Kochi. Some of the films shown in the Conflicts film festival are: 'Conflicts: Tibet' (BBC Documentatry); 'Sandstorm' (Feature Film by Michael Mahonen); 'Miles To Go' (Greenpeace documentary by Nina Subramani); 'She Write'; 'Naata: The Bond' (Documentary by KP Jayasankar and Anjali Monteiro); Farenheit 9/11 (Documentary by Michael Moore) and 'The Basque Ball: Skin Against The Stone' (Documentary by Julio Medem).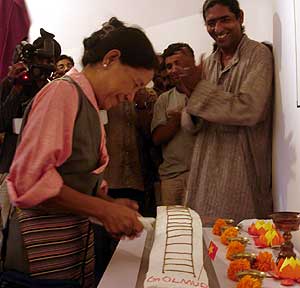 An elderly Tibetan cuts a cake representing the newly-opened Golmud-Lhasa railway line. Anup Scaria of Kashi next to her.
In the evening, a cake representing the newly opened Golmud-Lhasa railway line connecting China and occupied-Tibet was cut to share the concern of the Tibetans living inside and in exile as a political issue and fear that it will be used to by China to transfer thousands of Chinese to occupied-Tibet.
About World Tibet Day: World Tibet Day (WTD) was initiated in Chicago in 1997 at an informal meeting between Tendzin Choegyal, the Dalai Lama's younger brother and Richard Rosenkranz, a Pulitzer Prize nominee in history. Rosenkranz proposed the concept of WTD, saying it could become an annual worldwide event, designed to help the Tibetan people regain essential freedoms. He also suggested this event could be a way to showcase and celebrate the unique value of Tibetan culture and thought. Enthusiastic about the idea, Tendzin Choegyal suggested WTD should be held in July, linked to his brother's birthday - in order to increase potential support among Tibetans. Believing that the proposed event held great promise, they offered the idea to His Holiness - who gave them his blessing and his warm support.
More about World Tibet Day: www.worldtibetday.org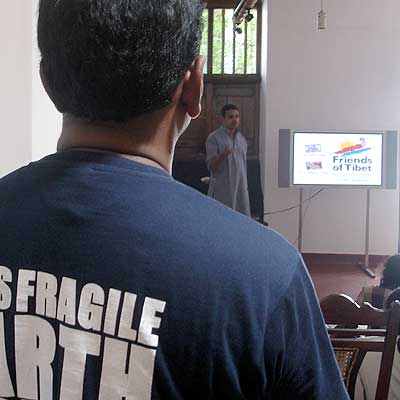 Appu Jacob John (Coordinator, Friends of Tibet) introduces - Conflicts (Photos: Design & People)
---
'World Tibet Day 2006' was held at the Kashi Art Cafe, Fort Cochin on July 6, 2006 and was organised by the Cochin chapter of Friends of Tibet in association with Friends of Tibet and Kashi.