'Tibet Summer Camp in Dharamshala'
(By *Amrita Johri & Neha Kumar, Dharamshala | June 2-6, 2006)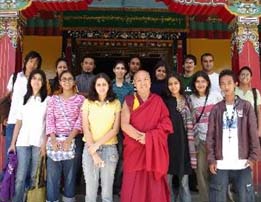 Some of the Tibet Summer Camp team members with Venerable Lhakdor la
. . . . . . . . . . . . . . . . . . . . .
Dharamshala - long treks, beautiful hills, scenic sunsets, perfect weather… Even the prospect of a 13-hour long bus journey didn't deter us from dreaming of long walks to the waterfall, pigging out at the momo stalls and plenty of amateur photography interspersed with informative, relatively short discussions. The promise of an audience with HH the Dalai Lama was supposed to be the highlight of the trip… ignorance was indeed a bliss!
The warning bells started clanging when we were told to report to the Yongling School barely a second after we had stepped off the bus. Most of us waged a losing battle against heavy eyelids and sleep-fogged brains while being bombarded with complex notions and the shocking reality of Tibet. It was a humbling experience to realise how limited our knowledge regarding Tibet was. While we could talk at length about the Israel-Palestinian issue or even the genocide in Rwanda, our awareness of Tibet was limited to it's geographical location as India's neighbor and of course Tibetan Buddhism as epitomised by the Dalai Lama. We weren't even aware of the country's size, much less its political or historical background and the prevailing conditions in Chinese-occupied Tibet.
A visit to the Tibet Museum and a long session with Tenzin Tsundue provided an insight into the basic dimensions of this issue. Meeting Tsundue at McLeod Ganj, gives one this unreal impression of being a part of something major, almost like becoming a part of history. The contradiction, as he explained of spearheading a freedom struggle in a tourist hill station takes time to sink in. Though right now, we can picture him, walking at a hurried pace, through the confusion of the roadside shops selling little trinkets and the roar of the motorbikes, with the trademark red bandana and rucksack in place, thinking of strategies to make Free Tibet a reality. His greatness lies in not just being a 'one-man recruitment force' for the Tibetan cause, but in his honesty and simplicity. Though it would be easy for him to win over hearts by talking about the many hardships that he faces in his daily life, it takes a great person to open up about the frustration that he often feels while fighting for Tibet, a land that most of his generation has never seen, has no connections with... yet is integral to his identity. To simply say that he inspired us would be a gross understatement.
Meeting Lhasang Tsering, a former guerrilla fighter, provided a different perspective to the Tibetan resistance. His arguments made us question the popular stereotypical notion of Tibetans as a peace-loving non-violent people, who despite years of brutal torture and suppression won't even dream of taking up arms against the Chinese. He voiced the frustration felt by many, at the Tibetan Government's compromised settlement for autonomy instead of sovereignty or complete independence.
The next day, Venerable Lhakdor la introduced us to Tibetan Buddhism. It is not surprising that Tibetan Buddhism is fast gaining popularity across the globe, as more than a religion, it is a philosophy about life - the qualities that an individual should strive to internalise and the way she/he should lead her/his life. It helped place the Tibetan resistance in the larger context of their religion and life values. After meeting many Tibetans, it is easy to sense their reverence towards HH the Dalai Lama, as even Lhasang Tsering admitted to the near impossibility of carrying out an armed uprising without the approval of His Holiness. An introduction to the apolitical aspects of life - such as Tibetan medicine, literature, Thangka painting, metalwork and tailoring etc. made us appreciate and subsequently rue the loss of their rich culture.
As college students, it becomes habitual for us to be introduced to and espouse various causes. This experience however, was strikingly different. To meet with Tibetans, young and old, hopeful and hesitant, tranquil and frenzied was an opportunity that was unprecedented and assuredly unique. We returned with more than statistics and trivia, we returned with firm bonds, heart-felt relationships and kindled spirits. Thanks for Friends of Tibet (India) Delhi Chapter who organised this.
*Amrita Johri & Neha Kumar are students of Delhi University
---
'Tibet Summer Camp' in Dharamshala was organised by Friends of Tibet (Delhi) from June 2-6, 2006.