'Freedom Ride: Campaign to Free the Panchen Lama'
(Indian Express | April 23, 2006)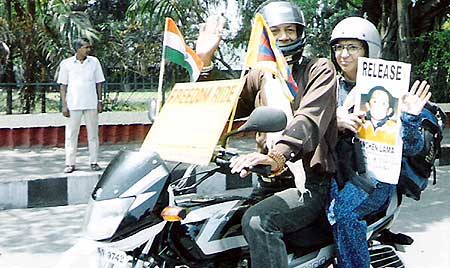 Riding for a Cause: Tathagata and Dr Swati Chakravarti of Friends of Tibet
. . . . . . . . . . . . . . . . . . . . .
Kolkata: Its been a decade since the eleventh Panchen Lama, Gedhun Choekyi Nyima, disappeared on May 17, 1995. The whereabouts of the abducted Panchen Lama were not known until June 1996, when after a year of denying any information, the Chinese Government finally admitted that they were indeed holding him. The reason, they were trying to prevent him from being kidnapped by Tibetan nationalists.
With this in mind, the Kolkata Chapter of Friends of Tibet (India), organised a motorcycle rally from Kolkata to Chandragiri in Orissa on April 21. While Tathagata Chakravarti, event co-ordinator of the Kolkata Chapter, drove the bike, his wife, Swati Chakravarti, also a member, rode pillion distributing leaflets during their four-day long journey. Shibayan Raha, another member of the organisation, coordinated the rally and the couple entertained everyone in course of their journey about Panchen Lama.
The Eleventh Panchen Lama, Gendhun Choekyi Nyima, was born on April 25, 1989, in Lhari district in Kham, eastern Tibet. At the age of six, he was recognised by His Holiness, Dalai Lama, as the eleventh Panchen Lama. Immediately after three days, Nyima along with his family was kidnapped.
The aim of the campaign is to highlight the condition in which Nyima is living under China's control. The bike rally is to reach the Tibetan refugee camp at Chandragiri in Orissa, coinciding with the birthday celebration of Nyimi at the Tibetan refugee camp. On arriving at the camp, with the help and support of local Tibetans living there, the three bike rally team from Kolkata will take part in the Panchen Lama birthday celebrations, which includes screening of the film, "The Kingdom of Lost Boy", a film based on the life story of the eleventh Panchen Lama.
There will also be a special event conducted by the members of FOT Kolkata chapter. In the event, "Hands For The Panchen Lama", all Tibetans staying in the settlement will make paper cut-out of their hand prints and will write their names and a message addressing it to the Chinese ambassador in New Delhi asking him to release Nyima immediately. The unique message papers will be collected and brought to Kolkata from where it will be despatched to the Chinese embassy in New Delhi.
---
'Freedom Ride' was organised by the Kolkata chapter of Friends of Tibet (India) on April 21, 2006.