Hu Jintao Chased Away from Bombay

(Bombay, Maharashtra | November 23, 2006)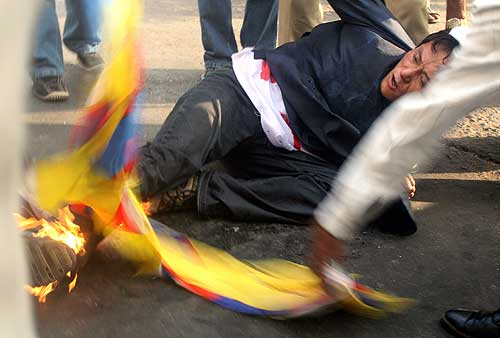 Tibetan Anger: Lhakpa Tsering, President of the Regional Tibetan Youth Congress sets himself ablaze outside the Taj Hotel, Bombay on November 23, 2006 just before Chinese President Hu Jintao's speech at the India-China Economic, Trade and Investment Cooperation Summit. (Photo: Vijayanand/Hindustan Times)
Bombay: Tibetan youth attempting self-immolation, scores of Tibetans shouting slogans like "Free Tibet" and "China, Get Out of Tibet" have been detained by police near Bombay Domestic Airport, seven Tibetan college students drove up to the luxurious Taj Hotel in Bombay and rushing out shouted free Tibet slogans protesting HU Jintao's state visit to India and China's illegal occupation of Tibet. The scene this morning in Bombay is was hectic as Tibetans youngsters and supporters doggedly followed visiting Chinese president Hu Jintao wherever he visited. Six different incidents of free Tibet protests were reported this morning in Bombay, almost about 50 Tibetans have been arrested by police so far.
The man who set himself on fire is Lhakpa Tsering, a Tibetan college student who's also the President of the Regional Tibetan Youth Congress, Bangalore. Lhakpa is known to be a die-hard activist among his friends. A former student of Tibetan Children's Village came to Bombay from with the aim to protest Hu Jintao in his face. Born in 1979, Lhakpa Tsering escaped from Chinese-occupied Tibet in the early 90s and joined the Tibetan Children's Village in 1992.
While Hu Jintao was still there at the Taj Hotel with the best security seven Tibetan college students belonging to RTYC Baroda managed to breach the tight security and appeared right in front of the Hotel to stage a successful protest.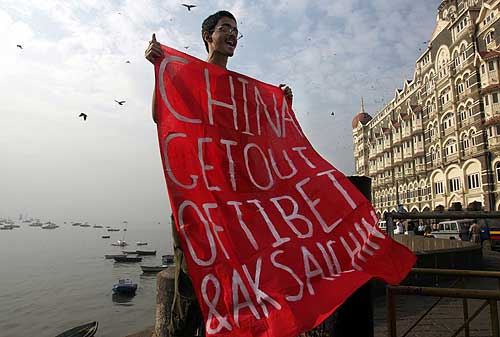 Indian Angle: Shibayan Raha, Campaigns Coordinator of Friends of Tibet unfurls the banner reading: "China Get Out of Tibet and Aksai Chin" outside the Taj Hotel, Bombay on November 23, 2006 just before Chinese President Hu Jintao's speech at the India-China Economic, Trade and Investment Cooperation Summit. (Photo: Vikas Khot/Hindustan Times)".
At the same spot, an Indian Tibet supporter Shibayan Raha majestically unfurled a banner reading "China Get Out of Tibet and Aksai Chin". This activist from Calcutta chapter of Friends of Tibet is also the Campaigns Coordinator of the organisation and a staunch supporter of Tibet. He too was arrested by the police.
Meanwhile a huge number of Tibetans and their Indian supporters were converged at Bombay's Azad Maidan sitting for a one-day fast protesting Hu Jintao's visit to the city. This has been organised by the United Tibetan Association of Maharashtra and Gujarat and Friends of Tibet (Bombay).
Sethu Das, the president of Friends of Tibet (India) said: "A small community of Tibetans and their Indian supporters chased the President of China wherever he went. The police were paranoid that Tenzin Tsundue type of protests might be repeated. Hu's schedules in Bombay had been changed twice due to security concerns. Chinese President - one of the most powerful people on earth was confined to a building for a day fearing protests - this is the power of non-violent actions."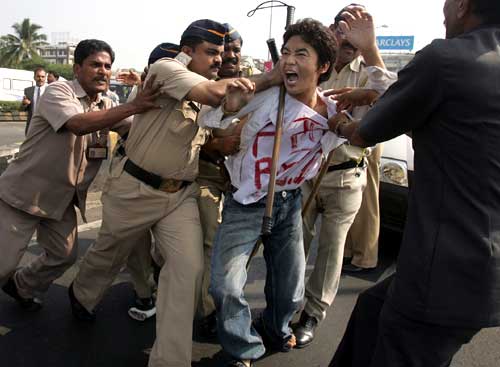 Voice of Tibet: Tibetan protesters being detained by police while trying to stop the Hu Jinato's convoy at Marine Drive in Bombay on November 23, 2006.
---

'Freedom to Dissent'
(Times of India Editorial | November 21, 2006)
India seems to be taking the maxim Atithi Devo Bhava too literally. Ahead of the Chinese president's visit, the ministry has gone into overdrive to sanitise New Delhi of Tibetan protestors. First, the police ordered Friends of Tibet activist, Tenzin Tsundue, to stay put in Dharamsala until Hu Jintao returned to Beijing. Now, there are reports of the police asking Tibetan exiles to stay away from the city centre, fearing them to be a security threat. Such gagging of peaceful political protests is inappropriate. New Delhi has officially accepted China's occupation of Tibet, but it has no business to demand that all sections of the civil society should toe the line.
Certainly, Beijing wouldn't be pleased at the sight of Shame China placards in the capital during Hu's visit. That's not at all surprising since China has no claims to be a democracy. The freedom to protest is an essential sign of an open society. India rightfully claims to be one. No government in India is spared of criticism, and the Indian state, in principle, and most often in practice as well, respects the right of citizens to dissent peacefully and demonstrate against official policies. There is no need to make any exception to it even when the target of protest is a visiting head of state.
India and China do have common economic interests, but our political systems have little in common. New Delhi is one up on Beijing in having a democratic form of government, and can justifiably be proud of giving asylum to political refugees including those from Tibet. The success of the Chinese economy has prompted many to gloss over the rampant human rights violations in that country. Friends of China, like the CPM which opposes abuse of human rights by countries like the US in Iraq and Latin America, should advise Beijing on the importance of political and social freedoms.
This underbelly of China is manifest in the large number of executions in that country. Amnesty International has reported that 84 per cent of globally documented executions are carried out in China; over 18,000 people were put to death in the 1990s. Some estimates claim that the average number of judicial and extrajudicial executions between 1997 and 2001 were anywhere between 10,000 and 15,000.
With a conviction rate of 99 per cent and state-promoted fast-track justice-dispensing mechanisms like mobile execution vans, China appears to be caught in a time warp. Perhaps, Hu should take a few lessons in combining Marxist rhetoric and liberal democracy from his comrades in CPM.
---
Hu Jintao protests in Bombay was organised by Tibetan Youth Congress, Friends of Tibet and United Tibetan Association of Maharashtra and Gujarat on November 23, 2006.