'Face-to-Face with Tenzin Tsundue'

(CFD, Bangalore | April 25, 2005)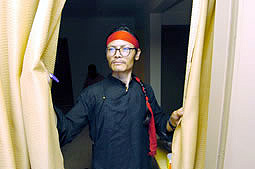 Bangalore: Collective Chaos, a Bangalore-based forum of filmmakers, artists, writers, film technicians and enthusiasts in association with Friends of Tibet (India) organised a 'Face-To-Face' with Tibetan poet-activist Tenzin Tsundue, who recently staged a daring protest in Bangalore when the Chinese Prime Minister Wen Jiabao visited the city.
In January 2002, Tenzin Tsundue climbed the 14th floor of Bombay's Oberoi Towers and protested the visit of Zhu Rongji, the former Chinese Premier. And on April 10, 2005, he performed a similar feat while the Chinese Premier Wen Jiabao was addressing a group of scientists at the Indian Institute of Science (IISc), Bangalore. He breached Wen's tight-security and climbed the Administrative Building to shout 'Free Tibet' slogans, waving the Tibetan National Flag.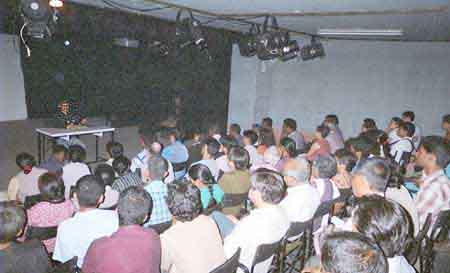 Tenzin Tsundue was introduced to the public by Lawrence Liang, of Alternative Law Forum, a city-based organisation engaged in a wide range of activities from the provision of legal services, critical research, alternative dispute resolution, training and dabbling with experimental forms to interrogate the law using media. The poet-activist read some of his latest poems on Tibet and shared his experiences as an activist in the Tibetan freedom movement in an hour-long session, which was followed by the screening of the documentary film: 'Sentenced To Die' (Directed by Elinore Burke and Tsering Ngodup).
The event was held on April 25, 2005 at the Centre for Film and Drama, Sona Towers, 71 Millers Road, Bangalore.
---
'Face-to-Face' was organised by Friends of Tibet (India) and Collective Chaos at the Centre for Film and Drama, Bangalore on April 25, 2005.