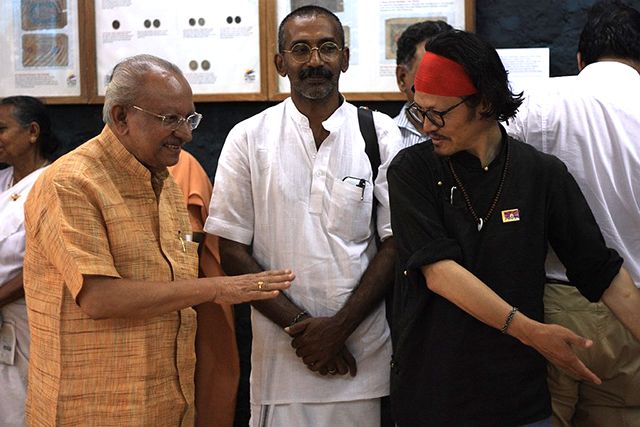 February 11, 2015: Tibetan poet-activist Tenzin Tsundue welcomes Cartoonist Yesudasan during the 'Story of a Nation', an exhibition of antiques, artifacts, and photographs organised by Friends of Tibet in Kerala. (Photo: Prayag Mukundan)

---
Tibetan poet-activist Tenzin Tsundue pays tribute to the late Indian political cartoonist Yesudasan (1938-2021), who was an Advisor to Friends of Tibet. Today, October 6, 2022 is his first death anniversary.
THAT morning, when a condolence message appeared in the Friends of Tibet WhatsApp group, I suddenly found myself stunned; not knowing what to do, or how to react. I read the message, again and again, and I realized I had not made a mistake in reading and understanding the message that he had actually passed away!
Yesudasan (1938-2021), one of the long-time supporters of Tibet and an advisor to Friends of Tibet, passed away in the early hours of October 6, 2021, after a cardiac arrest. He was 83.
When Sethu Das founded Friends of Tibet as a Tibet support group, 22 years ago in Bombay, he enrolled his family as his first members which included his brother, mother, and his Father-ji — Yesudasan. This was in the year I999.
Chakalethu John Yesudasan was born on June 12, 1938, in Mavelikara, a small town in the Alappuzha district in Southern Kerela. He lived a life of great integrity and service in the field of art. Dedicating his entire life to public service as an artist and public intellectual by cartooning for major publications including Malayala Manorama. His wit and satire in cartooning won him popularity and public recognition including a national award. Our friend and President of Friends of Tibet, Sethu Das calls him "Father-ji" with affection and respect, and that's how he was referred to among our organization members.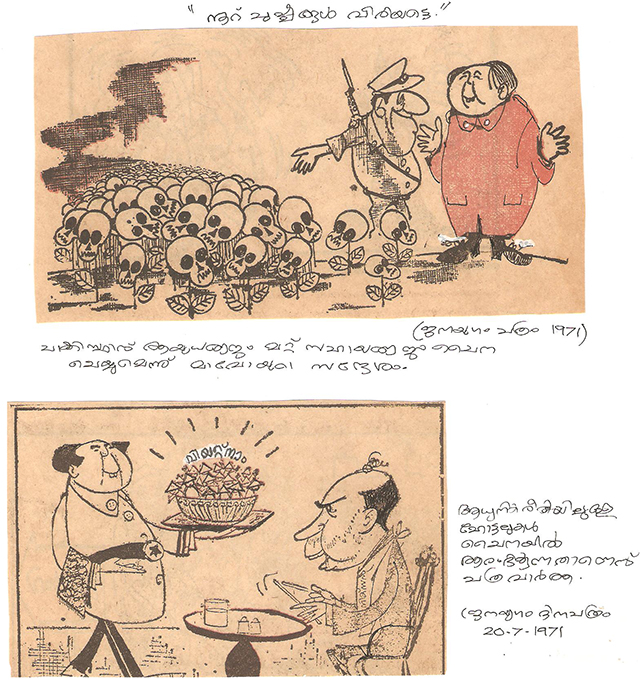 1971 political cartoons of Yesudasan on China published by Janayugam daily, the official organ of the Kerala State Council of the Communist Party of India founded in 1947.

---
I first met him in Kerela in 2004 when Friends of Tibet did an exhibition and awareness campaign at the Kashi Art Gallery in Fort Kochi. It was there he conceived the idea to invite His Holiness the Dalai Lama not just as a leader of Tibet but as a spiritual guru who teaches humanity. I met him many times and a couple of times, we had chats. He wouldn't ask questions about Tibet, politics, or the Dalai Lama. His queries were small interests like food, clothing, my long speaking tours, and the weather in Kochi. Speaks so softly, sometimes you have to strain your ears, and crane your neck forward and when I narrate funny incidences, he would break into small peals of laughter.
Even when the Dalai Lama burst into huge laughter at his own jokes, Father ji would be found with his trademark small happy smile, a man who is known for his harsh critiques in his cartooning world is soft in his words.
Father ji invited His Holiness the Dalai Lama to Kochi in November 2012. At the Friends of Tibet gathering at the Hotel Holiday Inn in Kochi were some of the most important writers, artists, intellectuals, and journalists that father ji had invited. Although lighting the lamp was to inaugurate the ceremony it turned out that the Dalai Lama wearing the 'Kerala Talappavu' (traditional headgear of Kerala) became the highlight. The Dalai Lama kept putting it and off, constantly adjusting it on his bald head and posing for the cameras smiling from ear to ear.
In 2006, Friends of Tibet organized "Indian Cartoonists on Tibet", an exhibition of selected Indian cartoons on Tibet. It was Father ji and Mario Miranda who conceptualized the traveling exhibition with Claude Arpi, French author and Tibetologist. This exhibition was organized at the Tibet Community Hall in Dharamshala and was inaugurated by then Prime Minister of Tibetan Government-in-Exile, Prof Samdhong Rinpoche, who loved the cartoons. Father ji was a disciple of Cartoonist Shankar who worked as a staff cartoonist in New Delhi till the Emergency.
Tibetan freedom movement in exile is going to miss his presence! ◼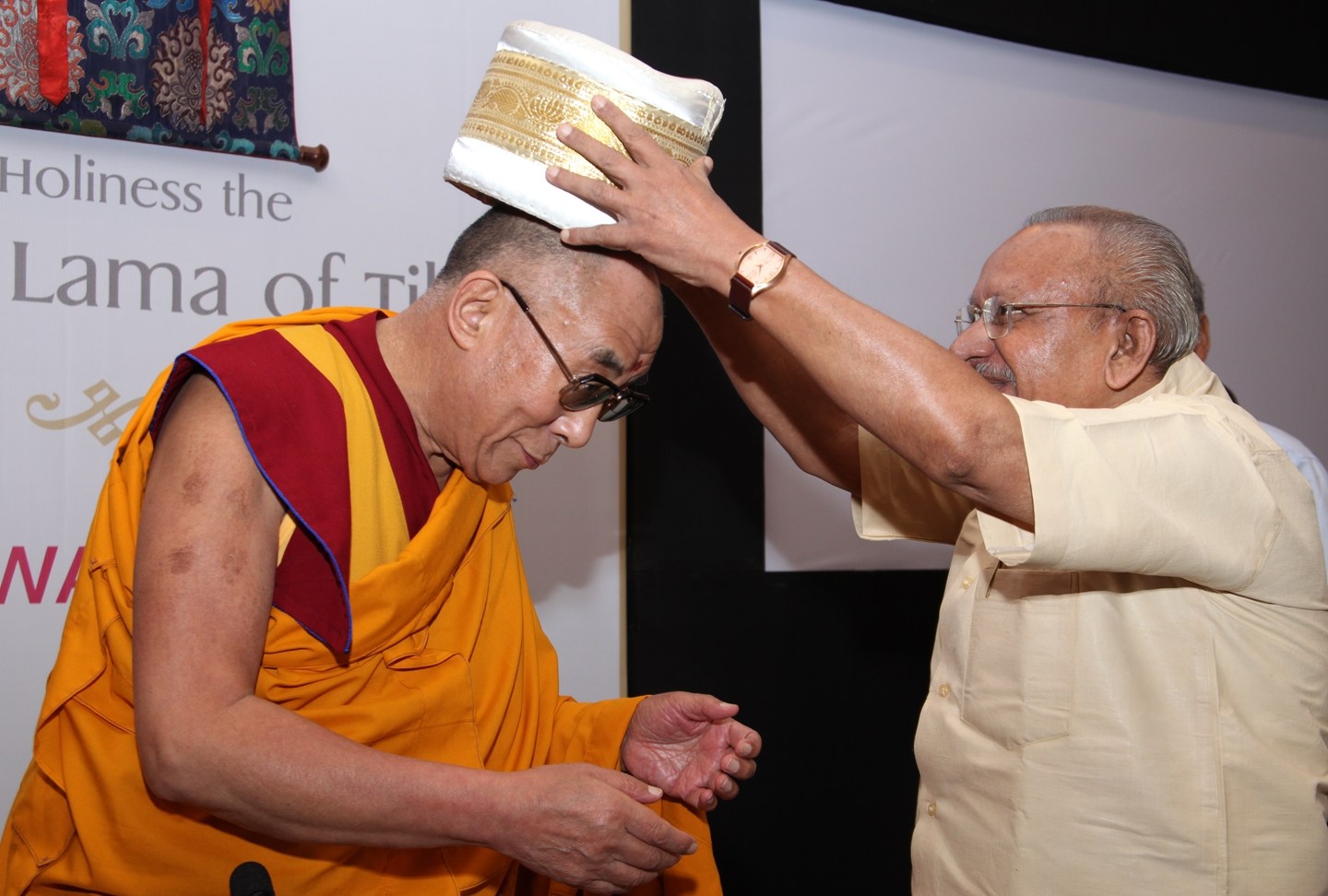 September 04, 2010: Cartoonist Yesudasan presents a 'Kerala Talappavu' (traditional headgear of Kerala) to His Holiness the XIV Dalai Lama of Tibet during a Friends of Tibet event at The Gateway Hotel of Taj, Kochi, India. (Photo: Ramesh Kumar PS)

---

Friends of Tibet, PO Box 16674, Mumbai 400050, India.
Email: freedom@friendsoftibet.org Web: www.friendsoftibet.org
Friends of Tibet is a people's movement to keep alive the issue of Tibet through direct action. Our activities are aimed at ending China's occupation of Tibet and the suffering of the Tibetan people. Friends of Tibet supports the continued struggle of the Tibetan people for independence. Friends of Tibet is also one of the principal organisers of World Tibet Day around the world.
⋯
Digital Support: Design & People, India + Ibiblio Digital Library & Archive Project, University of North Carolina, USA
⋯