Friends of Tibet welcome you to visit "Shadow Circus: A Personal Archive of Tibetan Resistance (1957-74)" — a project by Ritu Sarin and Tenzing Sonam in collaboration with Natasha Ginwala and "Books From the Roof of the World" by Friends of Tibet. Presented by Kochi-Muziris Biennale 2022 in collaboration with White Crane Films and White Crane Arts & Media and made possible with additional support from the Gujral Foundation. This audiovisual archive-based exhibition presents the untold story of Tibet's CIA-supported armed struggle against Chinese occupation. "Shadow Circus" is part of the 2022 Kochi-Muziris Biennale Invitations Programme. (Entry free and open to all)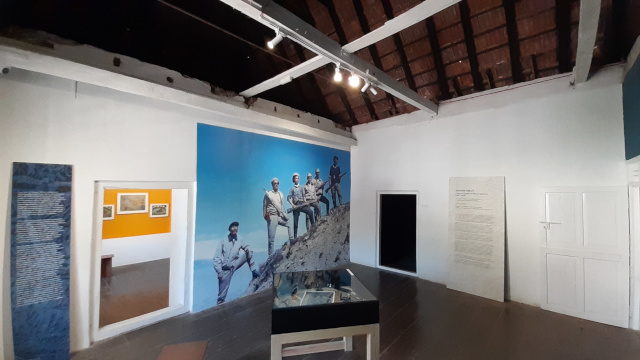 Photo Gallery
After the Communist Chinese invasion of 1950 and its subsequent takeover in 1959, Tibet has been a country under occupation. Since then, resistance to Chinese rule, both inside Tibet and in exile, has been unyielding and resilient, transforming over time in response to the changing situation in China and the shifting winds of geopolitical alignments. But little is still known of the guerrilla war that was fought from the mid-1950s to 1974 when thousands of Tibetans took up arms against the invading forces of China.
In the early 1990s, filmmakers Ritu Sarin and Tenzing Sonam started to research the story of Tibet's armed struggle, a movement that became entangled in global geopolitics when the CIA got involved. They were inspired by Tenzing's father, the late Lhamo Tsering, one of the leaders of the resistance and the key liaison between the Tibetans and the CIA. Serving as Chief of Operations, he oversaw the activities of the resistance and at the same time, maintained an incredibly detailed archive of photographs, documents, letters, and maps.
The CIA's involvement in the Tibetan resistance started in 1956, at the height of the Cold War. Codenamed STCIRCUS, it was one of the CIA's longest-running covert operations until it was abruptly abandoned in the late 1960s. The resistance collapsed in 1974 when its last stronghold on the Nepal-Tibet border was shut down by the Nepalese army. For reasons that have to do with both the clandestine nature of the operation and the fact that Tibet's armed struggle sits uncomfortably with contemporary narratives of the non-violent nature of the movement, this episode has languished in the forgotten corners of recent Tibetan history.
The exhibition, "Shadow Circus", is an attempt to unshackle and shed light on what anthropologist and historian Carole McGranahan calls, "arrested histories of the Tibetan resistance army". It re-evaluates the audiovisual material that Ritu and Tenzing gathered over the years, along with Lhamo Tsering's personal archives, and includes a re-edited version of their 1998 documentary — The Shadow Circus: The CIA in Tibet — to create a more complete and complex mosaic of this still largely obscure story. The Cold War epoch is navigated within a third space, as an uneasy alliance beyond geopolitical power blocs to examine forms of intelligence gathering, guerrilla warfare and clandestine resistance deployed in the service of an unfinished freedom struggle that continues to resonate today.
DOWNLOAD: "Shadow Circus Notes" by Tenzing Sonam

---

Friends of Tibet, PO Box 16674, Mumbai 400050, India.
Email: freedom@friendsoftibet.org Web: www.friendsoftibet.org
Friends of Tibet is a people's movement to keep alive the issue of Tibet through direct action. Our activities are aimed at ending China's occupation of Tibet and the suffering of the Tibetan people. Friends of Tibet supports the continued struggle of the Tibetan people for independence. Friends of Tibet is also one of the principal organisers of World Tibet Day around the world.
⋯
Digital Support: Design & People, India + Ibiblio Digital Library & Archive Project, University of North Carolina, USA
⋯