'Global Protest Launched Against Lhasa Train'
(By Sudeshna Sarkar | IANS | November 03, 2005)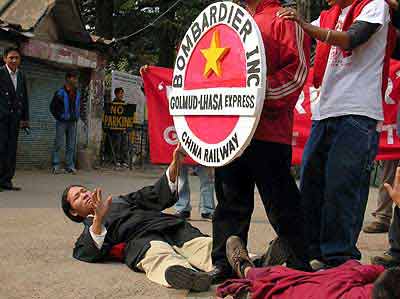 A Tibetan lies down at Mcleod Ganj, Dharamshala and tries to stop the train to Lhasa as a part of a campaign launched by the Students for a Free Tibet and Friends of Tibet on November 03, 2005 protesting against the Golmud Lhasa railway and ask Borbadier, the Canadian coach builder to withdraw from its contract to supply engines and coaches to China Railways. (Photo: Phayul)
Kathmandu: Tibetans worldwide started an electronic protest Thursday to stop the Chinese government from beginning train services on a newly constructed track to Lhasa, hailed as an architectural marvel.
China last month announced the completion of the Golmud-Lhasa railway track, the highest railway in the world, connecting mainland China with Lhasa, capital of the Tibet Autonomous Region in the south. Train services on the track will begin next year.
The Tibetan diaspora living abroad has been protesting against the railway project, saying it will result in large-scale displacement of Tibetans. "By next year the trains will enter Tibet bringing in hundreds of thousands of eager Chinese settlers into Tibet," the two organisations participating in the protests said. "This will create a large scale (read more than 200 millions) human re-settlement crisis created by political maneuvring and will leave lasting human conflicts like Israel-Palestine and Tamil-Sri Lanka," the Students for a Free Tibet and Friends of Tibet (India) warned in a joint press release.
As part of the "Stop the Train!!!" protests, the diaspora Thursday started petitioning Bombardier Inc, the Canadian multinational company that this year signed a contract with China Railways, agreeing to supply coaches for the railway. Urging Bombardier Inc. to cancel the pact, protesters started sending petitions via letters, emails, fax and phone calls to the company's offices in Australia, Europe, the US, Canada, India, and Northern Ireland.
Marches have also been planned to these offices Thursday, which is being observed as Bombardier International Day of Action. The protests are expected to be the strongest in India, where the Dalai Lama, the exiled leader of the Tibetans, has his official seat. Bombardier Inc has a branch in Vadodara in India's Gujarat state. The protesters said a memorandum would be sent to the CEO there. They also said a two-minute travelling presentation will march through the Dalai Lama's seat in Dharamsala in Himachal Pradesh, to spread awareness about the railway construction and its "ill effects on Tibet and its neighbouring countries".
---
'Stop The Train' campaign was launched by Students for a Free Tibet (India) and Friends of Tibet (India) on November 03, 2005.