'Tibet Issue Depicted by Cartoonists'
(Afternoon | October 03, 2005)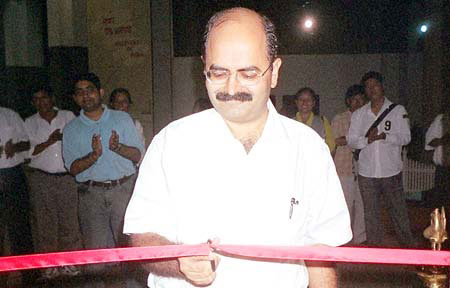 Cartoonist Morparia Inaugurates 'Indian Cartoonists on Tibet' in Bombay
Bombay: Cartoons have always managed to provoke thought about the most controversial topics without irking anyone. Sensing this potential, Friends of Tibet, a support group spreading awareness of the issue of Tibet in India, in association with the Liberal Quarterly Freedom First, a publication, has introduced a travelling exhibition Indian Cartoonists on Tibet.
Chronicling selected cartoons on the Tibet issue, this exhibition has been to Kerala and Dharamshala before moving into the city. Renowned Indian cartoonists like Shankar, Ranga, OV Vijayan, RK Laxman, Mario Miranda, Rajinder Puri, Ponnappa and Morparia have sketched the tumultuous Indo-Chinese relations spanning 55 years from 1959 to 2005. The very best of their work resulted in the 18 cartoons, which are on display and give an insight on the issue of Tibet.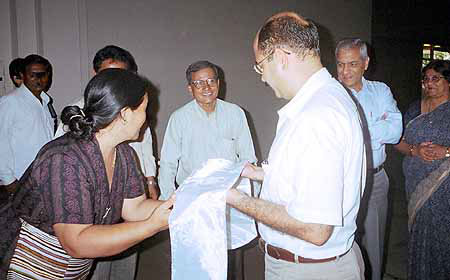 Cartoonist Morparia Being Welcomed. CA Kallianpur, National Coordinator of Friends of Tibet in the Middle
The whole focus of the exhibition is on awareness of Tibet and it is travelling so that every city in the country knows about it, explained Yogendra Verma, coordinator of the Mumbai chapter of the Friends of Tibet. While the entire process took two years to take shape, the cartoonists were most willing to part with their work. Cartoons arent necessarily comical. They are satirical and make a strong point which is our motto, added Verma.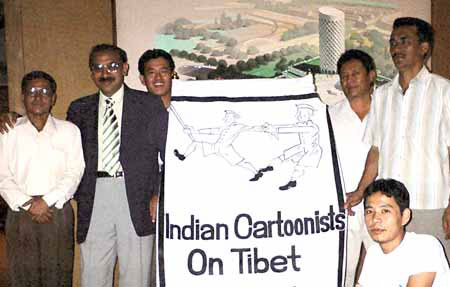 Cartoonist Priya Raaj with Friends of Tibet Members
With a view to highlight issues concerning Tibet and China, the cartoons on display argue their way to reason. Like Shankars cartoon in 1950 shows US President Thurman and Secretary of State Acheson laughing and saying, We told him so to Pandit Nehru when China invaded Tibet. Another one is by Morparia wherein stands a shop called Great Mall of China and a monk sticking a poster Free Tibet on the shops window, driving home a valid point of Tibet being an issue which is often paid lip-service. The cartoons are accompanied by background text by Claude Arpi who has authored The Fate of Tibet. A striking piece was the one by Rajinder Puri done in January 2005 which shows a snowman holding two boards - while one read MEA (Ministry of External Affairs), the other board reads - Do Not Touch, Frozen for 50 years - bringing the Tibets status to light. While one could laugh away the cartoons, for 29-year-old Tashi Phuntsok it is a matter of identity. Most people ask me if I am Chinese because of my facial features. I have to explain the entire history of China taking over Tibet and our fight all the time, sighed Tashi.
Tashi has been in Mumbai since 10 years and feels exhibitions like these at least educate people about Tibet. I have always been proud to be a Tibetan and have written my nationality as Tibetan in all my official documents, he said. Indian Cartoonists on Tibet is on at the Old Art Gallery, Nehru Centre, Worli till October 4 (11 am to 7 pm).
* What Are Friends For? (Indian Express | October 3, 2005) *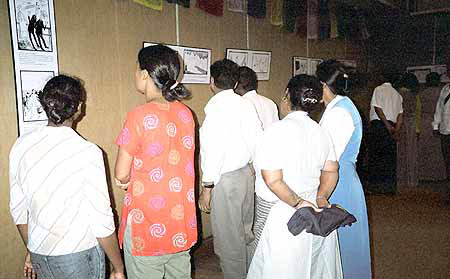 ---
'Indian Cartoonists on Tibet' was held at the Old Gallery of Nehru Centre, Worli, Bombay from October 1-4, 2005.