'Power of Indian Wit on Tibetan Cause'

(www.tibet.net | August 25, 2005)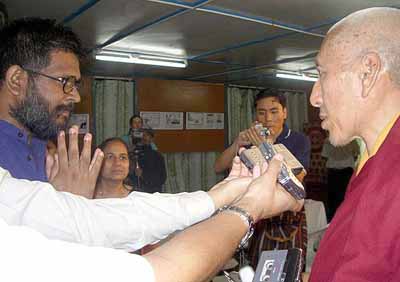 Prof Samdhong Rinpoche (Prime Minister, Tibetan Govt-in-Exile) Speaking to the Media After Inauguating the Exhibition (Photos: Carolina Montesinos)
. . . . . . . . . . . . . . . . . . . . .
"A cartoonist has a sole unique place in the world of communication. A visual poetry does not mean drawing picture of a theme as it is, imaginatively or sarcastically the themes are being depicting a form in a shape. That is a great powerful medium of expressing something, which is beyond world's language. It is more powerful than speaking language. Therefore it is considered important. I am a cartoon watcher. Specially, I do watch children's cartoon. And particularly I was a regular reader of Shankar's Weekly. Some of my literary friends used to send me quite regularly, the cuttings of the cartoons. Sometimes I was not able to see them personally - the periodicals, the news papers that they used to send me. I very much enjoyed watching watching this collection of cartoons on Tibet. The collection and the commentary are excellent. I appreciate."
Prof Samdhong Rinpoche
(August 25, 2005, Dharamshala)
. . . . . . . . . . . . . . . . . . . . .
Dharamshala: The power of Indian wit in conveying the full import of vicissitudes in the Tibetan struggle for greater freedom is on display here at the McLeod community hall: a unique travelling exhibition.
The journey of this travelling exhibition first began from Cochin in Kerala on the 70th birthday of His Holiness the Dalai Lama, 6 July, with almost all the major cities of India on its itinerary. The exhibition is an initiative of the Friends of Tibet, a Bombay-based group which aims to spread awareness about Tibet in India. Thirty selected cartoons on Tibet by 15 renowned Indian cartoonists from 1950-2005, with commentary by Claude Arpi, are displayed in this four-day exhibition "Indian Cartoonists on Tibet".
Inaugurating the exhibition here today, Kalon Tripa Prof. Samdhong Rinpoche also shared his penchant for cartoons, especially those of the late Shankar. "Kalon Tripa is a great fan of cartoonists. That's why we requested him to inaugurate this exhibition", says Sethu Das, the president of Friends of Tibet.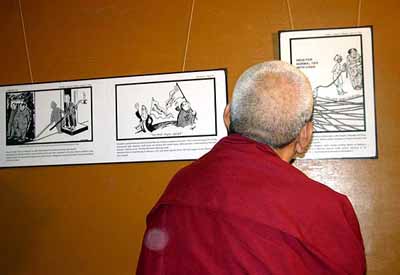 The exhibition displays caricatures of such celebrated Indian cartoonists as Shankar, Ranga, OV Vijayan, Ravi Shankar, RK Laxman, Rajinder Puri, Mario Miranda, Yesudasan, Kaak, Balu, Madhu Omalloor, Thommy, Ponnappa, Morparia and Prakash Shetty.
The concept of this travelling exhibition was first suggested by Mario Miranda, one of the advisers of the Friends of Tibet, Mr. Das explains. "During one of our photo exhibition, Mario Miranda remarked that our pictures of Tibet make people cry."
"He said, 'you should instead try to make people laugh and think about Tibet."
But how?
"Use cartoons! He replied."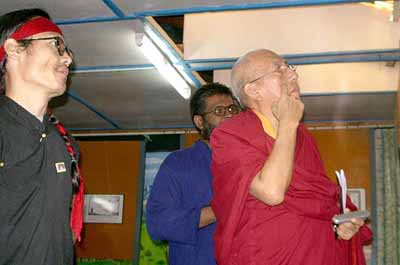 Prof Samdhong Rinpoche with Sethu Das (President, Friends of Tibet) and Tenzin Tsundue (General Secretary, Friends of Tibet)
---
'Indian Cartoonists on Tibet' was held at the Community Centre, McLeod Ganj, Dharamshala from August 25-28, 2005.