'Three Tibetan Nuns in Mumbai'
(By Manoj Nair | Mumbai Mirror | June 18, 2005)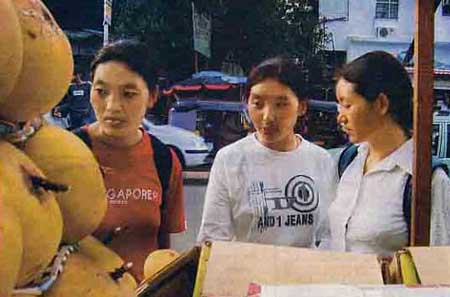 Bombay: They were expecting a blue sea; brown swells of Marine Drive was surprise to three Tibetan nuns on their first visit to a big indian city, since their escape from Tibet last year.
Looking incredulously at the rolling waves stretching beyond the horizon, they said they now understood why the ocean is called the "limitless sea" in Tibet. Watching the tall building in the background, in the noisy stream of traffic flowing past the buildings, Dhamchoe Drolma, 29, said its a strange world. it is like a dream; it is almost like watching cinema."
The nuns are part of the trickle of Tibetan refugees continuing to flee Tibet. Dolma, who was a nun at Shar Pumbpa nunnery from Phenpo district, 60 km away form Lhasa, the Tibetan capital.
Her companion Nyima, 27, who like many Tibetans has only one name and Nyima Dolkar, 28, were nuns at Poto nunnery in the early 90's the Chinese government came up with the Chinese forbidding Tibetan women below 18 years of age from becoming nuns; they three were expelled form the nunnery because they were under age. They were imprisoned after they protest their expulsion.
They spent five years in jail till their release in 1999. Dolma says she spent 22 months in solitary confinement. Unable to get back into the nunnery after their release, they started an eatery; however, they were under constant surveillance by the Chinese authorities. " Our parents were worried about or future; they asked us to go to India," said Nyima Dolker.
Dolma says she left home in December 2003 and trekked over the Himalayas and was guided by Sherpa guides. She reached Dharamsala in March 2004.The two Nyimas traveled by another route ad reached India after braving frost bites and Chinese guards.
They are now studying english and Tibetan culture at Dharamsala, the headquarters of Tibetan government in exile. The friends of Tibet, an organization sympathetic to the Tibetan cause has brought them to Mumbai for a conference. The journey from Delhi was their first train ride; since they had made a night stopover in Delhi, Mumbai is their first experience of a big city.
They are accompanied by Tenzin Tsundue, poet, storywriter, and freedom fighter. "We were forbidden to learn Tibetan language in Tibet. Young Tibetans are advised by their parents to leave Tibet for the sake of preserving the Tibetan identity and culture.
"Every year, over 2,500 Tibetans take the dangerous journey into India" said Tenzin Tsundue.
---