'IB Had Tipped-Off Police About Tibetan Protester'
(Times of India | April 13, 2005)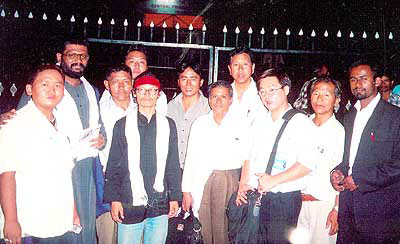 Tenzin Tsundue, Sethu Das and CA Kallianpur with with the Alternative Law Forum members after their release from the Hosur Central Prison, near Bangalore, Karnataka on April 13, 2005.
Bangalore:The investigation into a Tibetan youth breaching security during Chinese Premier Wen Jiabao's visit to the Indian Institute of Science (IISc) campus on Sunday has taken an interesting turn, with revelations that the Intelligence Bureau had tipped off the Karnataka police on the protester's presence in Bangalore. Corps of Detectives (CoD) DGP K.R. Sreenivasan, conducting an inquiry into the security lapse, is now expected to submit his report to chief minister N. Dharam Singh on Wednesday. Sreenivasan told The Times of India on Tuesday that he has taken a day extra to complete his report. The chief minister, too, told reporters that he would get the report on Wednesday.
Sources said the Intelligence Bureau had sent a fax to their counterparts in the state informing that Tenzin Tsundue, national general secretary of 'Friends of Tibet', and another person, Sethu Das, a sympathiser of the Tibet cause hailing from Kochi, were in Bangalore to stage a protest before the Chinese Premier.
The note had also mentioned Tenzin's earlier misadventure when he scaled the 14th floor of a Mumbai hotel to stage a protest during the then Chinese PM's visit to that city in 2002. The state intelligence top brass, too, had passed on the note to the city police. The VVIP security, Special Branch and law-and-order wings of the city police were aware of the note.
"Prior to that note, the Intelligence Bureau had sent an advisory on two other Tibetan activists. They were taken into preventive custody. We looked for Tenzin and Sethu Das in a Viveknagar hostel where Tibetans live, but they could not be traced," a top police officer said. When the police were still looking for Tenzin on Saturday night, he had already climbed the IISc tower and was waiting for Wen's visit.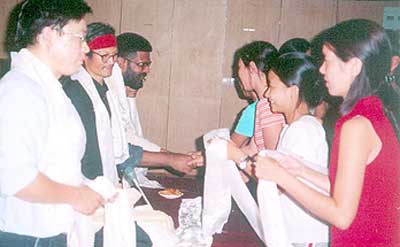 Lawrence Liang of Alternative Law Forum (left), Tenzin Tsundue, Sethu Das and CA Kallianpur of Friends of Tibet are being welcomed at the Tibetan Youth Hostel, Bangalore.
---