'Tibetan Body Drums up Support for 'Cause''

(By Bhawani Negi | Hindustan Times | November 28, 2004)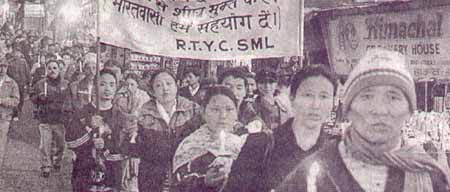 Shimla, Himachal Pradesh: Two documentaries, 'Tibet: Cry of the Snowlion' and 'Escape from Tibet', were screened and a discussion on the 'cause of Tibetan freedom' was held at the first meeting of Friends of Tibet (India) here today. The meeting was called to generate awareness about the 'cause' and brought together several Indian supporters.
Talking to Hindustan Times, Friends of Tibet general secretary Tenzin Tsundue said, "The meeting helped to realise the bond between Indians and Tibetans. It showed how both are related to each other spiritually and politically." The discussion was also aimed at 'eradicating petty differences', he said.
Tsundue said that the Indian and Tibetan 'alliance' was good for both as the 4,200-km border from Lhadakh to Arunachal Pradesh was a 'permanent threat for India' if Tibet continued to be a part of China.
On the threat from Parechoo Lake, he said the situation exemplified the exploitation of natural resources of Tibet by China. "This ecological threat has been imposed on Himachal. Next spring, when the lake melts, the threat will loom large again."
Tsundue said such meetings and screenings of films by his organisation would be a regular feature as it hoped to build a strong bond between Indians and Tibetans for the 'cause of freedom of Tibet'.
The Friends of Tibet (India), founded by Sethu Das from Kerala on March 9, 1999, in Dharamshala, today has 13 chapters, comprising of 4,000 members, in different Indian states.
. . . . . . . . . . . .
Candlelight Procession for Leader's Release
(The Hindustan Times | December 01, 2004)