'Release of Tibetan Lama Delek Rinpoche Urged'

(The Free Press Journal | November 7, 2004)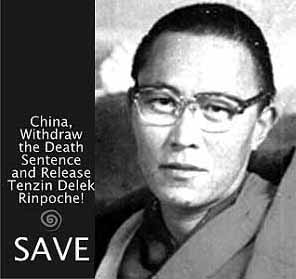 Mumbai: Activists of an NGO here have began a five-day hunger strike urging the Chinese government to release the highly respected Tibetan lama Tenzin Delek Rinpoche. The activists of Tibetan Youth Congress and Friends of Tibet (India) are protesting the continued detention of Rinpoche — who was arrested two years ago by Chinese — as part of the world-wide protest by Friends of Tibet, its spokesperson Aspi Mistry told PTI today. The hunger strike, which began yesterday at Azad Maidan in South Mumbai, would continue till November nine, he said.
Rinpoche, a philanthropist and a social activist, was arrested by the Chinese government in connection with a serial bomb blast in Chengdu along with one associate, who was already executed while Rinpoche's suspended death sentence expires on December two.
General secretary of the NGO Tenzin Tsundue said "we urge the Chinese government to guarantee fair trail and proper legal access to the Lama and refrain from subjecting him to torture and maltreating during his imprisonment."
However, no one was available from Chinese Consulate for any comment.
. . . . . . . . . . . .