'Tenzin Protests Monk's Execution'

(By Dilnaz Boga | The Times of India | November 6, 2004)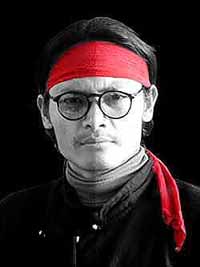 Mumbai: Tibetan writer and activist Tenzin Tsundue is in Mumbai to fast from November 5 to 9, 2004 to protest against the execution of Tenzin Delek Rinpoche, a Tibetan monk in Chinese-occupied Tibet. This will be followed by a candle-light vigil, film screening and a signature campaign.
Two years ago, Buddhist monk and teacher Tenzin Delek Rinpoche was arrested by the Chinese authorities and sentenced to death on December 2, 2002 on charges of involvement in a series of unsolved explosions. His co-defendant, Lobsang Dhondup, was executed shortly after. Human rights organisations around the world believe he was framed because he is viewed by the Chinese government as a threat to their control of Tibet. Tibet has been occupied by China for more than fifty years, said Tsundue. "Tenzin Delek is known for his dedication to preserving Tibetan religion and culture and protecting the environment. He built many schools, monasteries and orphanages in his area, and is an advocate of the Dalai Lama's philosophy of non-violence. Because of Tenzin Delek Rinpoche's influence in the community and his efforts to preserve Tibetan identity, he was an obstacle to the Chinese authorities' control in the region. Over the course of a decade, he was the target of harassment, intimidation and control by Chinese officials. We have decided to continue this campaign in Calcutta, Bangalore and Mumbai." Tsundue said that the protesters will be fasting in batches of 50 to 70 everyday. I am looking forward to the support of the Mumbai's Tibetan community and Mumbaikars as well."
This case has attracted attention from Tibet fact-finding experts at the United Nations Human Rights Commission who have expressed grave concern about the manner in which the trail was handled. Even Human Rights Watch has consistently followed up and condemned the monk's incarceration.
For more details, please contact Aspi Mistry, Friends of Tibet (India) spokesperson on 9820491350.
. . . . . . . . . . . .