'First Tibetan Passport Found in Nepal'
by Baldev S Chauhan
(The Hindu | April 02, 2004)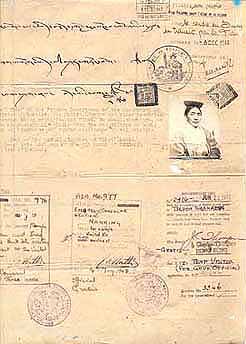 Dharamshala: Tibetan refugees in India are delighted after Tibet's first passport was found in Nepal after it was lost 12 years ago from an eastern Indian hill station. The passport, issued 57 years ago, was handed over to the Tibetan spiritual leader Dalai Lama earlier this week, said an official of the Tibetan government in exile in this Himachal Pradesh town.
"Finding this passport is significant as it is an important historical record which shows that several countries of the world recognised Tibet as an independent country and issued visas to the bearer of the passport Tsepon Shakabpa," said Lobsang Tsultrin of the department of information, Central Tibetan Administration. "The passport issued to Shakabpa, the then secretary of finance (1930-50) by the Cabinet of Tibet, Lhasa on Oct 10, 1947, bears the official stamps of India, the United Kingdom, the United States, Italy, Switzerland and France. These countries issued visas to him," Tsultrin told IANS.
The official said a delegation of five Tibetans were given passports by Lhasa at the time, but this was the only one left — evidence of Tibet's independence and its recognition by the outer world. "The passport has been slightly damaged by silver fish but bears the entire information including the stamps," he said. The document was lost from the Shakabpa's home after his death in the town of Kalimpong in West Bengal and made its way into Nepal.
The document was recovered in Nepal from an antique dealer by the Friends of Tibet (India) who for the past one year have been collecting objects of historical importance belonging to independent Tibet. These will be showcased in an exhibition 'Story of a nation: Independent, occupied and exiled Tibet'. The antique dealer reportedly sold the document at a lower price after he was informed about its importance and that it would be handed over to the Dalai Lama.
Shakabpa is the author of several books, including "Tibet: A political history". He was the Dalai Lama's official representative in New Delhi until 1966.