'The Snow Lion Cries in Mangalore'
by VJ News Service
(Vijay Times | October 7, 2003)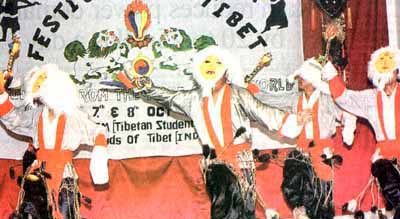 Mangalore: Although India may feel proud about rehabilitation of the refugees who were exiled from Tibet, overall it has been passive in its support to the Tibetan struggle for freedom. This view was echoed by Sethu Das, founder and president of Friends of Tibet (India), Mumbai. One cannot neglect the support given to the Tibetan movement by the Indians in places like Delhi, Agra and Chennai. But Mangalore has been lukewarm. We Indians have it in us to help Tibet gain freedom by supporting their struggle, said Sethu, who is here to attend "Tibet: Cry of the Snow Lion", the three-day Tibetan festival.
The festival has been organised by the Tibetan Student's Association, Mangalore, in collaboration with Friends of Tibet (India), Mumbai was inaugurated by Dhrampal Negi, Inspector General of Police (IGP). In his inaugural address Negi stressed the need for preservation of Tibetan culture, especially by the younger generation. He called upon Tibetans to consider India their own land.
The ongoing Chinese occupation has brought in heavy military presence and has been exploiting Tibet endangering the balance of the whole of Asia. China's decision to build a railway line to Lhasa, holds strategic military implications for India. India has not reacted to these moves by China, said CA Kallianpur, All India Coordinator, Friends of Tibet (India). He alleged that India should have been conscious of the danger, but is completely indifferent.
The festival at Shanti Nilaya Hall, Balmatta, has much to offer. The photo exhibition 'A Long Look Homewards', portrays the life of the Tibetans before exile and their freedom struggle. It will next be seen in Pune and Hyderabad.
A screening of films is scheduled for Tuesday. 'Tibet: Cry of the Snow Lion', 'Escape from Tibet', 'Windhorse' and 'Kundun' are some of the films which will be shown. Talks will be given by Sethu Das and Tenzin Tsundue, writer and activist, on 'Why Tibet' and 'The New Generation of Tibetans Growing In Exile', respectively.
A special attraction is the live performance of the Tibetan snow lion dance. The third day has a 'Taste of Tibetan Dishes,' a food festival, where Tibetan food will be served on payment. The event promises a complete Tibetan experience.