'Tibetans Gather to Celebrate Dalai Birthday'
by Staff Reporter
(Times of India | Calcutta | July 7, 2003)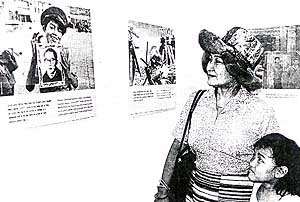 Calcutta: Far from the madding crowd that followed Deputy Prime Minister LK Advani everywhere on Sunday, a small group of 50 to 60 people, many of them Buddhist monks, gathered at the Chitrakoot Art Gallery a little before noon to celebrate the birthday of the Dalai Lama. Some came from as far as Darjeeling or Dharamshala. And for obvious reasons they were not particularly happy with either the Prime minister or his deputy for the recent stand taken on Tibet vis-a-vis China.
The main reason for the gathering, apart from kicking off the Dalai Lama's birthday celebrations, was to start a three-day 'Tibet Day' programme by the Friends of Tibet (India). 'A Long Look Homeward' - an exhibition of photographs on Tibet from the Tibet Museum, will be showcased at the gallery till July 3.
"The photographs narrate the history of Tibet, Tibet in exile and also portray the present situation of Tibet under Chinese occupation. There are about 30 old photographs, some showing Chinese atrocities on Tibetans, a few pictures of Tibet when it was free and some others showing mass destruction with several beheaded Buddha statues," said Tathagata Chakravarti, coordinator of Friends of Tibet (India). The exhibition was inaugurated on Sunday by actress Moon Moon Sen and among those present was Tenzin Tsundue, general secretary of the Friends of Tibet (India) who resides next to the Dalai Lama's abode in Dharamshala. "Other monks came from Kalimpong, Darjeeling and Gangtok," Chakravarty said.
The programme began with a long reading from the 'Pecha' a holy book of the Buddhists, followed by Tibetan freedom songs. "From the time of Warren Hastings, Kolltata has had a long association with Tibet. Tibetan youngsters came to Kolkata to study before the illegal occupation of Tibet by China. Even today, the Indian Museum and the Asiatic Society have some of the best collections on Tibet. This year therefore we chose this city to re-witness the history of Tibet. Marking the world-wide observance of World Tibet Day and also the birthday of His Holiness the Dalai Lama we have organised this three-day long photo exhibition on Tibet and video films screenings," Tsundue said, when contacted. Speaking to TNN Chakravarty said the films would be screened on all three days at 5.30 pm at the same gallery. While 'Kundun' directed by Martin Scorsese was screened on Sunday, 'Cry of the Snow Lion' and 'Windhorse' both directed by Paul Wagner will be shown on Monday and Tuesday respectively.