'Tibet Has A Voice In Kolkata'
by Statesman New Service
(The Statesman | March 11, 2003)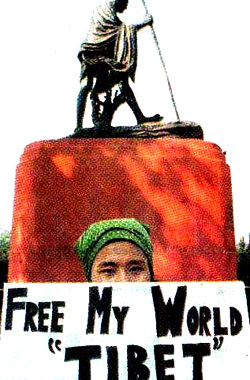 Numbers are not important. Twelve men and a woman proved that today. They are the Friends of Tibet (INDIA), a body comprising non-Tibetans sympathising with the Tibetan cause as well as local Tibetans.
They gathered in front of Mahatma Gandhi's statue for a 12-hour hunger-strike today, on the occasion of the 44th Tibetan National Uprising Day. They seemed a bit confused as rickety state buses passed by belching out smoke.
They had several demands – the chief one being the freedom of Tibet from China. Other demands included the start of dialogue with the Dalai Lama, the release of political prisoners from Drapchi (the biggest prison in China) and the release of the Panchen Lama.
The organisation is also leading a 'Say no to Made in China Products' campaign across various cities of India, including the metros, Pune, Hyderabad, Dharamshala and Kerala.
"Chinese products are ruining the Indian markets and the small scale industries," said Mr Tenzing Ringdul, one of the participants. The Indian government's response has not been very encouraging. The body approached the government several times and received assurances.
Although it understands that the Indian government must resolve issues at home first, it expects the government to raise the issue at UN meetings.
Friends of Tibet (INDIA) is headquartered in Mumbai and just opened its Kolkata chapter.