'Tibetans Call For Boycott'
by Mid-Day Correspondent
(Mid-Day | March 10, 2003)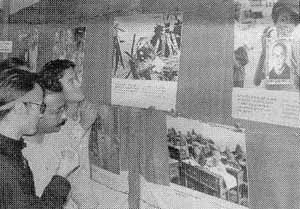 The Friends of Tibet (India) will commemorate the 44th anniversary of the Tibetan National Uprising Day today by exhorting Indians to boycott Chinese goods, which have recently flooded the country.
The organisation is holding an exhibition of rare photographs at Churchgate station from 7 am to 10 pm today to highlight atrocities against Tibetans committed by the Chinese army.
Tibetan National Uprising Day marks the 1959 revolt against the Chinese occupation of Tibet. An estimated 10,000 Tibetans are reported to have been killed by the Chinese Army in Lhasa when they gathered in the streets of the Tibetan capital to demonstrate against the occupation of their country.
Following this massacre and more such incidents all over Tibet, the Dalai Lama, spiritual head of the Tibetans, fled the country and came to India.
The organisation plans to distribute one lakh pamphlets in Mumbai and elsewhere asking Indians not to buy Chinese products, according to its spokesperson Aspi Mistry.
The pamphlets read: "Protect the Indian industry and help end oppression in Tibet. Please say 'No' to Made in China."
Tenzin Tsundue, general secretary of the organisation, said the import of cheap Chinese goods is also destroying small Indian industries. Tsundue said that many cheap Chinese goods are made in forced labour camps. "Others are made by the Chinese military or by a workforce that has been disenfranchised. By buying a 'Made in China' product, you are funding and empowering a brutal regime," he said.
In January 2002, Tsundue, a writer-activist, had climbed the scaffolding to the 14th floor of the Oberoi Towers and unfurled a banner demanding that Tibet be freed. At that time, Chinese Premier Zhu Rongji was addressing a conference in the hotel.
The activists will also hold a rally at Marine Drive, opposite Hindu Gymkhana, from 5 to 8 pm today. They will unfurl a 100-metre-long banner along the seafront.