'Reaching Up, Out'
by Farida Shaikh
(Hindustan Times. January 27, 2002)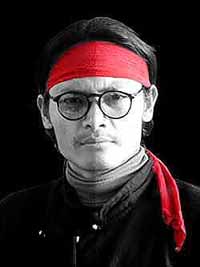 Tenzin Tsundue climbed to the 14th floor of a Mumbai hotel hosting Chinese premier Zhu Rongji, demanding freedom for Tibet. And he didn't use the lift, not even the stairs.
It took Tenzin Tsundue just a few minutes to make the Chinese go red in their faces. Along with the Mumbai police, of course. Just when Chinese premier Zhu Rongji and his delegates had settled down with industry bigwigs on the 14th floor of the Oberoi Towers last week, they saw a long banner saying "Free Tibet" being unfurled outside the window and Tenzin pointing a clenched fist at them. For Tenzin, it was just another risk he had to take for a cause dearer to him than his own life to free his homeland, Tibet, from the Chinese. 'You cannot achieve anything in life without taking risks,' says the 26-year old.
This is not the first time that Tenzin has made news. Last year, the secretary of Friends of Tibet won the Outlook-Picador Non-Fiction Award for an essay on his status as a political refugee in India. Reading the essay, it's easy to understand his passion to free his country or his anger towards the plight of its exiled people. Tenzin's parents were road construction labourers in India, and he was born in a makeshift tent on the street of Manali.
However, he has never celebrated his birthday. He writes, 'When I ask for my birthday, my mother says, "Who had the time to record a child's birth when everyone was tired and hungry?" It was only when I was admitted to school that I was given a date of birth. At three different offices, three different records were made. Now I have three dates of birth.'
Nowadays, Tenzin's parents live in Karnataka. In school, his teacher would tell stories of the suffering of their people in Tibet. 'We were often told that we all bore a big "R" on our foreheads. It didn't make much sense to us and for a long time I believed that we really had this sign on our foreheads. Perhaps the first thing I learnt at school was that we were refugees and didn't belong to this country,' he says.
In fact, Tenzin's father still nurses the dream of going back home — He refuses to repair the tiled roof of their house which drips badly in the monsoon. 'When the Tibetans first settled in Karnataka, they decided to grow only papayas and vegetables thinking they would definitely go back in 10 years' time. This waiting seems to be redefining eternity,' he says.
Says Tenzin, 'My parents cannot even speak any Indian language. They do not even know how to dial a phone number. I have told them not to expect me to take up a nice job and provide them with amenities (he hasn't even collected his degree certificate from Bombay University). I have promised to take them back to Tibet. My life is now dedicated to our freedom struggle.'
On January 16, when Zhu was in Mumbai, Tibetans were asked to stage their protest at the Azad Maidan. But what was the use when Zhu wouldn't even notice, Tenzin thought. So he planned out a novel way to attract attention. For a whole week before the visit, he read newspapers to learn about the Premier's itinerary. He stitched together three Chinese national flags to make the 30-feet banner. On the D-Day, he climbed the scaffolding near the northern gate of the hotel with the banner hidden under his clothes.
Once he had climbed up, there was chaos everywhere. One of the security officials even threatened to drop the material's lift on his head. 'This is India, not China and they will never follow up on threats and kill me like this,' Tenzin told himself and stayed put. At that moment one of the Chinese delegates pulled aside the curtain to look at him.
'Within seconds, there was a Chinese face on every window of the entire floor and I was showing them the banner and my clenched fist. That one moment made it all worth it,' he says.
For a man who has a double MA from Bombay University, this is just a beginning. 'When I was climbing up, the construction labourers didn't know what I was up to. I told them, I was protesting to free my country Tibet from the clutches of the Chinese just as Indians had fought the British. Then they understood what I was talking about. This is what I want. That one incident rekindled awareness in our cause.'
'Now I want to create awareness about our cause and work within the Tibetan community to reorganise the struggle. If the cause has not succeeded, it's because we are very disorganised. There is a huge gap between the Tibetans here and those in Tibet. This has to be bridged. We want the Tibetans to turn into activists, not just participate in protests.' He also has a take on the Indo-China relations. 'It is so phony. India has to make its borders secure and Tibet's freedom is its best bet in this direction.' Till then, he refuses to rest. His people have worn the tag of refugees for too long. It's time to return home.