'My Week: Rebel With A Cause'
by Tenzin Tsundue
(Mid-Day. January 20, 2002)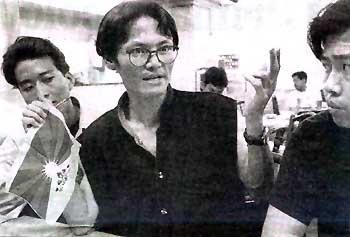 Protests, hunger strikes, and the 14th floor of Oberoi, Tenzin Tsundue's freedom struggle has reached new heights
Friday, January 11: I was at the Derahdun Tibetan refugee camp last week attending a workshop on the Tibetan freedom struggle. I knew that when the Chinese Premier Zhu Rongji visited India, he would go back with a strong impression about Tibetans in India.
I reached Mumbai on an unreserved train ticket from Delhi. The train was running four hours late. I immediately went to meet other members of Friends of Tibet (INDIA) where I work as the General Secretary. I then met some elderly Tibetan sweater sellers to discuss what to do. After a long meeting, we decided to organise a general body meeting of all the Tibetans in Mumbai the next day. I did not inform any of my friends in Mumbai about my visit because I wanted to concentrate on the protest work.
Saturday: The general body meeting was held early in the morning and went on till 1pm. In the course of the meeting we decided to go on a 24-hour hunger strike from the time Chinese Prime Minister Zhu Rongji lands in Mumbai till he leaves for Bangalore; organise a protest at Azad Maidan, which Rongji was to visit and finally, to distribute leaflets on 'why' we were protesting. Everybody agreed that it would be a non-violent protest and we wouldn't retaliate even in the face of a police lathicharge. In the afternoon, the real action started. People were sent to buy cardboard and paint to make placards and cloth to make banners. I went to three differnent printers to get quotations to print our leaflets and I settled for the cheapest.
Sunday: I love to read the Sunday papers, especially feature articles. But early in the morning two elderly Tibetans came with the news that the Tibetan sweater sellers were being harassed by the police and questioned about their permanent address, group leaders and source of income. I feared that police might cordon off the area where the Tibetans have rented chawls. So I immediately drafted an application letter asking the police for permission to go ahead with the hunger strike. We sent it through one of the elderly persons who spoke good Hindi. But he was not given the permission. Insted, he was made to sign an assurance document that should any Tibetan protest happen in Mumbai, he would be held responsible. We increased our leaflet distribution. Though it was a Sunday, we managed to distribute 28,000 leaflets at VT, Churchgate and the Gateway of India. Before I went to sleep I saw images of Tibetans protesting in Delhi. The night hung like a new moon, dark but with a silver of hope.
Monday: The most chaotic morning in the week. We were not given permission to conduct the hunger strike and police harassment increased. The printer guy also hadn't turned up. We had to make sure that our voice reached Rongji. Around 11am, a call came from the Azad Maidan police station granting us permission. We also got the balance 60,000 leaflets. About 300 Tibetans from all over India were coming to join the protest. Yest the question still lingered: Would the Chinese premier listen to our voice? I calculated that he would stay either at the Taj or the Oberoi.
Tuesday: The volunteers resumed their leaflet distribution while I took off some time to investigate the Oberoi Hotel premises. I studied it like a hawk. And bingo! I saw the Achilles heel of the structure. On the northern gate facing Express Towers, there was some repair work going on and a scaffolding had been constructed. I stitched three Chinese flags together and painted 'Free Tibet' on it. I took part in the hunger strike, which began at 5pm. I could not sleep that night as I constantly thought as I constantly thought of my plans.
Wednesday: I woke up at around 4am and coolly walked out of Azad Maidan. There were police vans parked nearby. I wore the painted banner on my back, upfront I wore the Tibetan national flag and I wore my 'Free Tibet' T-shirt over it. Over that I wore my friend's half coat. Till around 10am I was in the Churchgate area. When Rongji's convoy drove out of the Oberoi vicinity, I headed for the hotel. What happened after that is public knowledge. I now need to go back to Delhi where I have to meet other Tibetan youngsters who were involved in the freedom struggle.