'Tibetan's Daredelivery Has Cops In A Lather'
by Staff Reporter
(Bombay Times. January 18, 2002)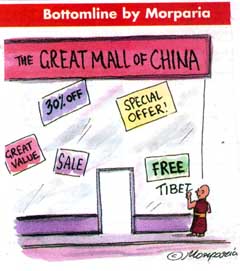 Wednesday's crackdown on Tibetan protesters who staged an agitation during Chinese premier Zhu Rongji's visit has brought into focus question whether the police is too hard on agitators and whether peaceful demonstrators are possible in this city.
'Who said the police were harsh on the Tibetans? Not a single protestor was beaten up. But if you break into someone's house, cant you be taken to task for tresspassing?' asked the Police Commissioner MN Singh. He said the police was not trying to suppress people's right to protest, 'but it has to be peaceful and within the framework of law'.
Regarding the protesters' action at the Oberoi, where they managed to scale a scaffolding to the 14th floor, Deputy Chief Minister Chhagan Bhujpal ruled out any action against the hotel. 'Even if he questions the hotel, they will say private contractors were at work and there is no way they can watch what is happening on the scaffolding,' he said. 'It was never a security breach.' Bhujpal said Rongji was staying at the staying at the New Oberoi, while the incident occured at the old Oberoi. Singh also downplayed the incident saying 'it is a small matter'.
Sanjeev Malhotra, vice president, Oberoi Hotels, played down the incident: 'Security aspects are under the purview of the law and order authorities of the state. There are 5000 to 8000 people going in and out of the hotel every day. We have security surveillance cameras and untowed incidents are monitored. The building facade is being renovated and the hoistway has been installed for this work'.
Police crackdowned the protesters at Jahangir Art Gallery, too. The police action has been denounced as a 'grave violation of basic human rights'. Says Yogesh Kamdar, vice president, People's Union for Civil Liberties. 'Clearly demonstrators on both occasions were non-violent and unarmed. It was disturbing to watch them being roughed up on national television. It begs the question whether, like the Chinese, we too have disregarded freedom of expression. This is not the first occasion, though. Our police force is prone to overeaction. Tenzin Tsundue, general secretary of Friends of Tibet (INDIA), who was released on bail after being arrested for scaling 14 floors of the Oberoi Towers to unhurl a protest banner, said he did not similar action if another action if another high-level Chinese dignitary visits Bombay. On a more restrained note, Tsundue said he was aware of the laws that prevented demonstrations beyond Azad Maidan and said 'the cops were only doing their job'. SV Raju, convener of the Indian Liberal Group, was a little more circumspect. The cops were actually sympethetic to towards us at the onset. They claimed the clampdown was purely for security reasons. Demonstrations were only allowed to use the microphone for a limited period of time and permission even for a silent hunger strike had to obtained in advance.'