'Security Breach by Tibetan Protester Embarrasses Hosts'
by Mahesh Vijaprkar
(The Hindu. January 17, 2002)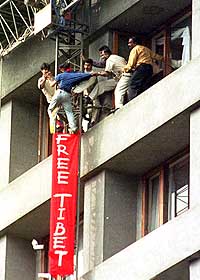 Mumbai: Much to the embarassment of the hosts, a Tibetan activist managed to get to the 10th floor of the hotel where the Chinese prime minister, Zhu Rongji was staying and suspended himself from a window to mark his protest against the 'occupation of Tibet.'
At the time of the incident, Mr Zhu was addressing a luncheon meeting with Indian businessmen at the hotel. That the protester managed to breach the high security in and around the high-rise hotel in South Mumbai was both a matter of surprise and concern. Policemen near the place were shocked when he suddenly emerged into view at the 10th floor level.
Two days before the arrival of the Chinese dignitary, top representatives of the Chinese mission here met Maharashtra officialdom and sought an assurance that their security concerns would be met.
The hotel had played host to Bill Clinton when he visited India as the US president and security had been 'air tight', as a police official told The Hindu then. It was conceded that today's incident was 'embarrassing and also unnerving.'
The 27-year-old Tenzin Tsundue — born in Manali of Tibetan refugee parents — general secretary of the 'Friends of Tibet (INDIA)' organisation, managed to reach the ledge of the 10th floor window and unfurl a banner proclaiming 'Free Tibet.' It took much time and effort to bring him down.
When Mr Zhu visited the Prince of Wales Museum, now re-named Chhtrapati Shivajim, there were some Tibetans demonstrating. Several of them were on a 24-hour protest at the Azad Maidan, angry at the Chinese 'aggression' of their homeland. There were, however, no untoward incidents.