'Tibetan Activist's Protest Reaches New Height'
by Staff Reporter
(Times of India. January 17, 2002)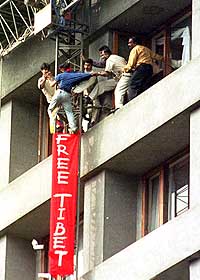 Mumbai: A Tibetan activist on Wednesday resorted to a unique protest against China's 'aggressive' policy towards his homeland when he suspended himself from the 10th floor of Hotel Oberoi, where Chinese Premier Zhu Rongji addressed industry captains in the afternoon.
Tenzin Tsundue, general secretary of Friends of Tibet (India), reached the 10th floor by climbing a high-rise ladder being used for renovation work and displayed a huge banner inscribed `Free Tibet', police sources said. The 27-year-old Tenzin was later brought down by the Cuffe Parade police. The police booked him for trespassing and released him on bail in the evening.
Hundreds of Tibetans, including women and children, were on a protest demonstration in Mumbai on Wednesday. A large number of them staged a noisy demonstration near Prince of Wales museum, which is now rechristened as Chhatrapati Shivaji Maharaj Vastu Sangrahalay, where the dignitary and his entourage paid a brief visit.
Said an officer, 'There was no problem with the Chinese Premier's visit to Mumbai as we had a tight bandobast to prevent any untoward incident.'