'Police, Tibetan Play Hide & Seek'
by Staff Reporter
(Afternoon. January 17, 2002)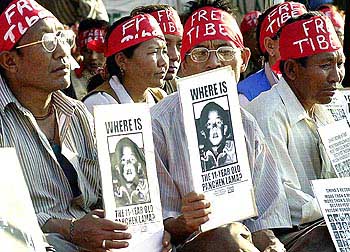 The Bombay police and a young Tibetan refugee literally played a game of hide and seek yesterday, each outsmarting the other. The final result being, the game ended in a 1-1 draw, without causing any damage or loss to either side.
Proving his trekking ability, which runs through the blood of every Tibetan, 27-year-old Tenzin Tsundue, general secretary of Friends of Tibet (INDIA) hit upon a novel idea to register his people's grievances before the visiting Chinese Premier Zhu Rongji.
Knowing well that it won't be possible to carry a flag up to the Oberoi Towers, where the Chinese premier would be addressing a meeting of industry captains, due to the presence of security personnel, he camouflaged himself in a blue shirt. The colour of the shirt matched with the construction workers who were engaged by the hotel for carrying out renovation works. He quietly made his way through the security channels and reached outside the 10th floor of the Old Oberoi Towers by climbing a highrise ladder. There he took out a huge banner inscribed 'Free Tibet' and remained suspended for quite some time until the police brought him down.
Police on their part also proved too smart for the young Tibetan. They managed to outdo Tsundue by secretly changing the venue of the meeting from the old building to the new one well in advance. Needless to say, the cops were anticipating some trouble from the Tibetans during the Premier's visit.
Additional commissioner of police, VIP Security, Mr SP Gupta told this newspaper that the incident could not be described as a 'security breach'. "It was well outside the Hotel premises. Moreover, the Premier was not even on that side of the building when the incident took place. He was in the Museum. Nevertheless, the intention was to just to draw publicity rather than intending to do any harm," Mr Gupta said. Yesterday, 88 Tibetans were taken into custody by police after they staged a noisy demonstration protesting Beijing's alleged anti-Tibet policy, moments before the Mr. Rongji arrived at the Prince of Wales Museum to view the artefacts.
Police said the demonstrators, including women and children, raised anti-China slogans near Jehangir Art Gallery, Lion Gate and State police headquarters which are located close to the museum.
They were whisked away to the Colaba police station and detained under the Bombay Police Act. Among those detained were 21 women and a child.