'Zhu's Men Try to Gag Tibetans in Bombay'
by Prafulla Marpakwar
(Indian Express. January 15, 2002)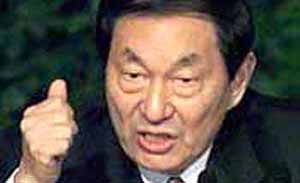 Mumbai: Wherever he goes, Tibet haunts Chinese Premier Zhu Rongji. So members of the Chinese delegation wanted a written assurance from the State Government that there would not be a single protest in the city when he is in Bombay on January 15 and 16. The government has pleaded helplessness while Tibetan protesters are redying their banners and posters for the big day.
Already, Zhu Rongji has been greeted in New Delhi by Tibetan protesters stripped to their waists 'Tibet Is Mine' scribbled on their bare chests and white shorts.
At a high-level meeting convened by the General Administration Dept (GAD) to discuss security measures, officials from the Counsulate of China insisted that the Vilasrao Deshmukh Government ensure that there were no demonstrations of any kind during Zhu's brief stay.
Chinese Foreign Office spokesperson Zhang Quiye told the Indian Express 'It is natural for the host government to guarantee the safety of the delegation and bring about a successful reception'.
Zhu, besides visiting the Prince of Wales Museum, will address a meeting convened by the CII in the city. 'In fact, they wanted an assurance in writing. We made it clear that it will not be possible to give blanket assurance since India is a democratic country. We also explained to them that even during Indian Prime Minister's visit, the metropolis witnessed demonstrations. However, we will ensure that the law and order will be maintained and his programme in the city will not be affected,' a senior GAD official said.
During Zhu Rongji's visit, the Maharashtra Tibetan Refugee Association and the Friends of Tibet (INDIA) are planning massive demonstrations.
'More than 1,000 Tibetans and concerned Indians will hold a 24-hour sit in at Azad Maidan on January 15 to protest China's approach towards Tibet,' Tenzin Tsundue, General Secretary, Friends of Tibet (INDIA) said.
Tsundue said Tibetans from 22 towns in Maharashtra will reach on January 15 and will be on hunger strike till the entire delegation leaves on January 16. 'We feel that under the leadership of Zhu Rongji, Tibet was reeling under unpreceedented oppression. We will continue our fight we achieve our goal,' he added.