'Solution to Tibet Lies in Negotiating Autonomy'

by Staff Reporter (Times of India | December 14, 2001)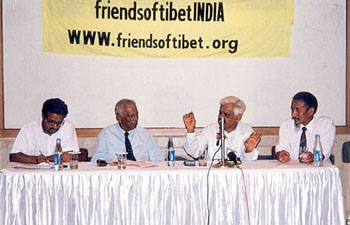 Mumbai: The solution to the ongoing vexed Tibetan issue lies in negotiating an autonomy status of for the Himalayan region, according to renowned academician and political playwright GP Deshpande.
He said that the days when a military solution to the issue was possible were over. Addressing a symposium on 'The Himalayan Triangle,' organised by Friends of Tibet (INDIA), in the city on Tuesday, he said 'there could neither political handling of the issue nor could diplomatic pressure work now.'
The issue could now perhaps be resolved if the Tibetan leader, the Dalai Lama and Tibetan representatives, sit across the table with the Chinese authorities and discuss the issue of autonomy to the Himalayan state, Mr Deshpande, an expert on China affairs and professor of contemporary China at the Centre for East Asian Studies, said.
Viewing the imbroglio from a Chinese viewpoint, Mr Deshpande said that China's clear-cut assumption that 'Tibet is an inalienable part of China and was not open to negotiations to any third party. For China, the issue is no longer a triangular one, but a bilateral one'.