'A Bureaucrat's Diary: Road to Lhasa'
by S Shankar Menon
(The Asian Age. February 9, 2001)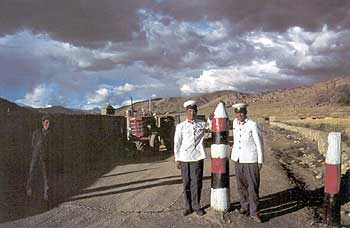 Kathmandu... Kodari... Zhallgou... Xegar... Shigatse... Gyantzo and finally that holiest of holies – Lhasa. The journey on the Friendship Road is long, arduous, exciting and intensely emotional In the early part, Everest is on your left and in that summer of June 1998, you can almost reach out and touch the melting snows.
At the talk about this, last week to an overflowing hall at the YB Chavan Centre, it was impossible to even get to the essentials of genocide in Tibet. Six thousand monasteries have been reduced to eight as mentioned in the 50-minute film by Pammi Pandey, before three of us began our experiences in Tibet. Lonely Planet says there are 2000 active monasteries. There was no mention of nuns with their vaginas ripped out by court hangers or monks forced to rape them, after Chinese soldiers had their fill. I couldn't talk of precious religious artefacts, Tallgkas, looted from monasteries and used as toilet paper. Over a million killed in recent years.
When the heat overflows at these horrors and the throat is dry with the drought for words that cannot be expressed, there is only bottled water in the darkened hall to keep an almost fluent flow. To explain the slides taken by a travelling companion, Baban Govardhan Nagpur's leading surgeon, whose early fumblings with, the camera would have lost him a lot of patients if they knew of such clumsy fingers. The first shot at the Friendship Bridge of trucks being repaired may well have been in Bhatinda or Bhubhaneshwar. Baban blossomed in his art from this blue period to me near prayer flags on a wind-swept pass close to where the Panchen Lama was scuttled away recently by the Chinese to be kept under wraps. With growing confidence the photographs captured the essence of my hollow cheeks, sunken eyes and a nose fleshy with remembered delights. Even the audience numb with horror as the tale unfolded tittered in unexpected delight.
The emotion all of us in a rattling van went through, came out in a simple slide. Of a beautiful young Tibetan girl by the road-side in a small town selling bits of machinery that will barely be of use in a bicycle.
I tried to talk of the Friendship Road with potholes that knocked out dentures and fractured axles. The claustrophobia in those vast expanses where we tried to look for our own Shangri La as visitors from all over the world hung thick and quiet for five whole days. We endlessly wound past the Turquoise Lake, barren remote mountains that dipped and fell away, yak which ambled past like animals from pre-history. Until, tired and tumbling out of the bus at Lhasa after six days on the road with few toilets and worse food and everywhere left-overs of a gentle, loving race vandalised and hugely diminished, a rainbow greeted us at the Potala. Here was regeneration and hope. Spectacular in its depths and colour and the huge range of arc dipped straight into Dr Govardhan's head as he stood for a group photograph.
At the Potala itself there are hidden cameras which search our every move. We were cautioned many times not to even think of handing over our photograph of the Dalai Lama. There were even instances in the past where some of the monks at the Tashi Limpo monastery near Shigatse turned out to be Chinese agents who got tourists arrested for asking questions out of turn.
The whole country of Tibet is under siege by gun-toting arrogant Chinese. An old and precious culture is disembowelled. Barkhor, the traditional part of Lhasa does not get any electricity in the evenings and somehow makes do with patched up generators. The new part of the capital city could be Manchester or Nariman Point in Mumbai. There is hardly a new generation of residents. Tibetan women were forcibly sterilised between 1982 and 1986. Genocide of an entire race close to the end of the 20th century is one of the important causes of the new millennium. A conspiracy of silence has not brought this to the notice of any one willing to hear.
Friends of Tibet in India are making an effort now, to touch our conscience. The most powerful man the world the President of the United States, is bothered about billions of dollars to be got from trading with the Chinese. The moral values are ploughed under by the purely economic ones. Our own stance is cautiously ambiguous. The Philips radiogram given by Nehru to the Dalai Lama still sits in a barren room of the Norbulingka Palace from where His Holiness left in a hurry deep in the night of March 19, 1959. Those of us in Mussourie for our first hesitant steps into the world of administration in the early Sixties saw Tibetan children who had fled kicking stuffed rags tied into tight balls with the expertise that Ronaldo or Beckham will n envy even today. Their cheerful laughter floated across our valley.
That laughter is still cheerful today. For the pain behind, you have to travel on the dusty road to Lhasa.