'Walk With Us On The Rocky Road To Liberty'
by Express News Service
(Indian Express. December 11, 2000)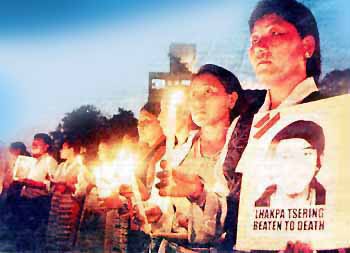 If the world wants non-violence to succeed, then it will have to help Tibetan people in their struggle'
(Archbishop Desmond Tutu, Nobel Peace Laureate)
With more than 1.5 Tibetans living in exile and gross human rights violations taking place in Tibet, the people who live by the Buddhist creed of non-violence appealed to Indians to help the Tibetans in their struggle for freedom. Addressing a crowd, consisting largely by Tibetans, on Human Rights Day, Acharya Yeshi Phuntsok, president of the National Democratic Party of Tibet, in almost faultless Hindi, explained Tibet's current position and the Dalai Lama's vision for its future. Emphasising the premium it has always out in peace, the country that inspired the concept of Shangri-La, wants to be parliamentary democracy like its neighbour. It wants to free its people from arbitrary rules imposed by China.
The Acharya requested Mumbaikars to join the struggle on humanitarian grounds, because what is happening in Tibet is 'an insult to human dignity' and must be stopped. 'Please remember that before China invaded our country, India did not have to worry about any border problems with China because Tibet served as a buffer state. However, after the invasion in 1949, India has to deploy thousands of soldiers to protect its northern and north-eastern borders, spending more money than it currently does protecting the borders with Pakistan,' said Acharya Phuntsok.
The Friends of Tibet (INDIA), who had organised the talk, also screened Garthwait & Griffin's film 'Tibet's Stolen Child', a documentary on the alledged abduction of the tenth Panchan Lama of Tibet days after the Dalai Lama recognised the six-year-old as the spiritual leader and the second most revered person for the Tibetans in May 1995.
Tracing the events that led to the kidnapping and the various versions put out by the Chinese officials, including the claim that they had already found the real Panchen Lama and that the Dalai Lama had no authority to appoint the spiritual leader, the film also documents the views of various Noble peace laureates and China scholars across the world.
John Hume, Nobel peace prize winner from Northern Ireland said in the film that intolerence of differences and diversity was the root of all conflict. Jose Ramos-Horta, another Nobel peace laureate from East Timor drew a parallel between Indonesia's strategy in East Timor and the Chinese offensive in Tibet. Mairead Macguire, Nobel peace prize winner from Northern Ireland, stressed a totally different aspect that the Tibetan conflict had given rise to. 'Governments that oppress religions give it a fuller meaning, a fuller purpose, much against their original intentions.'