'Showcasing Shangri-La'
by Feroze Ahmed
(The Hindu. November 12, 2000)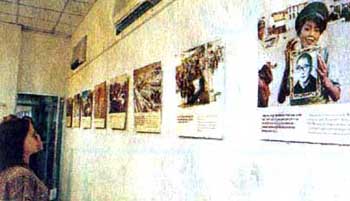 Sonam Tsetan was a 10-year-old when he saw his brother being killed in violence by Chinese soldiers against a 'peaceful Tibetan protest.' He is now 21, a first year Mathemaics student of Loyola College. He remembers a struggle that one would think is not a problem of the present generation Tibetans. He was part of that struggle. He is still.
Tsetan is upset that most Indians are not aware of the Tibetan problem. The 'Glimpses of Tibet' exhibition at the Vinyasa Art Gallery at Alwarpet on Saturday was an attempt to set that right.
'Many are not aware of our struggle. They have freedom. So they are not able to grasp our need for independence. In that way, the Karmapa controversy was good because it created some awareness. But that is not enough,' a participant said. Photographs at the exhibition were split into three sections: Tibet before 1959 (an Independent Tibet), Tibet In Exile and Tibet Today. The participants, chiefly Tibetan students studying in Chennai, explained the significance of the photographs.
Included in the exhibition was a lecture on Indo-Tibet relationship by French Tibetologist Claude Arpi. Following it was a screening of Kundun, an English film on the 'true story of the Dalai Lama.'
The exhibition was organised by Friends of Tibet (INDIA) in association with the Tibetan Student's Association, Chennai and TPPRC.
More arresting than the photographs was the conviction of the students for free Tibet. They even understand the compulsions of Indo-China-Tibet relations.
But, like the photographs, which have been brought down from Dharamsala for the exhibition, most of these students would be returning to the seat of the exiled Tibetans. Hope, though, is their biggest weapon. Tsetan, who has not seen his parents since he escaped from Tibet 10 years ago, says he is studying Mathematics because many Tibetans are weak at it. When he returns to Dharamsala, he intends to teach the subject to the next generation of exiles.