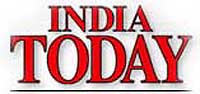 'Tibetan Tales'
by Natasha Israni
(India Today. March 23, 2000)

You could call it the Festival of Tibet in Mumbai. Mumbai revelled in the 'Dances From The Roof Of The World,' watched in awe while Tibetan monks created and then destroyed the intricate Kalachakra Sand Mandala. The unique week-long festival of Tibet 2000, organised by Friends of Tibet (INDIA) in Mumbai last week, also had a political message to convey. Mumbaiites were also imperssed by the monks who painted exquisite thankas in front of them. Others showing their craft were metal and butter sculptors. But it was the 11-year-old Jamyang Kunga Tenzin who acted in Kundun, Martin Scorsese's film on the 14th Dalai Lama, who stole the show. Tenzin had played one of the young Kunduns in the films. But Tibet was not only the only thing on his mind. 'I like India and love the actress Kajol,' he said.
This week it will be Delhi's turn to showcase Tibet for a 10-day festival called 'Tibet 2000: Survival of the Spirit'. While most of the events in the two festivals overlap — the Dalai Lama gave a talk called 'Ethics For The New Millennium' in Mumbai and will do the same in Delhi — the Delhi festival has a wider selection of contemporary feature films including some thought provoking documentaries and the best Foreign Film Oscar nominee, Caravan. But alas, no Kajol.