'Dalai Lama Thanks India For Helping To Preserve Tibetan Culture'
by Staff Reporter
(Times of India. March 13, 2000)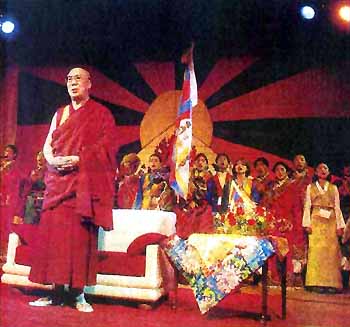 'We regard India as a guru and consider ourselved disciples of India,' Tibetan spiritual leader Dalai Lama said on Sunday. He was speaking at the inauguration of the 'Festival of Tibet' at the Birla Matushri Hall.
The six-day festival, which begins on Monday, has been organised by the Friends of Tibet (INDIA) and Tibetan Youth Congress. The Dalai Lama was introduced to a packed audience by industrialist Mukesh Ambani who described him as the 'epitome of peace and goodwill among all nations' and 'a messenger of Lord Buddha's message of peace'.
The Dalai Lama, however, said he was just a practitioner of the Buddha's dharma and was like any other human being. 'I am not special,' he said, adding it was very important to realise that all human beings have the same potential. 'It is very important to utilise your good potential and you will be a happy person.'
The festival, which aims at showcasing the unique and endangered culture of Tibet, was given a personal touch by the Dalai Lama who spoke at length about the great bond between India and Tibet. The spiritual leader noted that in the past few years, intentionally or otherwise, though a cultural genocide was taking place, the Indian government and the country's citizens had helped preserve the culture of his land. The festival, through its various exhibitions and film screenings, will highlight the intermingling and shared evolution of Indian and Tibetan cultures. 'There are many poems in Tibetan, that mention things of Indian origin like the Ganges,' the Dalai Lama observed, adding, in a lighter vein, that no one mention the Great Wall of China.
'I believe that Tibetan spirituality and its unique cultural heritage is based on compassion and peace and therefore we can say that Tibetan culture is the culture of peace,' he observed. He further stated that becaues of the influence of Buddhism, there is much emphasis on altrusim in Tibetan culture. The Dalai Lama explained that though there were different philosophies and religions, they proclaimed the same principles of love, peace, compassion, forgiveness and contentment.
He described the practice of compassion as crucial to the making of a good citizen. 'We are intelligent human beings and we need to utilise our intelligence effectively,' he said in his 90-minute speech on 'Ethics For The New Millennium'.
The talk was followed by a question-answer session. Fielding the queries deftly, the Dalai Lama said too much attachment to one's own faith and lack of awareness of other religions led to unrest, hence the need for people to practice compassion.